J-K govt admits Valimiki Dalits' grouse genuine
J-K government decides to set up a committee to look into the matter.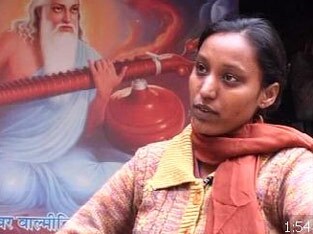 J-K government decides to set up a committee to look into the matter.
New Delhi: Jammu and Kashmir government admits that Valmiki community's grouse about not being able to get Schedule Caste certificates is genuine.
The government has now decided to set up a committee to look into the matter just a couple of days CNN-IBN reported that the community was doomed to live as scavengers in Jammu.
"The demands of the Valimikis are genuine. They are not outsiders but adopted ones. Due to Article 370 giving state subject to them is difficult. In order to solve their situation we will form a committee consisting of all party members who can solve their plight soon," says J-K Minister for Relief and Rehabilitation Raman Bhalla.
There are about 500 families of Valmiki Dalits in Jammu, who are forced to become sweepers as the state law does not recognise their community, who are traditionally manual scavengers, as state subjects.
As Valmiki community is not recognised as state subject in Jammu and Kashmir so the community members cannot apply for a scheduled caste certificate or apply for a government job.
The only exception is that they can apply for the post of sweeper.
In 1957 over 70 families of sweepers were relocated in Jammu and Kashmir to fill in for their posts of striking sweepers and ever since they have lived in the state but without basic rights
As per section 35-B of J-K state service rules, only a hereditary state subject can get a government job and the Valmiki community members brought in from Punjab are still treated as migrants, resulting in no government jobs for them.
The community has also approached the J-K government for recognition of their rights.
Get the best of News18 delivered to your inbox - subscribe to News18 Daybreak. Follow News18.com on Twitter, Instagram, Facebook, Telegram, TikTok and on YouTube, and stay in the know with what's happening in the world around you – in real time.
Read full article