Ramjas College Row: After Javed Akhtar's 'Hardly-literate' Jibe, Yogeshwar Dutt Hits Back
Gurmehar Kaur, a second-year Lady Sri Ram student who took social media by storm after taking on ABVP, has received support from the people from all walks of life.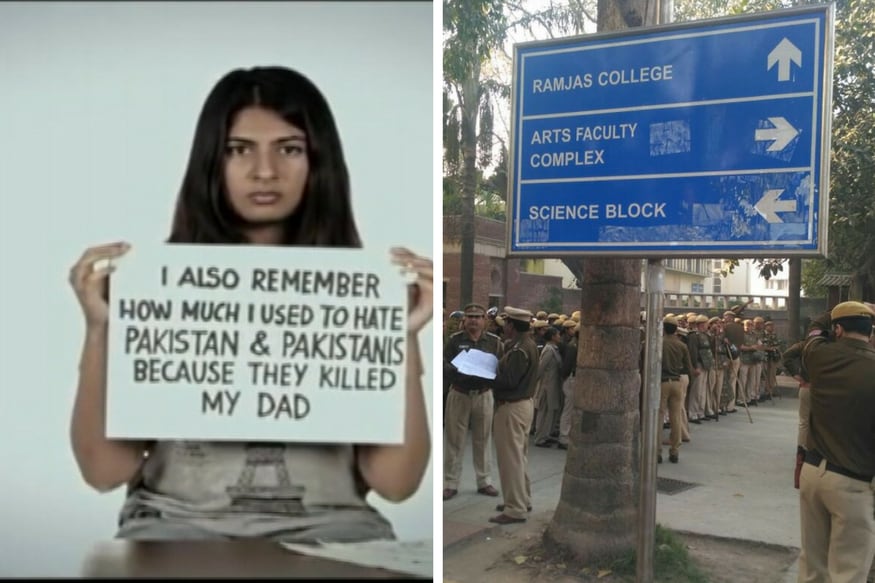 A TV grab of Gurmehar Kaur (L) and police patrols outside Ramjas College. (Image: CNN-News18/ Sunil Singh)
New Delhi: The Twitter war over a campaign by a Kargil martyr's daughter against the ABVP turned ugly on Tuesday, when celebrities and sportspersons traded charges on the micro-blogging site.
A day after former cricketer Virender Sehwag earned the ire of twitterati for "mocking" Gurmehar Kaur, Olympic bronze medallist Yogeshwar Dutt shared a meme, comparing Kaur to Hitler and Osama bin Laden.
🙈🙈🙈 pic.twitter.com/SiH90ouWee

— Yogeshwar Dutt (@DuttYogi) February 28, 2017
Lyricist Javed Akhtar took exception to Dutt's post and without naming him or Sehwag tweeted about "hardly-literate" players and wrestlers trolling Kaur.
If a hardly literate player or a wrestler troll a pacifist daughter of a martyr its understandable but whats wrong with some educated folks

— Javed Akhtar (@Javedakhtarjadu) February 28, 2017
Akhtar also took aim at the government.
Mr minister , you have condemned the left by falsely accusing them for celebrating soldiers killing n not a word about AVBP. Grossly biased

— Javed Akhtar (@Javedakhtarjadu) February 28, 2017
I don't about her but Mr Minister I know who is polluting your mind .

— Javed Akhtar (@Javedakhtarjadu) February 28, 2017
The tweets were against Union ministers who have been coming to the defence of the RSS-affiliated ABVP since the violent episode at Ramjas College on February 22.
Hitting back at Akhtar, wrestler Yogeshwar Dutt reminded him of his Olympic feat. "You may have authored poems and stories. but even I have made history for India on the world stage," he said.
Earlier in the day, actor-turned-filmmaker Pooja Bhatt took a dig at actor Randeep Hooda, who had shared Sehwag's tweet and said Kaur was "being used a political pawn".
He who laughs last,laughs alone. Pick on someone your own size boys! This is so NOT cool! https://t.co/jJ5gAe53gh

— Pooja Bhatt (@PoojaB1972) February 28, 2017
Sehwag's reaction to Gurmehar Kaur's post also did not go down well former Union minister Shashi Tharoor who said he was "disappointed".
Stand-up comedian and columnist Ashish Shakya also took to Twitter and stood shoulder to shoulder with Kaur.
Hey @mehartweets, props to you for your composure today. Ignore the insect infestation here - it's the most some people will ever amount to.

— Ashish Shakya (@stupidusmaximus) February 26, 2017
Raghu Ram of the Raodies fame also weighed in on the debate.
Left = Anti-nationalRight = MasterstrokeThe only difference is, one of them lost a father fighting for our country pic.twitter.com/F3ePNcBOlF

— Raghu Ram (@tweetfromRaghu) February 28, 2017
Author Ravinder Singh also backed Gurmehar Kaur.
There's a girl who has the guts of fictional Rupali taking a stand in DU. More power to Gurmehar Kaur.

— Ravinder Singh (@_RavinderSingh_) February 27, 2017
Get the best of News18 delivered to your inbox - subscribe to News18 Daybreak. Follow News18.com on Twitter, Instagram, Facebook, Telegram, TikTok and on YouTube, and stay in the know with what's happening in the world around you – in real time.
| Edited by: Mirza Arif Beg
Read full article