Randhawa, Himmat impress in Singapore Open round one
The duo shot two-under 69 each and were three behind the clubhouse leader, the 41-year-old Dane Thomas Bjorn, who has 13 wins but none in Asia.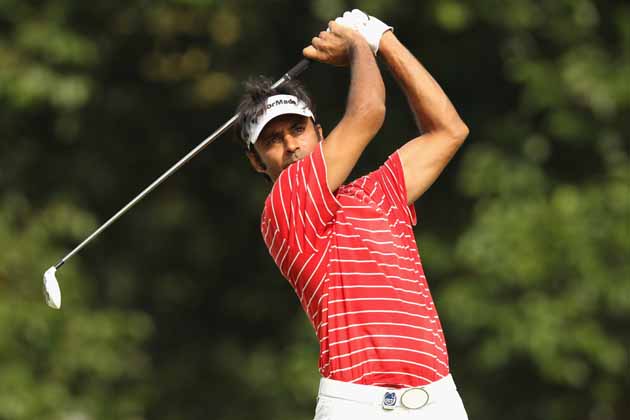 The duo shot two-under 69 each and were three behind the clubhouse leader, the 41-year-old Dane Thomas Bjorn, who has 13 wins but none in Asia.
Singapore: Jyoti Randhawa and Himmat Rai were the best-placed Indians on the weather-hit opening day of the Barclays Singapore Open at the challenging Serapong Golf Course here.
The duo shot two-under 69 each and were three behind the clubhouse leader, the 41-year-old Dane Thomas Bjorn, who has 13 wins but none in Asia.
With rain and thunderstorm almost a part of folklore at the Singapore Open, it was no different on Day 1 as play abandoned with the entire second half of the field yet to finish their rounds.
Behind Bjorn were Chinnarat Phadungsil of Thailand, Simon Khan of England and Spaniard Pablo Martin, all of whom shot 67.
Both Randhawa and Rai expressed satisfaction with their cards on an energy-sapping day and were tied for ninth.
Anirban Lahiri was two-under through 11 holes which included an eagle.
Randhawa, who had a birdie-birdie start, is one of the four former champions playing this field. He dropped two bogeys on fifth and ninth, where he missed the fairways, but made up with birdies on 16th and 17th before agonizingly missing another one on the 18th.
Himmat, whose many mannerisms on the course seem to be modeled on Randhawa, one of India's top stars, also had four birdies, two on either side of the turn. His bogeys came on eighth and ninth.
Only five of the 11 Indians in the fray had finished their first round, and that included the biggest name in Indian golf, Jeev Milkha Singh, who however was forced to pull out after aggravating his finger injury.
Struggling to play his full shots, he carded six-over 77 and then decided to pull out of the tournament. He will take a decision on next week's Hong Kong Open in the next few days.
While Randhawa and Himmat shot two-under each, Shiv Kapur for a brief bit was actually on top of the leaderboard as he was four-under through 11 after starting from the tenth. He finished at one-under 70, while Gaganjeet Bhullar, with two birdies and two bogeys, carded level par 71.
Lahiri was two-under through 11 holes, while Digvijay Singh (through 6 holes), SSP Chowrasia (through 5 holes) and Rashid Khan (through 4 holes) were level par. Shamim Khan was one-over through 11 and Chiragh Kumar was one-over through five holes.
"It was hot and tough out there, but the important thing was I kept the ball in play and by and large stayed out trouble," said Himmat, who had four birdies and two bogeys.
"I hit the ball well and played solid, though I did miss a birdie or two. The longest putt birdie was on 13th, where I holed from 20 feet. Overall, I was happy with the game despite those bogeys on eighth and ninth. I hope I can continue to put the ball in play for the next three rounds," he added.
Randhawa was happy with his day's work of two-under 69.
"I had a great start with two birdies on first two holes, but I missed the fairway and just by a small margin and had to pay for it with bogeys. Then I managed further birdies on 16th and 17th and it ended the day on a pleasant note, though it would have been nice to see that last one go in also," he said.
Kapur said he was going great (four-under through 11) till he hit the double bogey on the third and missed the fairway by just a foot.
"Still there's lot of golf to come and the conditions are tough."
Even as World No 1 Rory McIlroy was even par through eight holes, four-time Major winner Phil Mickelson of the United States struggled with a 73 while three-time Barclays Singapore Open winner, Adam Scott of Australia returned with a score of 71.
Only the players, who played in the morning session, finished with their round while none of the afternoon session players had gone beyond the 12th hole when play was first stopped and then finally suspended for the day.
A total of 78 players will resume their round tomorrow in the morning.
The 41-year-old Bjorn, who has won 13 times in Europe, but is still searching for his first win in Asia, had six birdies against one bogey.
"I came here and saw the golf course, and knew that everything was about driving the golf ball well. It's not the longest golf course in the world so if you can keep it in the fairway, you can produce a score, and I did that very well today. That's only round one, so we'll work from here," said Bjorn.
"I always enjoy coming to Singapore and Malaysia. You have got to pace yourself a little bit and not use too much energy through the week. It is about playing golf this week, and quite nice for the body to be feeling warm and nice out there. No cold for the old joints to get you into trouble!" he said.
Chinnarat, who became the youngest winner on the Asian Tour when he won his first title on home soil at the age of 17 years and five days, believes he can do well at the Singapore Open which features the world's best player, McIlroy of Northern Ireland and eight Major champions.
Get the best of News18 delivered to your inbox - subscribe to News18 Daybreak. Follow News18.com on Twitter, Instagram, Facebook, Telegram, TikTok and on YouTube, and stay in the know with what's happening in the world around you – in real time.
Read full article