'Rang Rasiya' tweet review: Randeep Hooda shines in an otherwise average film
Ketan Mehta's latest film 'Rang Rasiya' is based on the life of 19th century artist Raja Ravi Varma.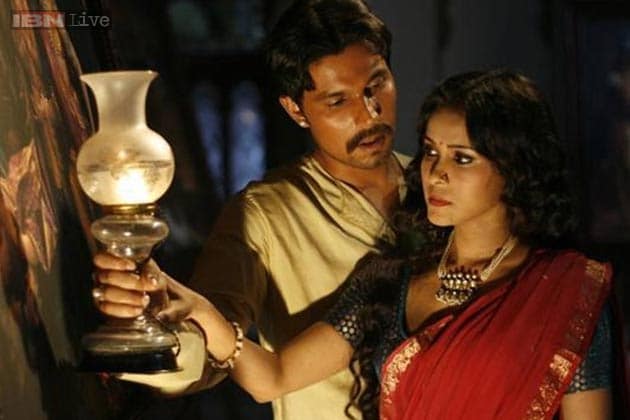 Ketan Mehta's latest film 'Rang Rasiya' is based on the life of 19th century artist Raja Ravi Varma.
It is an intriguing idea to find out how the popular Indian perception of gods and goddesses came to exist. Critically-acclaimed filmmaker Ketan Mehta's latest film 'Rang Rasiya' is based on the life of 19th century artist Raja Ravi Varma, credited with moulding the mass perception of divinity in India.
Starring Randeep Hooda, Nandana Sen and Triptha Parashar in key roles, the film has been caught in several controversies, and was slated to release in 2008.
Will Mehta be able to capture the artist's essence and his relationship with his subjects? Prajakta Hebbar of IBNLive.com is in the theatre to find out.
12:19 PM: Stay tuned for the Tweet Review of #RangRasiya by @imsopraj
12:27 PM: Directed by critically - acclaimed filmmaker Ketan Mehta, #RangRasiya features @RandeepHooda and Nandana Sen in key roles.
12:27 PM: #RangRasiya js based in on the novel 'Raja Ravi Varma' by Ranjeet Desai.
12:28 PM: #RangRasiya opens in modern day India, at a high-profile auction. We see @mrrajatkapoor as the auctioneer.
12:30 PM: What a stellar supporting cast! We see noted actors Vikram Gokhale and Tom Alter in #RangRasiya
12:37 PM: Wow. Ketan Mehta's #RaviVarma is a moody soul who fools around with the staff, gets exotic massages & makes fabulous paintings. #RangRasiya
12:43 PM: Oh good! Prashant Narayanan also makes an appearance in #RangRasiya. One of the most underrated actors in the industry, we think.
12:47 PM: God. We didn't know that men used to spout such cheesy lines in the 19th century. The dialogues, costumes in #RangRasiya are falling short.
12:53 PM: Nandana Sen looks graceful and mesmerising as @RandeepHooda's muse in #RangRasiya. We totally get why he wants to paint her.
01:00 PM: The thing is, #RaviVarma's paintings hv become such a big part of r psyche tht the film versions with #NandanaSen's face luk off #RangRasiya
01:14 PM: It is interval now & #RangRasiya has been fast-paced so far. But as a story, it doesn't look woven properly together. Needed better editing.
01:38 PM: We like how lyrical @RandeepHooda's character gets when explaining the ancient Indian tales to his muse. #RangRasiya
01:41 PM: The background score for #RangRasiya is pretty good.
01:55 PM: Woah. The issues we face with privacy violations and phone hacks has a parallel in the 19th century as well. #RangRasiya
02:07 PM: Very interesting to see on the big screen how the histories of pioneers #DadasahebPhalke and #RajaRaviVarma are intertwined. #RangRasiya
02:20 PM: #RangRasiya is more of a biopic/history lesson than a full-fledged entertainer. @RandeepHooda looks perfect as the legendary artist.
02:25 PM: Even with the pitch perfect, #RangRasiya falls short because of its stilted dialogues and script, which ranges from cheesy to obvious.
02:26 PM: What works for #RangRasiya, however is @RandeepHooda. It is his show from the beginning till the end.
02:27 PM: Our verdict? Watch #RangRasiya for its cultural and historical value.
02:28 PM: Thank you for staying with us throughout the Tweet Review of #RangRasiya. Stay tuned for more Bollywood updates.
Get the best of News18 delivered to your inbox - subscribe to News18 Daybreak. Follow News18.com on Twitter, Instagram, Facebook, Telegram, TikTok and on YouTube, and stay in the know with what's happening in the world around you – in real time.
Read full article