Ratan Naval Tata, a family patriarch of the $100 billion Tata empire, has lavished praise on prime minister Narendra Modi, underscoring that his leadership is what the country needsat this point in time and urging citizens to rally round his vision to create a New India.
Tata also said the sprawling salt-to-steel conglomerate will look different over the next 10 years, presaging a scenario in which several companies will no longer be part of the group because they will not be relevant or may have been sold or transferred to another company.
In a significant break from a long-established strategy of holding onto even perennially underperforming companies, Tata has said the face of India's largest conglomerate may change. "But so long as there is still the same drive to make this an enterprise or a conglomeration of enterprises that operate with ethical standards and value systems, I would feel very proud," he said.
In a wide-ranging
exclusive interview
with marketing consultant
Suhel Seth
for Network 18, the first since a bitter public spat erupted in October last year between him and Cyrus Mistry who succeeded him as chairman of the holding company Tata Sons in 2011, Tata still left open the possibility that some strapped companies can be turned around. "Businesses are cyclic and will have their ups and downs. But the group is in very able hands with Chandra," said Tata, who is referred to by his initials RNT.
Chandra is N Chandrasekaran, the former boss of IT services company Tata Consultancy Services, who was named as chairman of Tata Sons in February.
RNT's thoughts about slimming down the group follow comments by Chandrasekaran that he will definitely prune the Tata portfolio. "We will exit if we aren't getting returns today and we don't think we'll get them tomorrow," Chandrasekaran said in a recent interview to Fortune magazine.
The Tata group is present in more than 100 different businesses, several of which are themselves diversified. But only two have consistently made profits: carmaker Jaguar-Land Rover (JLR) and TCS.
On Wednesday, Tata Steel signed a deal with Germany's Thyssenkrupp to merge their operations in Europe to create the continent's No.2 steelmaker after ArcelorMittal.
Over the course of nearly an hour, RNT touched on a raft of topics such as his investment strategy in startups, the transformation of the Tata Trusts and the tenure of prime minister Narendra Modi, but did not specifically comment on the fight with Mistry. Asked about what excites him and what worries him, he said It is too hot a question to answer given what the group has been going through in the last several months.
Under RNT's leadership of over two decades, the Tata group followed an aggressive expansionist strategy, snapping up marquee assets in Europe such as tea company Tetley and JLR, and increasing revenues from $6 billion to $100 billion. The sprawl of the Tatas and its embodiment of corporate social responsibility values have helped cement RNT's place as a leading statesman of India Inc.
'Modi will deliver New India'
Describing his views about Modi, RNT, 79, said the prime minister is able, capable and innovative enough to look at India afresh. "I for one, am optimistic that with his leadership, India will be that New India that he has promised."
RNT, who said he has known Modi since his days as chief minister of Gujarat, said now as prime minister, Modi is offering the Indian people a New India. "We need to give him that opportunity."
In several speeches in recent months, Modi has exhorted citizens to create a New India, one that fulfills the aspirations of women and is about opportunities for the poor and the dreams of the youth.
As Gujarat CM, Modi had famously offered Tata Motors land in Sanand to shift production of the Nano, the world's cheapest car, after the company was driven away by violent protests by farmers in West Bengal. Modi delivered the land in three days, just as he promised, said RNT. "I will never forget the way he found solutions for a company that was looking for a home… That just does not happen in India."
RNT said he would like to add one other thing which sounds political but is not. "We as a country need to get back that pride that we should have that we are Indians, not that we are Punjabis or Parsis or Tamils, but that we are Indians first, that we have a country that we belong to and we should be proud of. We seem to be losing that somewhere."
Modi, he said, is working on this aspect. "He has built a vision of a unified India and people may disagree with that, but that is what the country needs at this point in time. It needs everybody to rally around the direction that the leaders are giving us."
'Trusts Are Being Transformed'
RNT, who is chairman of Tata Trusts, charity entities that control 65% of Tata Sons, said the trusts are being transformed in line with the changing needs of India. "They are being transformed to make them relevant today," he said, referring to their focus on creating jobs and knowledge, addressing water shortage and providing healthcare.
Outlining his vision for the group, which will turn 150 next year, RNT said it should embody the same values and ethical standards that it has had. "It should never forget that most of its earnings go to philanthropy, not in the pockets of founders and leaders and that it is doing something for the common good of mankind."
RNT, who helmed Tata from 1991 to 2012, also spoke for the first time in detail about his startup investment strategy. Since his retirement, he has invested in 30-odd startups.
Startup Strategy

The investments are all in companies that are innovative and embody the vision of a start-up, he said, adding that the decision to invest, on the quantum of investment and his level of involvement are based on a meeting with founders. "The vision of the founder, however small that might be, whether it would be pet care, whether it would be fashion or healthcare as the case might be, it is what that person had in his or her vision that would impress me."
Despite cutting a dashing figure due to his varied interests in driving fast cars to fly planes, RNT has long exuded humility unusual for the head of a large industrial conglomerate. He said he gained this attribute from his predecessor JRD Tata.
RNT said he loves to be anonymous. "As you go through life, you find that becomes less so and less possible and then you look at seeking anonymity by hiding."
Asked how he would like to be remembered, RNT said he wanted to be remembered as a person who made a difference. "Not anything more, not anything less."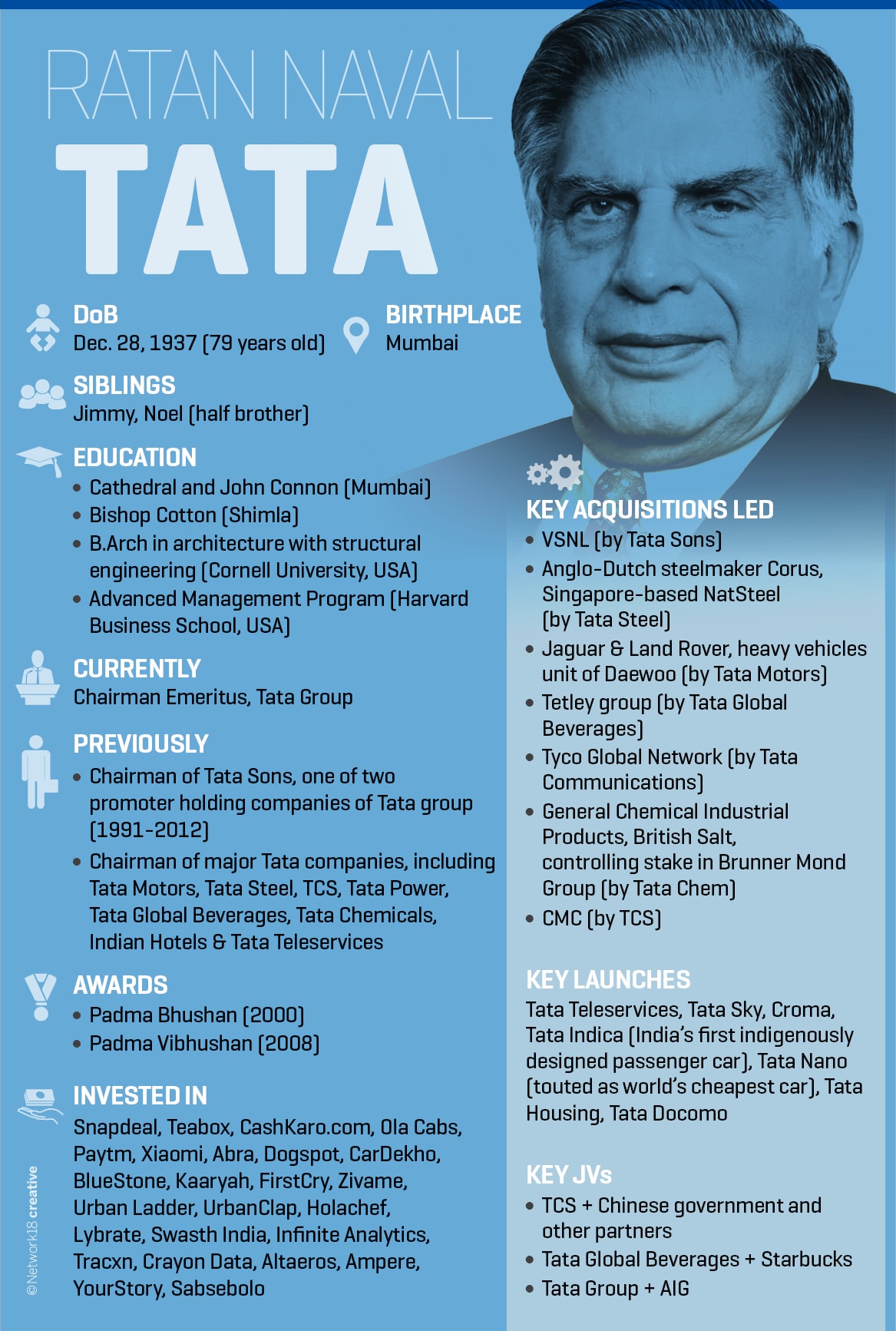 — In the interest of full disclosure, Suhel Seth advises the House of Tata