Air attack feared, Delhi turns fortress for R-Day
The Capital is witnessing an unprecedented security set up.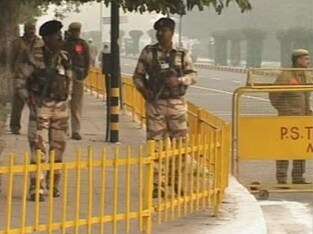 The Capital is witnessing an unprecedented security set up.
New Delhi: A day ahead of the Republic Day, the Government has increased security in the national Capital.
No choppers will be allowed within flying range of Delhi and Chandigarh for the next few days. This decision was taken after security agencies informed that Pakistan-based terror groups were planning to carry out an attack on the Republic Day parade in a chopper.
In view of the security alert, chopper companies have also been told that anyone wanting to hire a chopper can do so only with permission from the local police.
The Capital is witnessing an unprecedented security blanket prior to the parade. At least 198 companies of Delhi Police, of which 56 companies are from the paramilitary, have been deployed.
Meanwhile, intelligence inputs also said airports in south India have been told to be extra vigilant. According to sources, there have been at least three inputs within one month indicating that a hijack is possible.
However, the highest number of threats have come in from the north east. Police is on the look out for six alleged jihadis who have sneaked into Assam from Bangladesh.
Maximum security alert was sounded in three of the seven northeastern states with militant groups calling for a boycott of Monday's Republic Day celebrations, officials said.
Four separatist groups in Assam, Manipur and Tripura, have announced a 17-hour general strike from 0100 hours IST to 1800 hours IST on Monday to enforce the boycott call and warned of action if people violated their diktat.
The militant groups that called for a boycott of the Republic Day celebrations include the outlawed United Liberation Front of Asom (ULFA), the Kamatapur Liberation Organisation (KLO), fighting for a separate homeland comprising parts of Assam and West Bengal, the Manipur People's Liberation Front (MPLF), an umbrella group of several Manipuri rebel groups, and the Tripura People's Democratic Front (TPDF).
Similar security alerts were sounded in Manipur and Tripura.
Get the best of News18 delivered to your inbox - subscribe to News18 Daybreak. Follow News18.com on Twitter, Instagram, Facebook, Telegram, TikTok and on YouTube, and stay in the know with what's happening in the world around you – in real time.
Read full article