Red Ribbon Express begins AIDS awareness journey
Sonia Gandhi on Tuesday flagged off the AIDS awareness train from Delhi.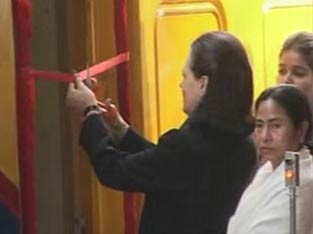 Sonia Gandhi on Tuesday flagged off the AIDS awareness train from Delhi.
New Delhi: Congress chief Sonia Gandhi on Tuesday flagged off an AIDS awareness train that take information about the disease to 10,000 villages in 141 districts across the country and will also provide on-board counselling.
The Red Ribbon Express will halt at 152 stations in high prevalence areas and disseminate information about the disease among the masses and try to unite people by dispelling existing misconceptions during its year-long journey.
"Last train (Red Ribbon Express-Phase I) was a tremendous success. This train is taking its message to far flung areas of our country. It will help containing the disease from spreading," Gandhi said before flagging off the train at the Safdarjung Railway station in the Capital.
Among the 152 halts of the train in this journey, 86 are new stoppages, not covered during the last tour of the train.
During its halts, volunteers will disseminate information regarding prevention and services in order to help people develop an understanding about the infection in order to reduce stigma and discrimination against people living with HIV/AIDS.
The eight-coach train with both doctors and volunteers on board will also strengthen people's knowledge about general health as well.
"This train will not only provide counselling but also find people who need testing and anti-retro viral treatment. Those who need ARV will be referred to designated hospitals in the region by the doctors on board," Director General of the National AIDS Control Organisation K Chandramouli told IANS.
"We will also provide treatment for sexually transmitted diseases (STIs) inside the train. The train will be linked with mobile health clinics at the district level," he added.
Besides, direct interventions, there will be folk troupes and exhibitions to create maximum awareness among people.
Get the best of News18 delivered to your inbox - subscribe to News18 Daybreak. Follow News18.com on Twitter, Instagram, Facebook, Telegram, TikTok and on YouTube, and stay in the know with what's happening in the world around you – in real time.
Read full article