'Remember Newton's Third Law': Caught in Crossfire, Families of J&K Cops Make Desperate Appeal
According to a news report, following the treats from militants, 24 special police officers (SPOs) have left their jobs in Tral area of Pulwama district alone.
Srinagar:
Fifty-five kilometers south-west of Srinagar lies the village Arwani. This hamlet is a typical representation of present-day Kashmir. According to villagers, more than 50 people work in police, CRPF and Army. Some of them are senior officials. But Arwani remains a militant-infested area.
Currently, there are five militants active in the village. Few have been killed in recent years. Prominent among the active militants is Azad Malik, who is in his mid-20s and goes with nom de guerre 'Dada'. He is the Lashkar-e-Taiba's district commander for Anantnag, south Kashmir's largest district.
On Thursday evening, two masked gunmen entered the lawn of Ghulam Nabi Sankaar and asked for his son Nazir Ahmad, who is an Inspector in Jammu and Kashmir Police.
Nazir was not at home and instead, they asked his brother, 38-year-old Arif Hussain, a government teacher, to come along. "I tried to intervene. But they left with my husband," says Tabassum (35), Arif's wife.
Her nine-year-old son, who suffers from neurological problems, saw the militants take his father and fainted. He kept asking for his Abbu.
A hundred meters down the lane, a few minutes later, three masked gunmen barged into the house of Mohammad Maqbool Bhat and asked his son Zubair Ansari for his two brothers, Mehmood Ahmad (32) and Abdul Bari (38), who work as constables in J&K Police.
On finding none of the two present at home, they took along Zubair Ansari, who works as a contractual lecturer in the state's higher education department and is also pursuing doctorate in English Literature.
Both families and the people in Arwani were shell-shocked. This was the first time when family members of police personnel were kidnapped. This didn't happen in Arwani alone. In 48 hours, 11 relatives and family members of police personnel were abducted in a similar pattern.
"I had told my son a few times to leave the job," Ghulam Nabi Sankaar, father of inspector Nazir Ahmad told News18. He was sitting in his home, thronged by relatives and neighbours, who were praying for Arif's safety.
Militants had come two months earlier as well looking for Nazir, who was home at the time. But the family says he managed to flee. "Nazir has moved his family from here. His two sons are studying outside the state and his wife is living with him," says Sankaar.
He holds security forces responsible for whatever is happening right now.
"The war is between forces and militants. But they (forces) involved the families and now we are reaping it," he says, citing how a few days ago forces ransacked the house of militant commander Aazad Malik, who lives just 500 meters away in the same village.
On August 25, Malik's family had said forces barged into their house in the night and ransacked their property and abused the inmates. "It is Newton's third law (of motion) — every action has an equal and opposite reaction," says Asif Ahmad, another brother of Nazir Ahmad.
Nazir's father appeals to police officers to rethink their policies. "I appeal to the top officers of the police to think about us. Don't harass their (militant) families, they will not harass us. Otherwise, we have to die," he says.
Two kilometres away from Arwani is a small village, Kharpora, which falls in Kulgam district.
On the Thursday evening, after these two abductions, gunmen appeared in the lawn of Bashir Ahmad Bhat (57), a government teacher by profession. Surprised, Bhat's 20-year-old son and wife Aisha came out.
"They asked my son to show them my brother's house. He works in the police and lives a few hundred meters away," says Bashir. But when Bashir went to his brother's house, looking for his son, there was no one.
"They had come here but then left after finding no male member," policeman Mushtaq's wife had told Basheer.
His son Raja Faizan-ul-Basheer, who is pursuing Bachelor's degree in Computer Sciences from a local government college, was also kidnapped.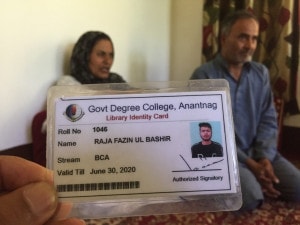 College identity of Faizan Basheer who was abducted by militants on Thursday. (Photo by Aakash Hassan)
His mother Aisha Begum, 57, was inconsolable. "He is my only child and a student. He is innocent. Why was he kidnapped?" she told News18 at her house. "Since the situation has worsened, I wanted to send my son outside for education but his father was posted in another district and I used to be alone at home," says Aisha.
Aisha Begum and Basheer Ahmad whose whose son, Faizan, was abducted by militants on Thursday evening. (Photo by Aakash Hassan) 
As her relatives visited, she kept asking frantically: "Have they released anyone?"
Those kidnapped were eventually released by militants, but the families are completely shaken.
Brewing Battle
The battle between militants and local personnel has involved the families on both sides. The families of the militants regularly allege that the forces harass them, barge into their houses, beat them and vandalise their property. The militants have been warning the forces not to involve their families.
On Wednesday, two militant commanders — Shahjahan, district commander of Jaish-e-Mohammed and Hizbul Mujahideen commander Syed Naved —alleged that forces set ablaze their houses in Shopian at night.
Father of the Hizib commander Riyaz Naiko and another militant Lateef Tiger were also arrested by police on Thursday. Police on Friday said that Naikoo's father has been released.
In March 2017, militants also started barging into the houses of police officers and threatening their families.
Militants have been threatening local police personnel to quit their jobs. At least, 11 security personnel were abducted and killed over the last few months, three among them on the eve of Eid, on August 22.
Fear in Local Force
Some of the police personnel have left their jobs. According to a news report, following the treats from militants, 24 special police officers (SPOs) have left their jobs in Tral area of Pulwama district alone. They either announced their resignation publically in mosques or stayed at home.
The police personnel in the Valley are facing different sort of crises.
A police constable's engagement was called off after the girl's father refused only because he was working in the police department. "He had no problems with me. But after mounting attacks on police personnel, he was worried," said Shabroaz Ahmad (name changed).
Another youth opted to work as a private school teacher and earn just a few thousand rupees a month, despite being selected as sub-inspector in the Jammu and Kashmir police. "Being a policeman at this time in Kashmir is the most disgusting job," he says. "Even if you don't do anything wrong, you will be looked upon differently and danger keeps looming."
On Friday, in Panzath Village of Qazigund township in south Kashmir's Anantnag district, as per locals, SPO Faisal Ahmad Shah, announced his resignation from the police force.
Faisal is the son of Abdul Rashid Shah, a police officer killed by militants in an attack in August 2017. He was appointed in the police department after his father's killing. Rasheed's six-year-old daughter Zohra got support from all over the country after her moving photo, in which she could be seen crying helplessly at her father's funeral in school uniform, went viral.
The mosque's cleric had received a letter from the SPO stating he had quit his job and is seeking a public apology. News18 could not contact Faisal for independent verification.
This is worrying for the forces as it affects their "organic link".
"The militants are trying to intimidate our local forces because they are doing an exceptional job," said a senior police official. "We are devising plans so that our boys don't feel threatened and their families remain safe."
Before letting them go late on Friday, the militants released videos of the abducted relatives, in which they were made to appeal to the forces against "harassing" the families of militants.
Adnan Ashraf Shah, nephew of a DSP from Shopian, who was also abducted, said in the video: "Forces vandalise the house of militants and beat their family members." He appealed to the state's police chief not to "harass" the families of militants.
Riyaz Naikoo, Hizb commander in Kashmir, also released an audio message on Friday saying, "Our war isn't with (Jammu and) Kashmir police but unfortunately they have become front part of this war. We didn't want to do anything to your families, but we picked your boys so that you realise what happens to a mother when her son is taken away."
In the unverified, over 11-minute audio, Naikoo asked the police to release all family members of militants who have been arrested within three days or "face consequences".
In 28 years of Kashmir's militancy, it was first time that the militant leadership in south Kashmir had abducted the family members of police personnel.
Former chief minister Mehbooba Mufti also condemned involving the families. "Militants and forces victimising each other's families is highly condemnable and marks a new low in our situation. Families shouldn't become casualties ot be made to suffer for something they have little control over," she tweeted.
How do security experts see this?
"What has happened is not something new," says Army veteran Lt General (Retd) Syed Ata Hasnain. Contending that Jammu and Kashmir police have a very prominent role in counter-militancy operations and provide liaison support to the forces, General Hasnain told News18, "The Army lives in the camps, but many of the J&K police personnel live in their own villages and townships. They have the best intelligence, but are also the most vulnerable."
"I am not in favour of counter-violence. That is the worst thing to do and the police should not do it," he says, adding, "The J&K Police hierarchy has to find the means of securing its personnel by grouping them when they are in villages in townships. Single policemen cannot be allowed to live and operate anywhere. Police personnel may find a way to live together in villages."
With his experiences in Kashmir, he says there is a need for "lower leadership" in the police and better training of SPOs. "Also, there is a need for better coordination between forces."
He says that abduction of family members of forces should be "exploited". "When a family member of police personnel is targeted, it creates odium for the terror groups and that must be exploited on social media. Police networks must be activated for this and the public must be motivated to empathise with the police," says General Hasnain.
"Targeting families is a new phenomenon. Post -Burhan Wani, it was slightly different; policemen were targeted, but there were no attacks on families," Lt General (Retd) DS Hooda told CNN-News18 on Friday. "We must always take a long-term view. What is going on in Kashmir is a long-term war. We need an effective perception campaign," he said.
Catch the Biggest Newsmakers and the Biggest Newsbreaks on CNN-News18, your favourite English TV news channel. Keep watching CNN-News18 at just 50 Paise per Month. Contact your cable /DTH operator Now!
*Rental / capacity fee of Rs.130/- as charged by cable / DTH operator may apply. **GST extra.


Read full article
Countdown To
Elections Results
To Assembly Elections 2018 Results