Review: '4084', average thriller with good acting
'4084' establishes the fact that ultimately it's the story and the acting which make any film a good watch.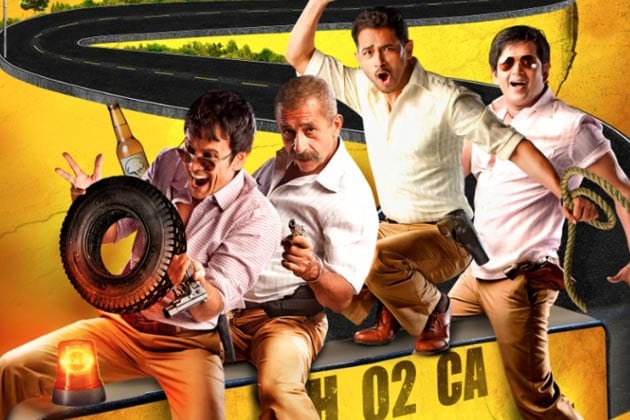 '4084' establishes the fact that ultimately it's the story and the acting which make any film a good watch.
Cast: Naseeruddin Shah, Kay Kay Menon, Atul Kulkarni, Ravi Kishan
Director: Hriday Shetty
One fine day a filmmaker who can arrange a producer's backing, decides to make a robbery film.
What does he need now?
Some actors with different back stories but a penchant for crime. It will work even if they don't have a good motivation.
Some vehicles and definitely guns.
Involvement of police, preferably the Mumbai Police, in the crime.
Can we rope in policemen from other states too?
Flashy item numbers and bar girls dancing on them.
Don't forget the quintessential 'Bhai' otherwise who will provide the ultimate twist to the tale.
And yes, we also need humour to ease off the tension. Let's make the characters a little funnier by allowing them to make faces.
Now we have all the ingredients ready. Let's start shooting.
No sir, we can't. We don't have the most important thing in our possession yet.
What's that by the way?
Sir, with due respect, it's a proper story.
No issues, we can manage with a racy and grammatically correct screenplay.
Ok, if you say sir. Let's start the dissection.
The story opens with four policemen going on a robbery mission. They suddenly decide to take some fun out of a helpless couple on the road. Then they think of hitting a bar to have some fun. The robbery mission resumes after wining and dining but comes to a halt again when a real policeman stops the van number '4084' to take these four gentlemen as his backup to catch a gangster 'Bisleri Bhai'.
The four wannabe robbers have to follow the real inspector because they are scared of their real identity. They are fake policemen. Wasn't it evident till now!
Well, we should not start doubting the director's skill so easily. He has played a masterstroke by casting brilliant actors in the role of four policemen.
The first man is an ex-professor Sir (Naseeruddin Shah) who has controlled his anger and is very fond of rum. Ten years of jail term has made him a master planner, however the director felt constraints in showing even a bit of that. A charming and daring man, Sir finds a place where just two people are guarding Rs 20 crore.
Now he assembles three other players. Albert (Kay Kay Menon) is a car thief with a special love for Fiat cars. The third partner in crime is Bobby (Atul Kulkarni) who likes to call himself manager but supplies girls in reality. Albert and Bobby have one thing in common. They both are cowards.
Shakti Chinappa (Ravi Kishan) is the last man on the board. A straight forward drug peddler who doesn't have any skill to help in a robbery but the director finds him apt for the character, so no further questions.
Characterisation lacks imagination but it's understandable because the whole story finishes in just one night so you should not expect extra information.
The motives given to the characters lack the punch. Basically everyone other than Sir agrees for a big robbery due to some cheap thrills.
Screenplay is the real backbone of '4084'. The screenplay writer has beautifully joined the plots. In fact, the writer has taken care of giving the details of extra artists too. There is a sequence when police officers find a man with stolen jewelleries in a hotel, and the policeman explains that it's the same man they were talking about in the beginning of the story.
Further there is a sequence where the background score features violin and the director has shown a violin on the screen. Normally directors leave such imageries for the audiences to understand.
The film can qualify as a thriller because it has a good pace and item numbers are peppy and foot tapping.
Atul Kulrani has done a fantastic job. His chemistry with Kay Kay looks good and together they make the film work. Kay Kay's versatility is unquestionable and he has done it again. His face making skills can make the audience laugh.
Ravi Kishan is not loud as usual and his subtle body language shows his growth as an actor.
'The Dirty Picture' had said it all, and '4084' speaks it again. Naseeruddin Shah is the current superstar of small budget and offbeat films. Shah is refined as well as raw at the same time.
The music helps the film in its own way. Songs are as per the demands of today's youth. Neeraj Sridhar's 'Hawa Hawa' conveys the feeling while Mamta Sharma's 'Haniman Tere Liye' has a rustic feeling to it. 'Setting Zhala' is choreographed well and can be heard but you may find 'One Night, One Hell of a Ride' annoying.
Cinematography sets the mood of the film and the editor has also tried to make the film appear fast paced. They have succeeded to some extent.
'4084' establishes the fact that ultimately it's the story and the acting which make any film a good watch. An average thriller but good acting can make you stay throughout the film.
Get the best of News18 delivered to your inbox - subscribe to News18 Daybreak. Follow News18.com on Twitter, Instagram, Facebook, Telegram, TikTok and on YouTube, and stay in the know with what's happening in the world around you – in real time.
Read full article