GET Stock

Quotes


Review: Prosenjit Chatterjee's 'Jaatishwar' is a nostalgic tribute to 19th century Bengal, but falls short as a biopic
Jaatishwar, shot stylishly, has Srijit's stamp all over it.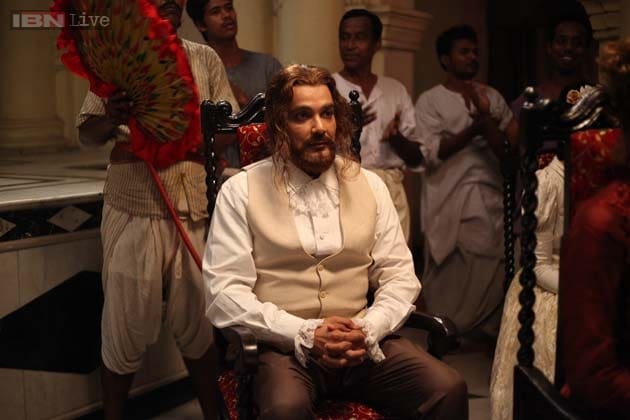 Jaatishwar, shot stylishly, has Srijit's stamp all over it.
There is little documented history about Heynesman Antony, a folk artiste of Portugese origin who settled in colonial Bengal, mastered the local language and composed songs in it to face off with veteran poets in public duels known as 'kavigaan'.
Forty-seven years after superstar Uttam Kumar played the titular role in Sunil Bannerjee's hit film 'Antony Firingi', director Srijit Mukherji thought the story of the poet needed a modern and urban telling. Seamlessly merging 2013 with 19th century Bengal through time travel, Mukherjee brings to the celluloid the utterly fascinating story of an outsider's struggle to fit in, find love and acceptance.
Uttam's Anthony, locally known as Antony Firingi (foreigner), is a tough act to match. Ask any Bengali film enthusiast and he will tell you about Uttam's uncanny ability to become the character he played. Prosenjit, Bengali cinema's biggest star in the last 30 years, not only gives Antony nuance and an enduring charm but manages to make the two parallel characters he plays into separate, self sustaining entities.
This is the story of Anthony who settled in suburban Farashdanga, in West Bengal. His love of music led him to learn the local language and attend 'kavigaan' sessions where famous poets of his time took on their literary opponents in self-composed satires. His fascinating run as one of Bengal's leading songwriter and musician is the starting point of the biopic.
In an interview, Srijit had said that Antony Firingee, the original, was based on a novel by Madan Bandopadhyay while Jaatishwar is based on historical research. The best set pieces in the film are the fights of the kabiyals - both amusing and exhilarating - not to mention well researched. Kabir Suman's music is versatile and reminiscent of a time when court poets entertained the landed gentry and their British patrons.
The parallel tracks - of Gujarati research scholar Rohit Mehta whose unrequited love for virulently Bengali and feminist RJ Swastika Mukherjee makes him learn and compose in the language and Antony's rise to fame - converge effortlessly without any jerky cuts. Jishu Sengupta is utterly believable as the love struck hero pining for the opinionated Mahamaya Bandhopadhyay who casually tosses him the challenge of composing and singing a song for her in Bengali to be eligible for her attention. Mamata Shankar, my personal favourite in the film, is adorable as Swastika's widowed mother.
Prosenjit may have won a Special Jury Mention National Award for playing an unfaithful husband in Dosar, but this is his one of best works yet. As the diffident Kushal Hajra, a librarian who believes he is Antony's reincarnation, Prosenjit lends a certain credibility to the character without going overboard into the murky territory of hamming. Shown through flashes of time travel into Bengal's heartland, Hajra's story is the central point of the film depicting his struggle against Antony's dominating presence from taking over his life.
It's interesting how the 50-year-old actor is moving away from the mainstream and choosing scripts by trusted lieutenants that not only do justice to his age but also to his effort of evolving as a serious actor after a life time of doing mainstream pop.
The weak point of what could have been a fascinating biopic is its length. The 'kabigaan' sequences are one too many and they slow the film down considerably. Unnecessary sub plots, including one involving Riya Sen, also work against the film. I would have liked the brilliant Kharaj Mukherjee to have slightly longer screen play.
Jaatishwar, shot stylishly, has Srijit's stamp all over it. But the climax is weak as Mukherji attempts to tie the loose ends and does not match up to the drama that he builds up through the film. It falls short, only just, of being a great biopic. Still it's a nostalgic tribute to a lost era when music was at its nascent stage. I'm giving it 3 stars and recommending it for Prosenjit performance alone.
Rating: ***
Read full article