Rhinos Outside Kaziranga Under Threat As China Legalises Use of Rhino Horn for Research
Though, the Chinese government said that illegally obtained products "would be confiscated", the Indian authorities are sceptical about it.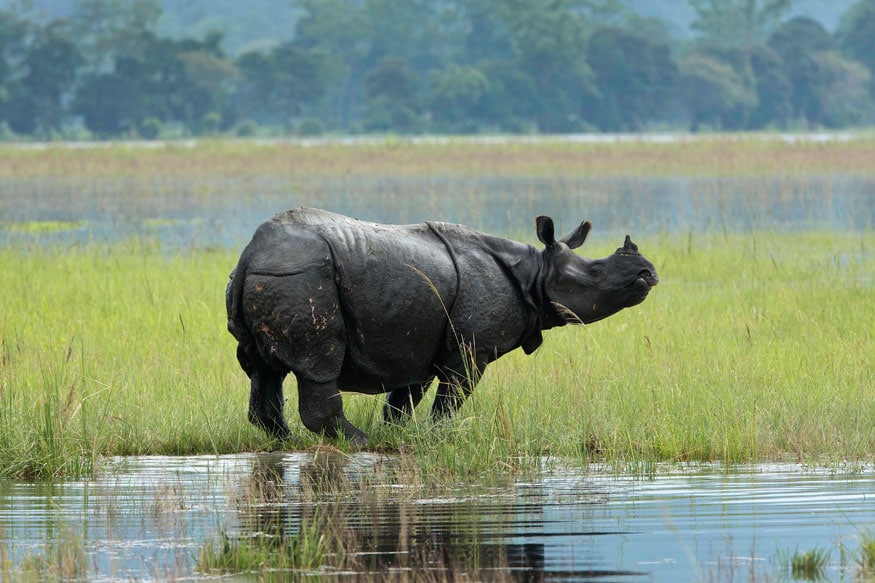 Image for representation. (AP Photo)
New Delhi: China's decision to legalise the use of rhino horn and tiger bone in medical research of traditional medicine is likely to increase "laundering". The rhinos outside Kaziranga could particularly be at risk.
Though, the Chinese government said that illegally obtained products "would be confiscated and products in individual collections are not to be traded again", the Indian authorities are sceptical about it.
Former DIG wildlife and country-director Wildlife Conservation Society Prakriti Srivastava drew a parallel with sandalwood smuggling in Kerala and said it was a "proven fact" that smuggling would spike.
"It is clear that laundering will happen. This is a proven fact. This is exactly how sandalwood laundering would take place. We would have auctions for sapwood (low quality sandalwood) and smuggling factories would show their stocks as legally obtained sapwood, while extracting the oil illegally from sandalwood."
"It is possible that rhinos outside Kaziranga could be at an increased risk," she added, while noting that the risks are very high owing to trans-border crime.
Kaushik Baruah, wildlife warden Assam concurred and added, "This is going to impact the Asian elephant and rhinoceros population in the long run."
As of 2018, the rhino population in Kaziranga has increased 12-fold, rising to 2,413. But the park accounts for over 70% of the species population and like the Asiatic lion restricted in Gir, this puts the entire species at risk.
Once, the species ranged across the entire northern part of the India subcontinent, from modern-day Pakistan to the Indo-Myanmar border, Bangladesh and southern parts of Nepal and Bhutan. Today, outside Kaziranga, it survives patchily in parts of Uttar Pradesh, Bihar and northern West Bengal.
There are other inherent risks which the species face. In Kaziranga, for instance, the population increase has meant that the animals are found almost everywhere in the park. Moreover, the near-blind species is far easier to poach than a tiger or an elephant.
With Kaziranga implementing stringent measures against poachers, often leading to violent conflicts, operators in the past years have switched to the Dimapur-Kohima-Imphal route, parts of north Bengal and Silchar in Assam.
"These are areas where the lure for a rhino horn, which is far more valuable than other species might be far more tempting for people to turn to poaching. Also, we are at a stage when we are looking to take our rhino population out of Kaziranga and into other states," said a MoEF official.
Get the best of News18 delivered to your inbox - subscribe to News18 Daybreak. Follow News18.com on Twitter, Instagram, Facebook, Telegram, TikTok and on YouTube, and stay in the know with what's happening in the world around you – in real time.
| Edited by: Sana Fazili
Read full article