Right-wing Activists Disrupt 'China Day' in Bengaluru School, Event Cancelled
Some 40 to 50 activists of the Akhil Bharatiya Vidyarthi Parishad (ABVP) landed up outside Delhi Public School in north Bengaluru and held a protest on Thursday, demanding that 'China Day' should be scrapped.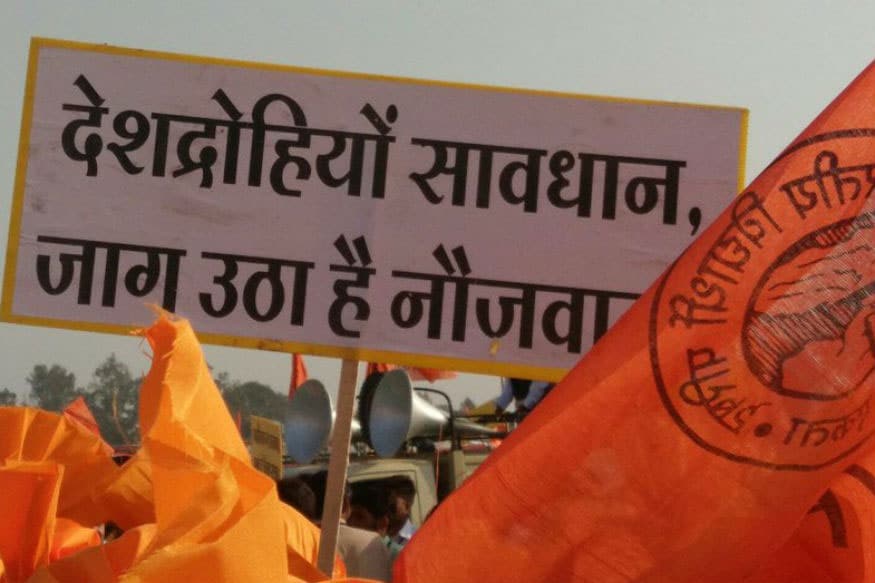 Flag of ABVP. Representative image (Image: ABVP Twitter)
Bengaluru:
Right-wing activists allegedly disrupted an event organized at Delhi Public School in north Bengaluru to teach multi-culturalism to seven-year-old children.
Some 40 to 50 activists of the Akhil Bharatiya Vidyarthi Parishad (ABVP) landed up outside the school and held a protest on Thursday, demanding that 'China Day' should be scrapped.
Following the protest, the school cancelled the event.
The event was part of a larger programme by the school to introduce cultures of different countries to the children by holding such days dedicated to countries.
"Our programme was part of the International School Award of the British Council It is to understand different cultures – and six countries were chosen, including China and India. The theme was celebrate of New Year's Day, Manju Balasubramanyam, the school's principal, told CNN-News18.
"We are trying to bring the world into the classroom, teach them so many things. The group that had to talk about India was to do rangolis, we had similar activities for other groups," she added.
The British Council's ISA programme has been adopted in over 2,500 schools across the country since 2003. It is also adopted in 30 other countries and aims at sensitising primary school children. It celebrates exemplary practices of internationalism in schools and nurture global citizenship.
The cancellation came after police were called in, and asked school authorities to speak to a few ABVP representatives to sort it out. Three ABVP activists went in, and demanded that the school cancel the event and also observe the next day as 'national pride' day as a sort of apology.
The Block Education Officer also dissuaded the officials from holding their event, Balasubramanyam said.
"We told them every day is a day of national pride for us. We are currently hosting more than 600 NCC cadets in our campus. What can be a greater matter of pride? This was a simple class-room-level event, comparing how New Year's is celebrated in different countries – similarities, differences. We believe in experiential teaching, through food, dress, ask them why New Year's is on a particular day, relate it to the harvest seasons, teach them through lateral thinking," she said.
Balasubramanyam, a teacher for 30 years and the wife and daughter of Army men, and the school management was perplexed about this as there is no attempt to actually celebrate the Chinese New Year.
The Chinese New Year is celebrated on a new-moon-day in January or February. In 2017, it fell on January 28, next year it will be February 16. But the protestors weren't willing to heed that.
"Political parties must stay out of school campuses. You may have a difference of opinion, but you cannot force us to change our programmes. We are now discussing among ourselves whether a police complaint must be lodged. Today, someone without authority walked in. Tomorrow, what stops another group from coming in? Ours is a school with small children whose safety is most important," Mansoor Ali Khan, a board member of the school, told CNN-News18.
As on Friday, no police complaint was lodged, as the school authorities were still to get over Thursday's disruption and wanted to focus on peaceful functioning in the school.
The Karnataka Associated Managements of Schools (KAMS), a forum of all private schools, has issued an advisory to schools after Thursday's incident.
"We condemn trespass, disturbing the peace and instilling fear among children and teachers. There are various ways to raise a complaint/ agitate, instead of barging into schools. We demand the education department to handle such persons or organisations legally, as schools are sensitive zones," a KAMS statement read.
It has also issued an advisory to schools to not discuss policy matters of neighbouring states or countries negatively, watch out for local activists with political agendas, and maintain a non-political environment.
An advisory, that the DPS principal feels, may be warranted in "these "sensitive times". "I guess we also need to be on our guard," she said.
| Edited by: Ashish Yechury
Read full article
Countdown To
Elections Results
To Assembly Elections 2018 Results