Riots erupt after Thai protest leaders surrender
Protesters torched Thai stock exchange and Central World, Southeast Asia's second-biggest department store complex.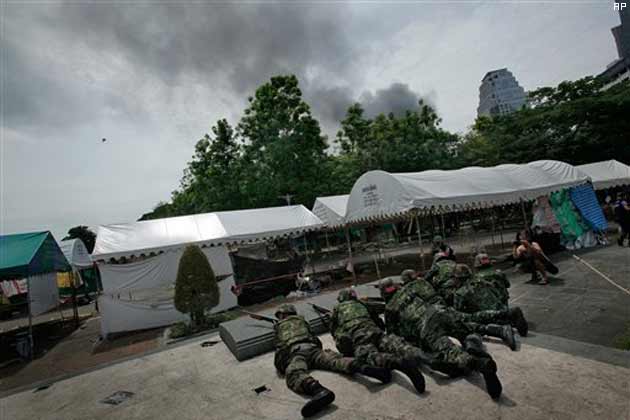 Protesters torched Thai stock exchange and Central World, Southeast Asia's second-biggest department store complex.
Bangkok: Rioting and fires swept Bangkok on Wednesday after troops stormed a protest encampment, forcing protest leaders to surrender, but sparking clashes that killed at least four people and triggered unrest in northern Thailand.
Protesters torched five buildings, including the Thai stock exchange and Central World, Southeast Asia's second-biggest department store complex, and attacked local Channel 3 television station as riots spread across the city of 15 million people.
Power was lost in typically bustling Sukhumvit Road district, an area packed with tourists and high-end residential complexes, just hours after the army said the situation involving thousands of anti-government protesters was under control.
The chaos followed a military operation in the morning in which troops in armoured vehicles and firing semi-automatic weapons advanced on an area occupied for more than six weeks by thousands of the "red shirt" demonstrators.
As they surrounded the main protest site, top protest leaders offered to surrender, as supporters urged them to fight on, many screaming and crying as gun fire rang out nearby.
Moments later, live television showed four "red shirt" protest leaders in police custody and an army spokesman said in a television broadcast the protest site was under army control and the military had halted operations.
But that didn't stop the unrest after six days of chaotic street fighting between protesters and troops that descended into urban warfare, killing 39 people and wounded 329.
Minutes after they surrendered, three grenades exploded outside the main protest site, badly wounding two soldiers and a foreign journalist, a Reuters witness said. Rioting was seen in five areas of the city as protesters lit fires and burned tyres. Some hotels set up wooden barricades.
Several media organisations including The Bangkok Post and The Nation newspapers evacuated their office after a threat from protesters accusing them of biased reporting.
Curfew
A curfew might be imposed in Bangkok to help restore order, the country's defence minister told reporters.
Violence also spread to northeast Thailand, a red shirt stronghold, where protesters stormed a town hall complex in the city of Udon Thani, setting a building ablaze, and torched a second town hall in Khon Kaen.
Three journalists were among 50 people wounded and one Western journalist, identified as an Italian, was killed.
Troops and armoured vehicles broke through the protesters' three-metre-high (10 feet) barricades of tyres and bamboo, and fired tear gas and automatic rifle-fire at the protesters.
Two bodies were found on Ratchadamri Road, which leads to the main protest site after troops followed the army vehicle into the encampment, a Reuters witness said. They appeared to have been shot. The "red shirts" fired back, witnesses said.
Protesters ignited walls of tyres as the troops arrived, causing thick black smoke to billow high over skyscrapers and hiding thousands of demonstrators who have occupied the heart of Bangkok's commercial district for more than six weeks.
The mostly rural and urban poor protestors broadly support former Prime Minister Thaksin Shinawatra, a graft-convicted populist billionaire ousted in a 2006 coup and living in self-imposed exile to avoid jail.
Thaksin raised the spectre of insurrection in a telephone interview with Reuters on Wednesday. "There is a theory saying a military crackdown can spread resentment and these resentful people will become guerrillas," he said, but declined to say where he was speaking from.
He denied an accusation by a top aide of Prime Minister Abhisit Vejjajiva that he was the stumbling block for failed talks between the government and the "red shirt" leaders.
The military offensive came a day after the collapse of a proposal for talks aimed at ending five days of chaotic street fighting that descended into urban warfare that killed 39 people and wounded more than 300.
Several buildings were on fire on the periphery of the protest encampment, and tyres were set ablaze are various other spots in the city of 15 million people and a popular tourist destination.
The red shirts accuse the British-born, Oxford-educated Abhisit of lacking a popular mandate after coming to power in a controversial parliamentary vote in 2008 with tacit backing from the military. They have demanded immediate elections.
Troops over the past few days had thrown a cordon around the protest site, a "tent city" at the Rachaprasong intersection, paralysing the heart of Bangkok. Hundreds of women and children have taken refuge in a temple inside the protest area.
Protesters have stockpiled food, water, and supplies in the encampment since Thursday when the assassination of a major-general allied to the red shirts, and an army operation to pressure them, sparked the latest wave of violence that has killed 68 people and wounded more than 1,700 since the demonstrations began in mid-March.
Get the best of News18 delivered to your inbox - subscribe to News18 Daybreak. Follow News18.com on Twitter, Instagram, Facebook, Telegram, TikTok and on YouTube, and stay in the know with what's happening in the world around you – in real time.
Read full article