New Delhi:
Six years ago, when Haroon and his family fled the burning Rakhine state of Myanmar, all that he had was a hope for a better tomorrow. On Sunday, that hope was lost and Haroon again stares blankly at a future with no money and no belongings.
Darul Hijrat, the makeshift colony in Delhi that he along with 54 other Rohingya families that had fled Myanmar called home, was reduced to ashes by 3am on Sunday. Most of the residents were either sleeping or trying to battle the hot weather when the fire enveloped their sanctuary.
Though no casualty has been reported, most of the residents fear they would never overcome the loss – their savings over the last several years and the documents that are difficult for a refugee to obtain.
Many like Ibrahim Habibullah, a father of three, spent the day scourging through the rubble looking for their UN identity card and Quran. His wife, Sameena, suffered burn injuries on her arm while waking up their two-year-old and fleeing from the house.
"We have seen this. In fact, we have seen worse. From a land where we saw our brothers and sisters being killed and burnt to this, it does not feel much. But now, when we thought fleeing was over and all that we had to do was to assemble the pieces of our life together, we are back to where we started. I don't even know where to go and look for water now," said Habibullah.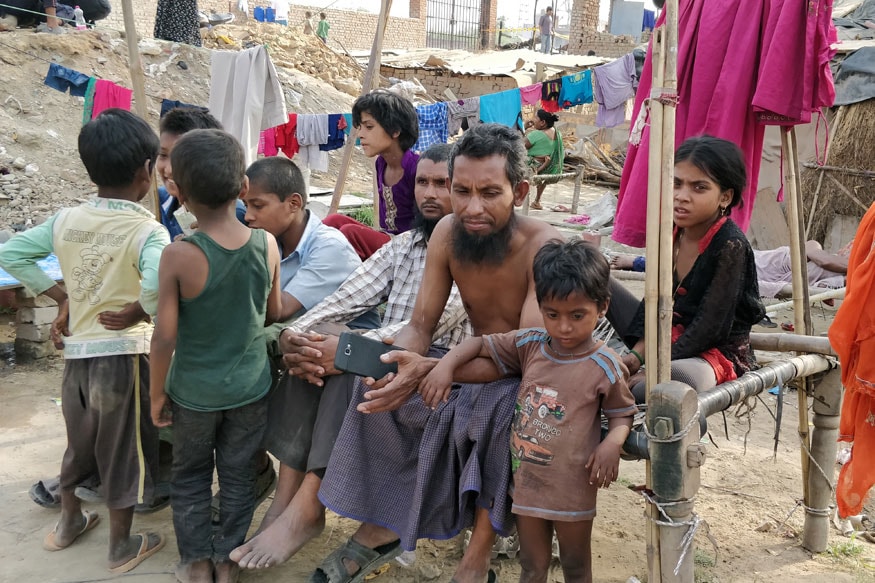 (Image courtesy: Debayan Roy/News18)
According to the refugees, they first noticed that the fire was emanating from the Masjid and then soon it engulfed the entire 1100 square foot land. "All the homes were built one after another. Hence, there was no way to stop it. All that we could do was to run for our lives," said Haroon.
Most of the refugees either work as daily wage labourers or ran small shops, which they built after initial help from the Zakat Foundation, which helped set up Darul Hijrat.
But the Sunday fire engulfed not only the homes but also the shops lined on the road leading towards Madanpur Khadar.
Minaara, a mother of two, had been running a stationery shop for the last four years. On Saturday, after tallying her books, it was around 11 pm that she shut shop. Now, sitting beside a number of burnt and exploded gas cylinders, she wonders how to pick up her life from here.
"I had started working after a lot of hurdles. My husband could only bring a very limited amount of money. Plus, the Rohingyas tag never allowed us to even work as domestic helps. Hence, I started running this shop. Now, I am left with not a single penny," said Minaara while clutching onto her three-month-old.
The residents refused to speculate on the cause of the fire, though there have been past attempts to make them vacate the land. "We cannot say how the fire started. It was past three in the night and none of us were out. May someone left the gas on," said Rukhsaar, nursing the burn injury on her leg.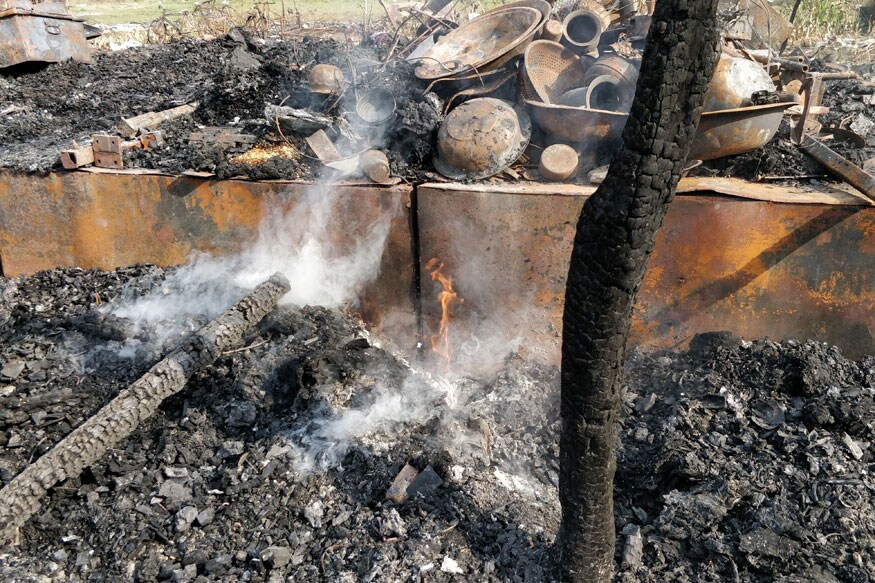 (Image courtesy: Debayan Roy/News18)
However, the police have ruled out any foul play after teams from the Forensic Sciences Laboratory, BSES Ltd, and the fire department pointed towards a short circuit as the cause of fire.
ACP Dhal Singh told News18 that most of the electricity connections here were illegal and that all the investigating teams believe that the short circuit led to the devastating fire.
"Can you see one of those rods which just outside the boundary wall of the camp? Most of the illegal connections were taken from there. There is no motive behind this act," Singh said.
The blaze comes close on the heels of a court directive to the government to submit a report on the basic amenities provided to Rohingya camps in Delhi and Haryana. The next date of hearing is May 9.
Most of the residents have now been shifted to a makeshift tent built by the National Disaster Management Authority called "Raahat camp," but for most, relief is far from possible.
Sajida (name changed), a fourteen-year-old had never missed a single class at her nearby school. But now cuddling her little brother, she wonders if she can go back to school again, especially with no documents, books, or money.
"Everything is difficult for us. We have no one to approach and all the help that we would get is either food or clothes. But what about our education and books. They are not the priority now," said Sajida.
The police has promised the dwellers that a shelter would be built soon and they would be provided new UN cards.