Colorado shooting: Obama, Romney suspend campaigns
Us President Barack Obama has ordered all flags to be flown at half-staff through Wednesday of next week.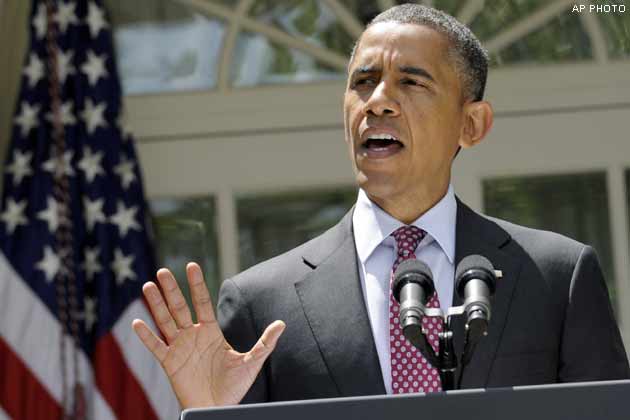 Us President Barack Obama has ordered all flags to be flown at half-staff through Wednesday of next week.
Washington: US President Barack Obama and his Republican challenger Mitt Romney temporarily suspended their presidential campaigns in view of the tragic killing of 12 people in a movie theater shootout which also left 59 others injured.
While Obama returned to White House on Friday afternoon from Florida, mid-way through his election campaign, Romney addressed a meeting in New Hampshire.
"Our hearts break with the sadness of this unspeakable tragedy...I stand before you today not as a man running for office, but as a father and grandfather, a husband, an American," Romney said in his remarks in the meeting.
"This is a time for each of us to look into our hearts and remember how much we love one another and how much we love and how much we care for our great country.
"There's so much love and goodness in the heart of America," Romney said as his campaign announced to pull out the negative advertisements from Colorado in view of the tragic shooting.
Soon after his return from Florida, Obama held a series of meetings with his top national security aides on the shootings in Colorado, including the Vice President Joe Biden, FBI Director Robert Muller and Deputy National Security Advisor John Brennan.
Biden and the First Lady, Michelle Obama, too cancelled their campaign events in view of the shooting. Biden was scheduled to travel to Houston, which he cancelled.
However, Obama would go ahead with his five-State three-day trip beginning Monday, the White House said later in the evening. Obama would travel to Nevada, Oregon, California, Washington and Louisiana as part of his election campaign.
"We have asked affiliates in Colorado to pull down all of our advertising for the time being. Not just contrast spots. "It takes time for stations to be able to do this, but we are making every effort," a Obama campaign official said.
Though Romney has no public events scheduled through Monday, he is likely to hit the campaign trail for at least a couple of days next week before departing to London for Olympic games.
"There are going to be other days for politics. This, I think, is a day for prayer and reflection," Obama said in Florida. He ordered all flags to be flown at half-staff through Wednesday of next week.
"The reason this is so deeply felt by all Americans is that, but for the grace of God, the victims could have been any one of our children, in any one of our towns.
"It is every parent's worst nightmare to receive 'that phone call' and to sit by their child's bedside, praying. We know what it's like to wait and wonder and the helplessness a parent feels at this moment," Biden said.
Get the best of News18 delivered to your inbox - subscribe to News18 Daybreak. Follow News18.com on Twitter, Instagram, Facebook, Telegram, TikTok and on YouTube, and stay in the know with what's happening in the world around you – in real time.
Read full article