Row Erupts Over Two Gujarat Ministers Felicitating Exorcists
Two Gujarat cabinet ministers waded into a controversy after they attended a felicitation function of exorcists in Botad district.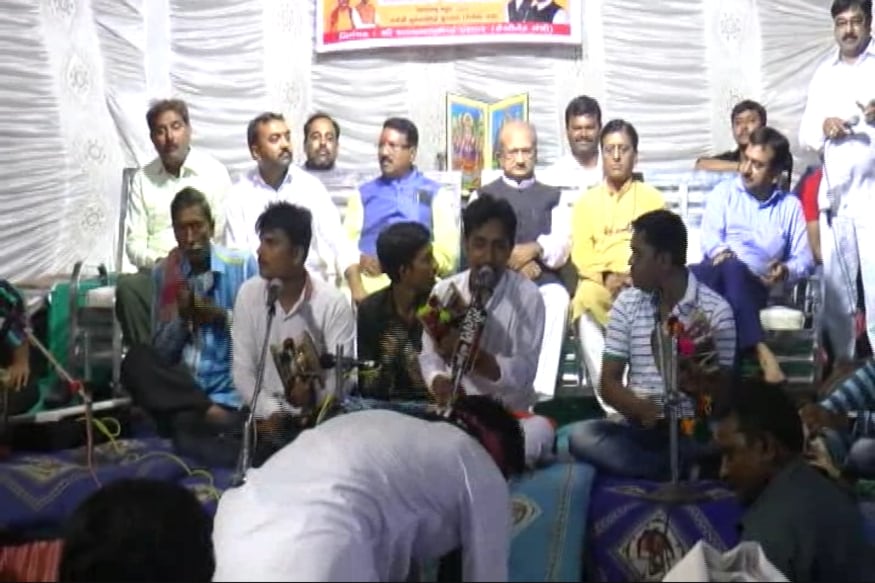 A photo of the event where exorcists were honoured. A still from CNN-News18
Ahmedabad:Ahmedabad: Two Gujarat ministers attended a function where exorcists were present in Bhavnagar and one of them actually felicitated them.
Exorcists are known as 'bhuvas' in Gujarat. The function took place on Saturday.
Social activists have reacted angrily to this, alleging that exorcists who dupe villagers regularly are being sheltered by the government.
Rationalists say this amounts to encouraging superstition and evil practices in society.
The event that was held in Gadhada town of Bhavnagar district. It was hosted by cabinet minister Atmaram Parmar, who is also MLA from the locality. The invite for read that MLA Parmar will welcome and felicitate worshippers of the Goddess Shakti.
State education and revenue minister Bhupendrasinh Chudasama shared the dais along with Parmar. At the function, about 350 exorcists were felicitated.
Dalit activists burnt an effigy of Parmar at Wadhwan in Surendranagar district on Sunday, and were detained by the police.
Martin Macwan, head of Navsarjan Trust that has been working for Dalit rights told CNN-News18, "This is horrific. More so because a minister of the government has felicitated these quacks and exorcists in full public view. The worst victims of these 'bhuvas' are dalits, who get fleeced by these unscrupulous elements."
Macwan said that his organisation will soon launch an agitation against the ministers. The host, Parmar, is Gujarat's social justice minister in the Vijay Rupani cabinet.
Jayant Padya, founder of Bharat Vigyan Jatha, a rationalist organisation said, "On one hand, the government is promoting digital technology and on the other hand, a minister is the host of a function to felicitate witch doctors and exorcists. We have written to the chief minister and sought his appointment to lodge a protest," Pandya told News18. He added that a memorandum will be submitted to the CM, asking him to instruct his ministers to verify what kind of functions they attend.
While Chudasama could not be reached despite several attempts, Parmar was unapologetic. "I have done nothing wrong and neither am I the first minister to attend such a programme. These `bhuvas' are also involved in reforming our society and felicitating them is not wrong," he told CNN-News18.
Parmar added that some NGOs who were protesting against this have their own agenda.
| Edited by: Ashish Yechury
Read full article