Rs 600 Crore Aid Not All, Will Give More to Kerala: Centre Amid Row Over Refusing Foreign Funds
The Centre has said that Rs 600 crore released two days ago to flood-hit Kerala was only the advance assistance and additional funds would be released when an inter-ministerial team visits the state again and assesses the damages.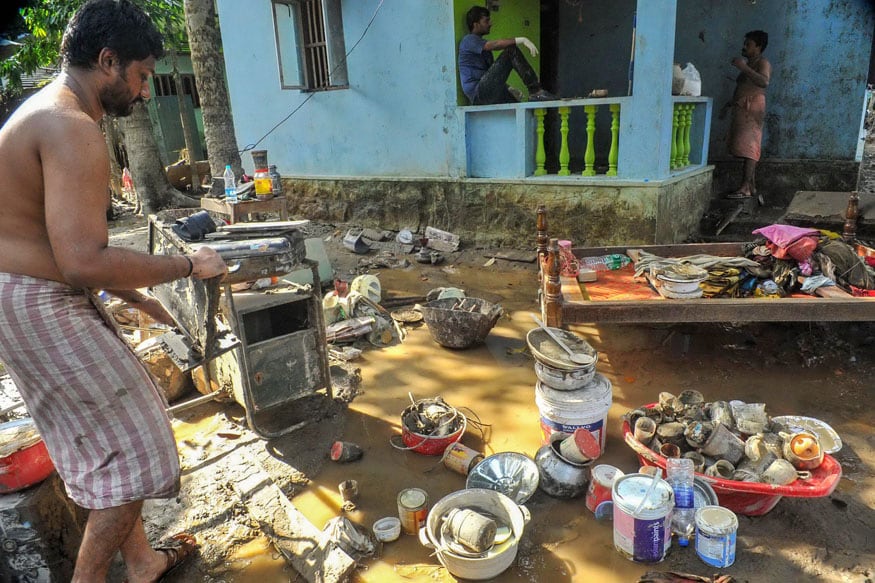 A man cleans up his house after flood water subsided at Chengannur district of Kerala. (PTI Photo)
New Delhi: Facing flak for refusing UAE's offer of Rs 700 crore for Kerala flood relief and issuing an aid of Rs 600 as against the flood-ravaged state's demand of Rs 2,600 crore, the Centre on Thursday issued a statement that it will release more funds and Rs 600 crore was only for immediate relief.
The Centre has said that Rs 600 crore released two days ago to flood-hit Kerala was only the advance assistance and additional funds would be released when an inter-ministerial team visits the state again and assesses the damages.
The government has declared that it will not take any financial assistance from foreign governments going by an existing policy on foreign aid.
"It is clarified that Rs 600 crore released by Centre is the advance assistance only. Additional funds would be released from NDRF on assessment of the damages as per laid down procedure," the statement said.
On Tuesday, the central government had released Rs 600 crore to flood-hit Kerala as promised by Prime Minister Narendra Modi (Rs 500 crore) and Home Minister Rajnath Singh (Rs 100 crore) during their visits to the state.
The home ministry also said that during the floods in Kerala, the Centre has provided urgent aid and relief material in a timely manner and without any reservation.
Speaking to CNN-News18, Union minister KJ Alphons also said that what the Centre has given Kerala as aid is "adequate for the time being".
He said, "I appeal to all Indians to take out their cheque books to donate as much as they can as Kerala needs enormous amounts of money. What the Govt of India has issued in flood relief is more than adequate for now. There is enough money for immediate rescue and relief."
However, several ministers in Kerala, including CM Pinarayi Vijayan and Finance Minister Thomas Isaac, has voiced their dissatisfaction over the Centre's decision to not accept foreign aid.
The statement further adds that the Kerala situation has been regularly monitored by the Prime Minister on a daily basis. According to the latest tally, 373 people have died while 32 others are still missing in the state.
Following the decisions taken during meetings of the National Crisis Management Committee (NCMC), the Centre launched massive rescue and relief operations. In one of the largest rescue operations, 40 helicopters, 31 aircraft, 182 teams for rescue, 18 medical teams of defence forces, 58 teams of NDRF, 7 companies of Central Armed Police Forces were pressed into service along with over 500 boats and necessary rescue equipment.
They successfully saved over 60,000 human lives by rescuing them from marooned areas and shifting them to relief camps, the statement said.
Union Minister of State for Home Kiren Rijiju had visited Kerala on July 21 followed by the Home Minister Rajnath Singh on August 12. Since there was a second spell of floods in the state, the state government has stated that they will submit an additional memorandum on the fresh damages caused by the floods and landslides once rescue efforts are over.
Since submission of additional memorandum by the state government will take time, with a view to assist the state in meeting relief and rescue expenditure, the central government has released Rs 600 crore in advance pending assessment by IMCT and decision of a high level committee.
This is in addition to Rs 562.45 crore already made available in State Disaster Relief Fund of the state. In addition to the financial support, the Centre has made available large quantities of emergency food, water, medicines and other essential supplies, including additional allocation of foodgrains, as requested by the state. Financial mechanism to meet the rescue and relief expenditure during any notified disaster event is governed by notified guidelines on State Disaster Response Fund (SDRF) and National Disaster Response Fund (NDRF).
State Disaster Response Fund has been constituted in each state in which the Centre contributes 75 per cent for general category states and 90 per cent for special category states of hilly regions every year as per the award of the successive Finance Commissions.
As per the guidelines, the central government provides its allocation to SDRF of each state in advance in two installments. In case of any natural calamity, State meets the expenditure of relief and rescue from the SDRF already available at its disposal.
In case of any natural calamity beyond the coping capacity of a state, the state government submits a detailed memorandum indicating the sector-wise details of damage and requirement of funds for relief operations of immediate nature.
On receipt of a memorandum, an Inter-Ministerial Central Team (IMCT) is deputed by the Central Government for on-the-spot assessment of damages and additional requirement of funds.
(With PTI inputs)
| Edited by: Sanchari Chatterjee
Read full article
Countdown To
Elections Results
To Assembly Elections 2018 Results