RSS-affiliated Bharatiya Kisan Sangh Says Farmers' Protest in Mumbai Will Lead to Nothing
Mohini Mohan Mishra, the national secretary of Bhartiya Kisan Sangh, said the protesting farmers should give the government some time so that issues can be dealt with accordingly.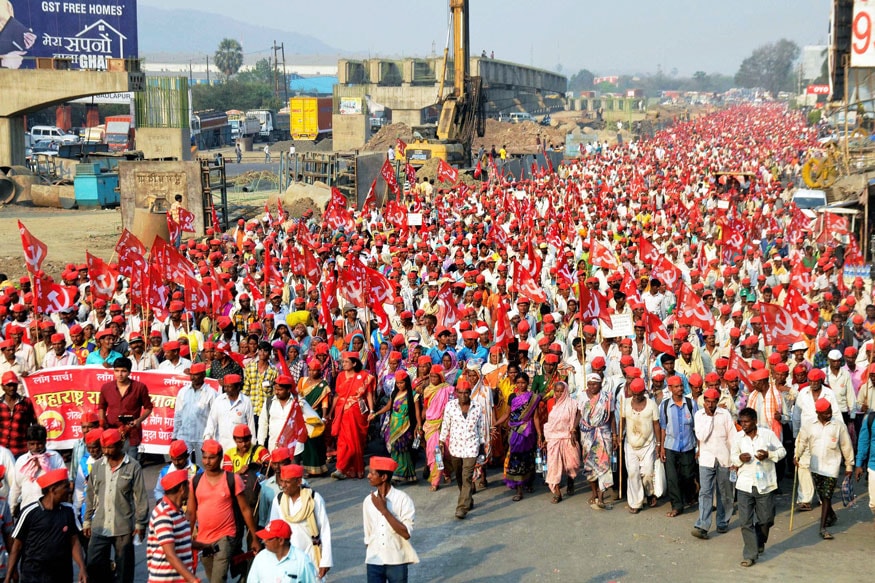 Farmers of All Indian Kisan Sabha (AIKS) march from Nashik to Mumbai to gherao Vidhan Bhawan, demanding a loan waiver, in Mumbai. (Image: PTI)
Mumbai:
Taking note of communist party's red flag being carried by thousands of farmers who marched their way to Mumbai, RSS-affiliated Bhartiya Kisan Sangh has said that the protests will "lead to nothing."
Speaking with News18, Mohini Mohan Mishra, the national secretary of Bharatiya Kisan Sangh, said, "This type of protest will not lead to anything. Last time also they created ruckus on the roads. This is not the way."
Azad Maidan in South Mumbai has turned into a sea of red as thousands of farmers, carrying red flags, converged there after walking for almost a week. Mishra said that protesting farmers should give the government some time so that issues can be dealt with accordingly.
"The government of India wants to implement policies for the benefit of farmers. If the government has started something in favour of farmers then it will take time. They [agitating farmers] should wait," Mishra added.
More than 30,000 farmers and members of tribal communities from across Maharashtra covered a distance of more than 180 km on foot to table their demands before the Maharashtra government.
Apart from the loan waiver and better Minimum Support Price, these farmers want the implementation of the Forest Rights Act to secure the rights of the people working on community lands and to help the farmers secure loans to opt for basic irrigation facilities.
The Farm Loan Waiver Scheme that the protestors have been demanding was announced on June 24, 2017 to benefit 89 lakh farmers across the state with burden on the state exchequer to the extent of Rs 34,000 crore.
However, seven months after the announcement of the scheme, only 31 lakh farmers have been beneficiaries and loans worth Rs 12,262 crores have been waived.
"We have never been in favour of the loan waiver scheme. Sometimes it is a requirement, not a necessity. Markets are also affected because of this. Government has also decided that they will pay 1.5 times the cost of production in this season. Things don't happen in a hurry," said Mishra.
Earlier, BJP MP Poonam Mahajan claimed that urban Maoists propelled the Maharashtra farmers' protest. "Tribals in Maharashtra have been captured by urban Maoism," Mahajan had said.
Mahajan alleged that Maoists were misguiding the farmers' and infiltrating their Long March.
"I respect these farmers but what has bothered me the most is that these farmers are holding communist flags," she said.
The protestors, however, have received support from several opposition parties, including the Shiv Sena, which is an ally of the BJP in Maharashtra. Maharashtra Navnirman Sena President Raj Thackeray also extended support to the protesting farmers.
| Edited by: Aakarshuk Sarna
Read full article
Countdown To
Elections Results
To Assembly Elections 2018 Results