RSS Man Leading Protests at Sabarimala Under Fire for Violating Key Tradition
Valsan Thillankeri was seen standing at the temple steps without the Irumudi Kettu which is mandatory for all devotees seeking darshan of Lord Ayyappa.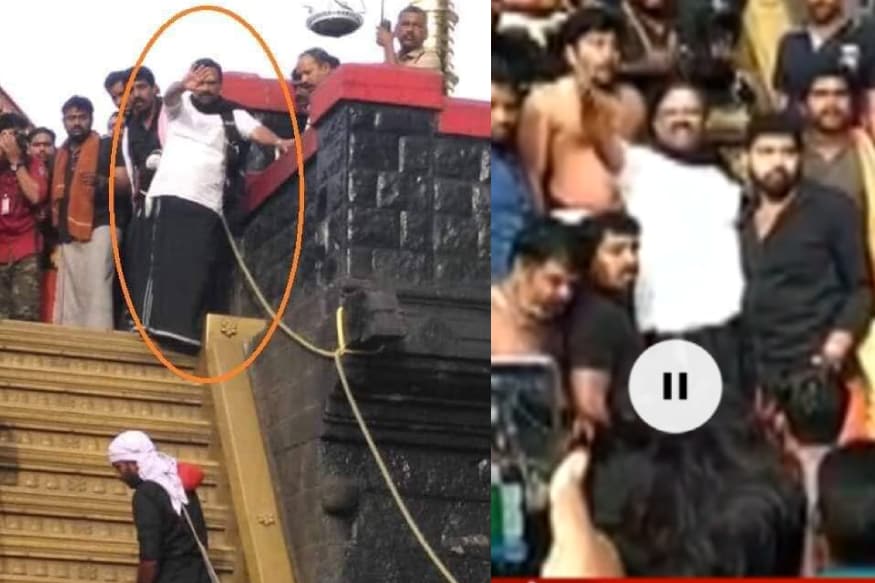 The whole incident was captured on camera.
Sabarimala: Yet another controversy erupted at the Sabarimala temple complex on Tuesday when it opened for the one-day Chithira Atta Visesham festival. A top Rashtriya Swayamsevak Sangh (RSS) leader of the state, who is representing the protesting devotees, allegedly violated the key traditions of the Ayyappa temple.
Valsan Thillankeri, Prantiya Karyakari Sadasyan of RSS, was seen standing at the steps to the temple without the Irumudi Kettu or the ritual offerings on his head. An Irumudi, which contains offerings to the deities, is mandatory for all devotees seeking darshan of Lord Ayyappa. The only exception to the rule is the Pandalam royal family which seeks darshan by climbing the holy steps of the temple known as the Pathitteam Padi (18 steps).
Thillankeri allegedly climbed down the holy steps backwards, which is also against the tradition. Those who wish to have darshan sans an Irumudi can enter the Sannidhanam through the steps at its northern side. Travancore Devswom Board, the custodian of the temple, said it will probe the incident. "This is not expected from an RSS leader who was fighting to uphold the traditions," said KP Sankardas, a member of TDB.
It all started when around 200 protesting devotees surrounded a woman and chanted 'Swami Saranam Ayyappa Saranam', to prevent her from entering the shrine, suspecting her to be of menstrual age. The woman, who was identified as Lalitha, was later allowed inside after it was clarified that her age was 52.
However, Thillankery later said that he had gone to the temple via the holy steps with an Irumudi on his head. "I came down when I heard an uproar downstairs. First, I appealed with the Irumudy in my hands. Then I handed over the Irumudy to a person next to me and made an appeal to the crowd to be calm. I have not violated any custom. This can be verified from the visuals and am ready for any penance if there is any," he said.
The same day another controversy erupted when Thillankery used the police megaphone to address the protesters. He defended this action too, saying it was to pacify the crowd. "Somebody handed over the megaphone to me to make an appeal. I told them not to fall prey to those hardliners who came to create problems at the hill shrine," he said.
Get the best of News18 delivered to your inbox - subscribe to News18 Daybreak. Follow News18.com on Twitter, Instagram, Facebook, Telegram, TikTok and on YouTube, and stay in the know with what's happening in the world around you – in real time.
Read full article