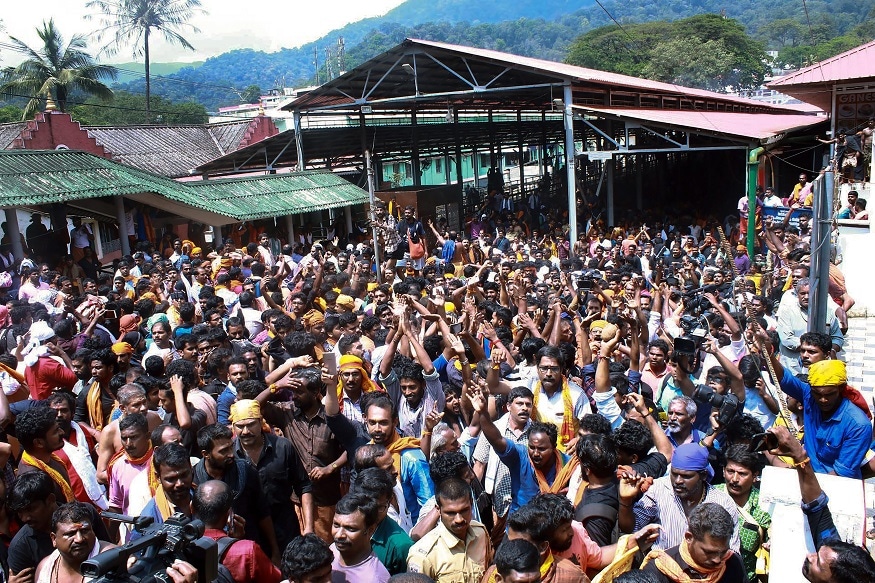 Representative Image

The Kerala High Court, meanwhile, on Tuesday took suo moto cognisance of the violence at Sabarimala Temple after the Supreme Court opened the gates of the shrine to women of all age groups. It has also sought an explanation from the Travancore Devaswom Board.

The SC verdict had led to violent protests at the base camps outside the hill shrine as devotees and several Hindu outfits blocked women from entering the temple when it opened for six days in October.

As the hearings began, a lawyer sought to file a fresh affidavit by a 'tantri', asking for open court hearing. Reacting to the same, the CJI said: "You are being unfair to us. Beyond that, we don't want to say anything."

At least 12 women in the 10-50 age group had made a failed attempt to trek the hills and had to return following the protests. Even women over the age of 50 were stopped at Sabarimala and were only allowed to pass through after showing proof of their age.

The BJP and the Congress both blamed the Pinarayi Vijayan government in Kerala for implementing the verdict in a "hurry" and are taking out protest rallies through the state to protect the "traditions and customs" of the temple. However, the Left government has reiterated that the administration is committed to implementing the court's September 28 order, but blamed political rivals for politicising the issue.

A review plea by the Nair Service Society (NSS), one of the petitioners, said "without holding that the questions raised related to matters of religion which are not within judicially manageable standards, the majority decision in substance has the effect of holding that the character of the deity can be altered based on individual faith and belief, in violation of the tenets of a particular religion and or religious sect". The petitioners have also alleged that the verdict has "legal errors" and the assumption of the temple practice being based on notions of menstrual impurity is "factually erroneous".




29 Nov - 02 Dec, 2019 |

Pakistan in Australia

AUS
vs
PAK
589/3

127.0 overs

302/10

94.4 overs

Australia beat Pakistan by an innings and 48 runs

29 Nov - 03 Dec, 2019 |

England in New Zealand

NZ
vs
ENG
375/10

129.1 overs

476/10

162.5 overs

New Zealand drew with England

27 - 29 Nov, 2019 |

Afghanistan and West Indies in India

AFG
vs
WI
187/10

68.3 overs

277/10

83.3 overs

West Indies beat Afghanistan by 9 wickets

22 - 24 Nov, 2019 |

Bangladesh in India

BAN
vs
IND
106/10

30.3 overs

347/9

89.4 overs

India beat Bangladesh by an innings and 46 runs

21 - 24 Nov, 2019 |

Pakistan in Australia

PAK
vs
AUS
240/10

86.2 overs

580/10

157.4 overs

Australia beat Pakistan by an innings and 5 runs