Trupti Desai Heads Back Home After Protesters Block Her Sabarimala Trek, Says Will 'Certainly Return'
Hundreds of protesters had said they won't let her go on Sabarimala pilgrimage and staged protest outside the Kochin International Airport.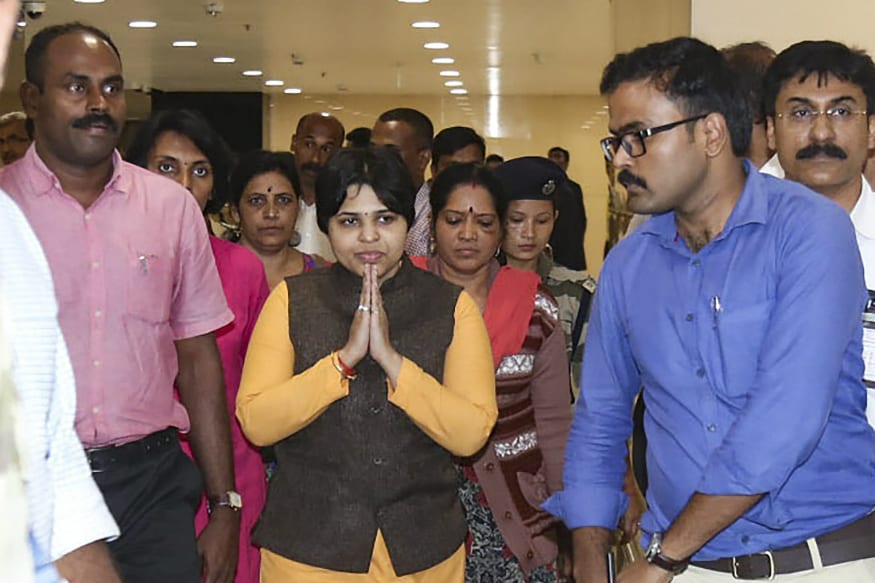 Social activist Trupti Desai, who vowed to offer prayers at the hill shrine, leaves Nedumbassery Airport after being held up inside the airport for over seven hours, in Kochi, Friday, Nov. 16, 2018. (PTI Photo)
Activist Trupti Desai, who was held up at the Kochi airport for more than 13 hours due to protests, has agreed to return to Pune.
Hundreds of protesters had said they won't let Desai go on the Sabarimala pilgrimage and protested outside the Kochin International Airport. Desai said she did not want violence in Kerala and had hence taken the step.
Meanwhile, bus services have begun to ferry devotees from Nilakkal. The trek from Pamba to Sabarimala will also start soon.
Earlier in the day, Bharatiya Janata Party MP Shobha Karandlaje asked Desai if she was carrying 'irumudi' (sacred offerings) and had observed 'vratham'. The MP said that the Supreme Court may have allowed entry of women of all age groups into the temple, but it did not ask devotees to break traditions.
Hundreds of protesters had been raising slogans outside the airport's arrival gate and refused to let the activist out. Hindu Aikya Vedi vice-president K Haridas said that they were ready to stay at the airport for 41 days but would not let Desai go on Sabarimala pilgrimage.
Kerala authorities also issued prohibitory orders under Section 144 in Elavumkal, Erumeli, Nilakkal, Pamba and Sabarimala from Friday till November 22. The state is bracing for fresh protests after the Sabarimala temple doors opened to devotees again for the main pilgrimage season.
Conforming to rituals and traditions, rooted in myths, every pilgrim who wishes to undertake a trip to Sabarimala must observe a 41-day vow of abstinence, a period during which he/she is expected to lead the life of a 'brahmachari' (celibate). He/she must abstain from fish, meat and intoxicants, follow celibacy, refrain from cutting body hair and follow a rigorous regimen.
The temple opened on Friday evening, for the third time since the apex court verdict on September 28 allowed women of all age group to offer prayers at the hilltop Lord Ayyappa temple though none could do so following stiff resistance from devotees and activists, opposing any change in the temple traditions.
Chief Minister Pinarayi Vijayan had held an all-party meeting on Sabarimala issue on Thursday, aimed at building consensus over the entry of women but it was a non-starter as the Congress and BJP refused to budge from their stand and the government saying it was duty bound to obey the Supreme Court's orders.
Meanwhile, Kerala police has taken into custody Prithvipal, a leader of the Achara Samrakshana Samiti, from Pampa. He was accused of instigating violence in Sabarimala when the temple was opened earlier.
Get the best of News18 delivered to your inbox - subscribe to News18 Daybreak. Follow News18.com on Twitter, Instagram, Facebook, Telegram, TikTok and on YouTube, and stay in the know with what's happening in the world around you – in real time.
| Edited by: Aakarshuk Sarna
Read full article