Sabarimala Protesters Stop Vehicles to Check for Women Day Ahead of Temple Opening
Kerala has been witnessing intense protests including prayer marches and mass rallies by Lord Ayyappa devotees and right wing outfits against the implementation of the Apex court verdict.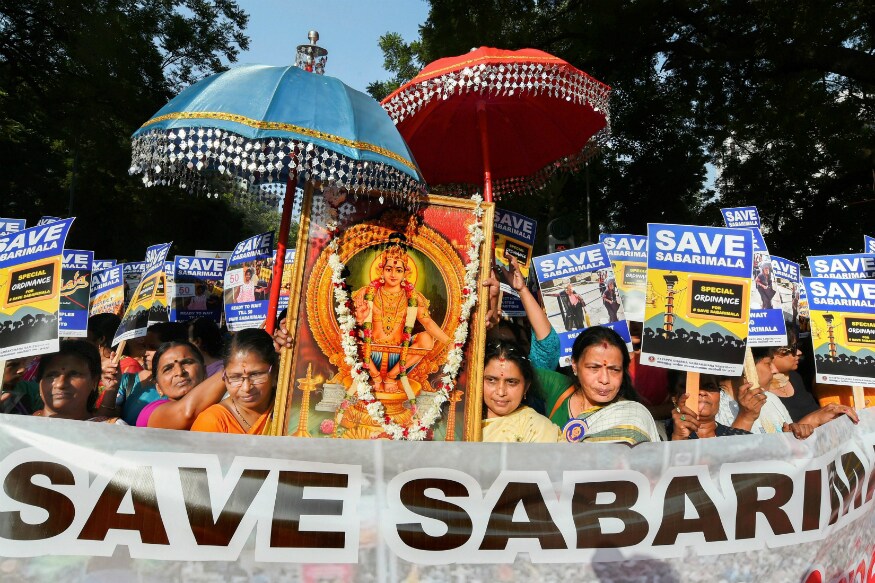 Lord Ayyappa devotees take part in the 'Ayyappa Namajapa Yatra' (chanting the name of Lord Ayyappa) in New Delhi on October 14, 2018 . (Photo: PTI)
Thiruvananthapuram: Ahead of the opening of the Lord Ayyappa Temple on Wednesday for monthly pooja, tension looms large at Nilackal—the main gateway to Sabarimala—as devotees on Tuesday stopped vehicles and prevented women of the "banned" age group from trekking to the holy hill.
The shrine located on the mountain ranges of the ecologically fragile Western Ghats opens on Wednesday for the first time after the recent Supreme Court order permitting women of all age groups there.
Chief Minister Pinarayi Vijayan, however, told reporters that no one would be allowed to block devotees from proceeding to Sabarimala.
Groups of women devotees including senior citizens, clad in traditional sarees, could be seen stopping each and every vehicle at Nilackal, the base camp located about 20 kms away from Sabarimala hill top.
Besides private vehicles, devotees even stopped and inspected Kerala State Road Transport Corporation (KSRTC) buses and asked young women to get out of it.
Very few police personnel were present when the incidents happened.
One of the woman agitator said, "No woman belonging to the banned age group of 10-50 will be allowed to travel further from Nilackal and offer worship at the shrine" when it opens for the monthly pooja Wednesday evening.
The temple would be closed on October 22 after the five-day monthly puja during the Malayalam month of Thulam.
Chanting 'swamiya saranam Ayyappa' matras aloud and clapping their hands, women devotee had been inspecting vehicles at various points en route to Sabarimala since last evening.
Local television channels reported that some college students, who were sporting black colour dresses, were asked to get out of a bus they were travelling in, by devotees alleging that they were on their way to Sabarimala.
Ayyappa devotees wear black colour dress and a bead chain during the pilgrimage. Women journalists, who tried to reach the hill temple as part of their official assignments, were also stopped at the base camp.
Vijayan, however, warned of stern action against those who prevent devotees. "Stern action will be taken against anyone who prevents devotees from going to Sabarimala," Vijayan told reporters here.
Vijayan also made it clear that the government has no intention to file a review petition and would implement the apex court order.The chief minister said the government has taken a stand on the issue that there should not be any discrimination on the basis of gender.
However, the government has clarified that it would not bring in any law to put its policy into practice.
"But, will go by what the Supreme Court says," Vijayan said.
Referring to the statement of BJP President P S Sreedharan Pillai that government would be responsible for any law and order situation on the issue, Vijayan said it was the saffron party that was trying to create problem in the state.
The chief minister also condemned the remark of a BJP supporter and actor Kollam Thulasi that "women who go to Sabarimala temple defying the custom should be ripped apart".
A group of devotees continued their sit-in dharna in front of secretariat here to protest the government's decision to implement the top court order.
Kerala has been witnessing intense protests including prayer marches and mass rallies by Lord Ayyappa devotees and right wing outfits against the implementation of the Apex court verdict.
All protest rallies had witnessed mass participation of women especially that of senior citizens.
The Shiv Sena's state unit recently warned of "mass suicides" if women of the "banned" age group visits Sabarimala.
Police have booked actor-turned-BJP supporter, Kollam Thulashi for his controversial remarks.
A 32-year-old woman, hailing from Kannur, had on Monday complained that she was being slut-shamed and subjected to threats and abuses on social media after she announced her decision to offer prayers at the Lord Ayyappa shrine.
Though the government had earlier considered to deploy women police personnel at Sannidhanam, the temple complex and the 'pathinettam padi,' the sacred 18 steps leading to the sanctum sanctorum, the plan was dropped later following protests of devotees.
The entry of menstruating women had been restricted in the hillock shrine as, according to the traditions, the principal deity Lord Ayyappa is considered to be the 'Naishtika Brahmachari' or the perennial celibate.
Get the best of News18 delivered to your inbox - subscribe to News18 Daybreak. Follow News18.com on Twitter, Instagram, Facebook, TikTok and on YouTube, and stay in the know with what's happening in the world around you – in real time.
Subscribe to Moneycontrol Pro and gain access to curated markets data, trading recommendations, equity analysis, investment ideas, insights from market gurus and much more. Get Moneycontrol PRO for 1 year at price of 3 months. Use code FREEDOM.
| Edited by: Padmaja Venkataraman
Read full article