'You Are Free to Open Fire': BJP Leader Detained for Attempting to Enter Sabarimala, Party Plans Protest
BJP general secretary K Surendran was told by a police team to not proceed to the shrine as it would create law-and-order problems but he tried to continue his trek and was taken into preventive custody.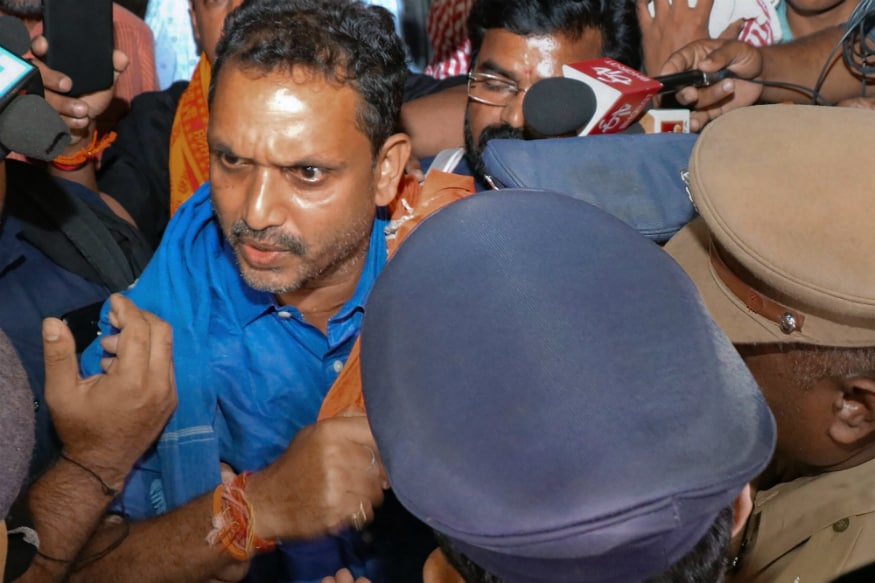 BJP's Kerala state general secretary K Surendran being taken into preventive detention near Sabarimala by the state police when he came to visit the shrine on Saturday. (PTI)
Nilakkal (Kerala): Kerala continued to simmer on Saturday as a state-wide bandh called by various Hindu outfits and supported by the Bharatiya Janata Party (BJP) to protest against the preventive detention of a woman leader from a right-wing outfit brought normal life to a standstill.
In the latest stand-off between the police and protesting Lord Ayyappa devotees, BJP general secretary K Surendran was taken into preventive custody on Saturday night and removed from Nilakkal, the base camp, as he tried to leave for Sabarimala, police said.
Surendran, who was carrying the "Irrumudikettu" (bundle containing offerings for the Lord), was told by a police team to not proceed to the shrine as it would create law-and-order problems. However, he said he had come as an "Ayyappa Bhaktha" (devotee) and should be allowed to pray at the temple. "You cannot prevent me from going to the Sabarimala temple, as I have already registered for pujas. You can stop me only if you open fire and you are free to do so," an angry Surendran told the police, reported IANS.
As Surendran and his supporters jostled with the police and tried to move forward while chanting "Swamiyae Ayyappa", they were removed by the cops and taken in a jeep.
Reacting to the ruckus, a top police official said: "We do not want anyone to foment trouble at Sannidhanam (temple complex), which is why Surendran was taken into preventive custody." Surendran later said he was being taken to the Chittar police station and said he did not know if he was being arrested or detained. He also said he had taken receipt for performing the 'Neyyabhishekam' (ghee offering) ritual and 'Ganapathy Homam.' The BJP said it would protest against the action on Sunday.
Amid tight security, thousands of pilgrims offered prayers at the Lord Ayyappa shrine early on Saturday, the first day of Malayalam month 'Vrischikom,' even as the hartal caught devotees unawares and disrupted life in Kerala. Though shops and hotels were functioning in and around Sabarimala, pilgrims coming from far-off areas were put to hardship as food joints and petrol pumps had downed shutters.
The temple had opened on Friday evening for the two-month-long annual pilgrimage season as a stand-off continued over entry of menstrual age women into the shrine. All regular pujas began this morning under the new Melshanti (chief priest) Vasudevan Nampoothiri's supervision. Police are maintaining strict vigil in and around the temple complex and are using drones to monitor the movement of pilgrims at Nilakkal.
The dawn-to-dusk shutdown was called by Hindu outfits over the preventive detention of Hindu Aikya Vedi state president KP Sasikala early on Saturday. Sasikala, who was taken into custody after she refused to retreat from Marakkottam near Sabarimala, is now out of police custody, though she has been issued a notice under 107 CrPC.
The ruckus over entry of women to Sabarimala took a violent turn on Saturday after the son and daughter-in-law of Kozhikode CPM district secretary were allegedly beaten up by at least 10 hartal supporters in Kuttiyadi. The victim's car was waylaid by the miscreants, following which he along with his wife were dragged out and assaulted by them. Three attackers were later identified and have been charged with attempt to murder.
Meanwhile, the Travancore Devaswom Board, which manages the shrine, said it would move the Supreme Court on Monday, seeking more time to implement the apex court order allowing women of all age groups to pray at the temple.
The temple complex and nearby areas had witnessed protests from devotees when it was opened for monthly pujas for eight days in October and early this month against the LDF government's decision to implement the apex court verdict allowing women of all age groups to pray at the shrine.
Social activist Trupti Desai, who arrived at Kochi airport Friday en route to Sabarimala, was forced to return to Maharashtra following over 13-hour protests from devotees.
Slamming hartal supporters, Opposition leader in the state assembly Ramesh Chennithala described it as "needless" and "unpardonable" and flayed BJP for extending support, while the president of the saffron party, PS Sreedharan Pillai, said the detention of Sasikala and others was "illegal".
Get the best of News18 delivered to your inbox - subscribe to News18 Daybreak. Follow News18.com on Twitter, Instagram, Facebook, Telegram, TikTok and on YouTube, and stay in the know with what's happening in the world around you – in real time.
| Edited by: ---
Read full article