Saif Ali Khan: The original risk taker in Bollywood
In an industry where it is easy to get typecast, the actor has stealthily grown with each passing film.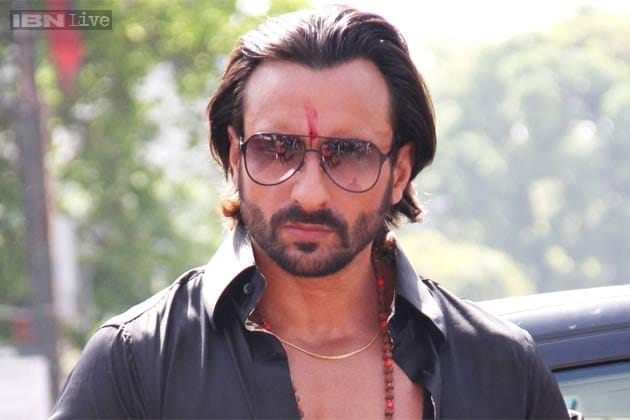 In an industry where it is easy to get typecast, the actor has stealthily grown with each passing film.
New Delhi: We don't give enough credit to Saif Ali Khan. In an industry where it is easy to get typecast on the basis of Friday Box Office collection, the actor has stealthily grown with each passing film and has even dared to break some rules here and there while making films.
While the industry and the country at large has lauded Aamir Khan for taking up different roles and not sticking to the norm, Saif has slowly emerged as the risk taker who doesn't shy away from experimenting with roles or looks.
Lackluster beginning
Expectations from the Saif were always high. Considering his lineage, the actor's entry into films was not the most remarkable. Agreed, he did win the Best Newcomer Award for his debut film 'Aashiq Awara' in 1993, but he was almost written off after that due to dismal performances in various films. The actor was part of some major films in the early 1990s, had big banners backing him and yet critics wrote him of due to lack of a screen presence and poor dialogue delivery. Some even felt that owing to his schooling in Europe, the actor could not really connect to the Hindi film audience. But the turning point came almost a decade after Saif's first film, in 2001, when Farhan Akhtar cast him as the confused rich South Bombay boy Sameer in the coming of age saga of three friends 'Dil Chahta Hai'.
Dil Chahta Hai, National Award and more
Farhan Akhtar's film not only catapulted the film's actors in the big league but it also introduced the Hindi film audience to a new refreshing genre of films. Here, the city bred, foreign educated hero wooed the heroine in upmarket restaurants of big cities. Looks, clothes, mannerisms became more relatable with the city bred youth and Saif emerged as a flag bearer of this new genre of films which was more urban. The film also made everyone sit up and notice the actor's impeccable comic timing which subtle, dry and very witty-something that the actor himself possesses in real life. Soon, enough filmmakers started cashing in on the actor's unique style and ironically, his anglicized upbringing, which initially was a hindrance to his career, became his strongest point. Kunal Kohli's 'Hum Tum'- loosely based on 'Harry Met Sally' suited Saif's newly discovered image perfectly and even fetched him a National Award in 2004.
In fact, 2004 was also the year, when the actor tried to experiment with slightly different kind of a role in Sriram Raghavan's 'ekk Haseena Thi'. As the smooth, charming smuggler/con man, Saif made evil look classy and stylish. While the film bombed at the Box Office, the actor's performance was duly noted.
Breaking the norm
While everyone was all set to typecast the new Khan as the urban, metro sexual youth icon who could not only do comic-romantic roles, Saif surprised one and all with his rustic act in Vishal Bahrdwaj's 'Omkara'. Part of an ensemble cast, he played the antagonist in the film which was an adaptation of Shakespeare's 'Othello'. From the getting the local dialect right, to walking with a limp, Saif made Langda Tyagi memorable.
The only versatile actor?
Critics may have guffawed at Saif when he romanced actress half his age- Deepika Padukone and Diana Penty in 'Cocktail' in 2012 but the producer Saif clearly made a statement that he was interested in making and being part of different kind of films. And if one looks back at the kind of roles the actor has taken up in the last decade, it's actually an interesting mix of films. Some very commercial films like 'Race', 'Salaam Namaste', 'Tashan' rub shoulders with experimental films like 'Being Cyrus', 'Ek Haseena Thi', 'Go Goa Gone'. And he manages to slip into all these films well. Time and again, Saif emerges as the biggest risk taker in the film industry who is willing to make films out of the set pattern. As a popular star, the actor could be catering to the masses but his loyal fans seem to be fine with the choices he makes and are always eager to get surprised by him.
His last release, 'Go Goa Gone' had him playing a wannabe Russian zombie hunter with blonde hair. And his latest, Tigmanshu Dhulia's 'Bullett Raja' has him in a diametrically opposite role of a gangster from the heartland. Will he be convincing as the tobacco chewing, gun trotting charming gangster from Lucknow? Perhaps yes, because this Khan doesn't like to play safe and that clearly works for him.
Get the best of News18 delivered to your inbox - subscribe to News18 Daybreak. Follow News18.com on Twitter, Instagram, Facebook, Telegram, TikTok and on YouTube, and stay in the know with what's happening in the world around you – in real time.
Read full article