GET Stock

Quotes


Saif will look like the 'rangeela' of UP in 'Bullett Raja': Tigmanshu
Saif, who has played an urban youth in films, will be seen in a different kind of a role in 'Bullett Raja'.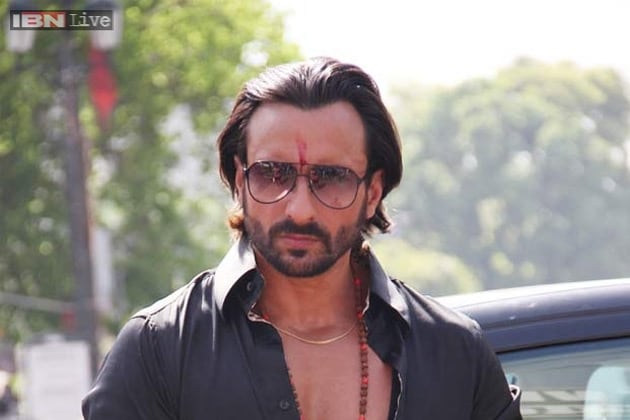 Saif, who has played an urban youth in films, will be seen in a different kind of a role in 'Bullett Raja'.
Mumbai: Filmmaker Tigmanshu Dhulia's upcoming film 'Bullett Raja' stars Saif Ali Khan and Sonakshi Sinha and he says he has tried to present the leading actors in a very different avatar from their earlier films.
Saif, who has played an urban youth in films like 'Cocktail', 'Hum Tum' and 'Salaam Namaste', will be seen in a different kind of a role in 'Bullett Raja'.
"Saif's image is that of an urban kind, so we have shown through his gestures the way he (rural guy) would do it - like holding a glass of water or handshake. We were careful that Saif doesn't look like an urban guy in this film. His contribution is huge in this film," Tigmanshu told PTI in an interview here.
"While shooting we worked on language and accent. Even though Saif was making mistakes in the accent, we were like we will make it better while dubbing. We are sure Saif will look like the 'rangeela' of UP (Uttar Pradesh)," he said.
Usually in a commercial film, heroines have very little to perform but Tigmanshu insists this is not the case with his film.
"I respect women and we have always had strong women roles in our films. Sonakshi is not just looking pretty or crying on the shoulder of the hero. There is much more to her in this film," he said.
In 'Bullett Raja', Sonakshi will be seen as a Bengali struggling actress, who is away from home and trying to create her space and how she gets caught into a wrong place at a wrong time.
"She happens to meet Jimmy Shergill and Saif and gets attracted to their machoism. She looks pretty and is a great dancer. I am happy to work with her," he said.
On taking Saif in the lead role, Tigmanshu said, "If the script demands certain budget and actor so we have to work accordingly towards it. There is no debate on it. Like I can't make a film like 'Bullett Raja' with Jimmy Shergill in the
lead, we needed a superstar for this film."
"It is all in your destiny to work with superstars. It happens when the actor wants to do that role and work with the director. Saif wanted to come into this space and probably he thought I was the best director to give him that space," he said.
The film will also see Jimmy Shergill and Mahie Gill, who have now become a constant feature in Tigmanshu's films. Also, there is Chunkey Pandey and Ravi Kishan in a different avatar.
"I had not done this kind of film before. When you are making a film of this magnitude, where you have a big star you need a strong and bigger supporting cast. To balance big stars you need equally good and big actors. Jimmy and Mahie are good friends. I am happy to have worked with Ravi and Chunky," he
said.
The film will see Vidyut Jamwal as a police officer. Tigmanshu had seen only the trailer of Vidyut's last film 'Commando' and was impressed with his physique.
"Vidyut is good in action. He has designed his stunts himself. He has a team of 3-4 guys, they choreograph raw action and then action director adds something to it," he said.
Tigmanshu is quite content with the way the film has shaped up.
"I haven't done a film like this before... handled big budget film like this. I have never made a commercial film so it was a challenge, but exciting. But, the characters in the film are from north belt and this is my forte," he added.
Also Watch
Read full article