Salahuddin's Confession on TV Proof of Pakistan Sponsoring Terror, Says Govt
The MEA said Salahuddin's interview only highlights the unabashed manner in which terrorist organisations and leaders enjoy freedom of operations in Pakistan, including access to terror financing.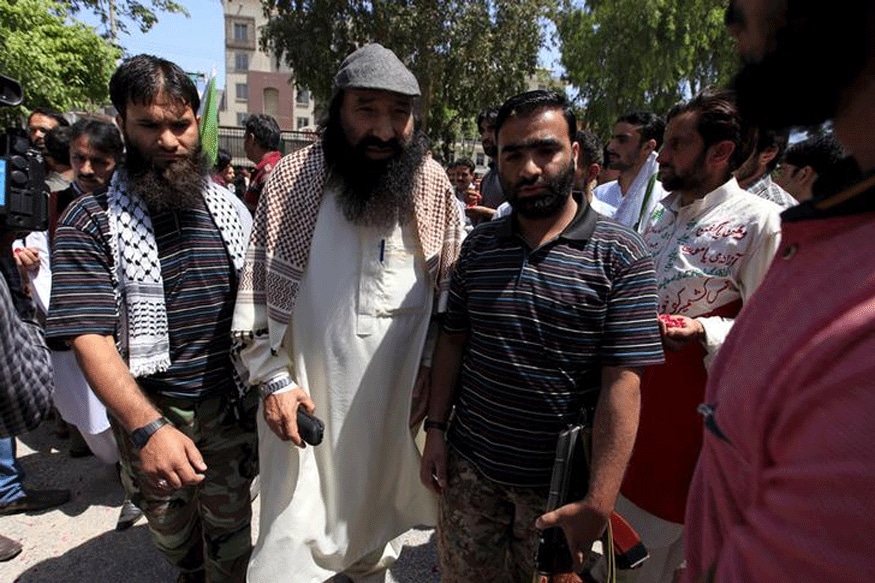 Hizbul Mujahideen commander Syed Salahuddin. (Representative image)
New Delhi: The Ministry of External Affairs on Monday said that Hizbul Mujahideen commander Syed Salahuddin's brazen admission of perpetrating attacks on India is further proof of Pakistan's continuing policy of cross border terrorism.
In his first interview to a Pakistan news channel after being declared a 'global terrorist' by the United States, Salahuddin boasted he had carried out several attacks in the past and had the means to carry out more such strikes in the future.
"His confession of assistance in such activities from Pakistan also affirms the complicity of Pakistan's state structure in using terrorist proxies as a matter of policy against the neighbours," said MEA spokesperson Gopal Baglay.
Baglay said the interview only highlights the unabashed manner in which terrorist organisations and leaders enjoy freedom of operations in Pakistan, including access to terror financing and procurement and supply of weapons for terrorism.
"It is a matter of deep regret that senior Pakistan functionaries continue to justify and defend the activities of such internationally designated terrorist entities and leaders who are responsible for killing thousands of innocent civilians over the past three decades," he added.
"Pakistan must give up its policy of cross-border terrorism, fulfill its obligations under international resolutions and stop all activities of terrorists from the territory under Pakistan's control," Baglay said.
Home ministry spokesperson Ashok Prasad said the government had been describing Salahuddin as a terrorist all along, and his own remarks had confirmed that.
"His designation as a global terrorist by the US is well deserved," he told reporters here. Prasad said Salahuddin was also "instrumental" in providing funds to terrorists and separatists and giving other kinds of assistance to the terrorists.
Salahuddin, in the interview, not only claimed to have supporters throughout the country – who at his behest have carried out attacks in the past – he also claimed that no one who supported security forces was beyond Hizbul's cross-hairs. This included the Abdullah and the Mufti families.
He was then asked why Hizbul hadn't ever targeted the big political families of Kashmir. To this, he said that whoever works for security forces, by aiding or spying for them, was not beyond the reach of Hizbul Mujahideen.
He went a step further and claimed that Hizbul had supporters and sympathisers not just in India but in other countries as well. He also issued a subtle warning to Israel, over its growing ties with India.
"Jis tarah Israel India ko support kar raha hai... Bahri duniya mein hamare bohot supporters hain (The manner in which Israel is supporting India… we to have a lot of supporters in the outside world)," said Salahuddin.
The Hizbul supremo was also asked about why he had continued to carry out a bloody militant movement in Kashmir for so long, given that it hadn't achieved much. Since Salahuddin had once contested elections in India, he was asked whether continuing to fight poll battles would instead have been a more practical anti-state movement.
"I challenge India to remove their forces from Kashmir for three days and then fight the elections there. Only then will you see how Kashmiris will vote. You will see whether Syed Geelani, Mirwaiz, Shabbir Ahmed Shah, Yaseen Malik or Syed Salahuddin will come out as the leader or someone else entirely. The whole world will know who the genuine leader of Kashmir is."
On being asked whether the US branding him a global terrorist had affected his own health or the health of the terrorist outfit, Salahuddin said, "My health and that of my outfit has increased quite a bit since then. You must have yourself seen how flower petals were showered at me after the announcement was made."
Salahuddin was on June 26 branded by the US as a global terrorist. Born Yusuf Shah in Budgam's Soibagh area, Salahuddin was a member of Jamaat-e-Islami who went on to become a commander of Hizbul Mujahideen and then its 'emir'. Hizbul Mujahideen is the biggest militant outfit active in Kashmir right now.
Get the best of News18 delivered to your inbox - subscribe to News18 Daybreak. Follow News18.com on Twitter, Instagram, Facebook, TikTok and on YouTube, and stay in the know with what's happening in the world around you – in real time.
| Edited by: Aakarshuk Sarna
Read full article