Salman confident of Wanted's success
Wanted has been directed by Prabhu Deva.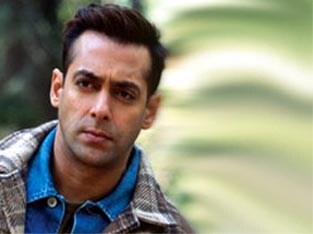 Wanted has been directed by Prabhu Deva.
Salman Khan seems to enjoying his role as TV presenter a little too much. Which is why at the Wanted music launch, the actor completely took over the proceedings. Before the media could charge at him with their questions, Khan had a little warning, "If you want to ask me about someone else's recent troubles, he has landed home, go and talk to him". No prizes for guessing who he was hinting at.
Khan doesn't really go that extra mile to promote his films. But this time actor has been aggressively publicising his action flick. He said, "When I don't feel their movie has shaped up well, I don't like to fool my fans. After all it's their hard earned 1,000 bucks."
Salman said he was confident about Wanted's success. "It makes even the meekest of man feel like a hero. Just like you felt after watching Amitji's films."
Khan revealed he was petrified of doing action and dance in a film directed by Prabhu Deva. According to Salman it's because Prabhu Deva required him to stretch much more than he was used to. He said one of the technicians jokingly told Boney that Salman was only fit for romance. But Salman has reportedly done all the stunts himself. And he has even picked up some of Prabhu Deva's signature moves. "I have danced more than any of my recent films. And I think I have done decent, but still not as good as Sunny and Sanju," Salman joked.
Khan candidly admitted that he shot for most of the sequences without a hangover. "You can see the freshness in my eyes," he revealed. Salman talked about how dogs in Greece always chased him in a line. He said, "Maybe they recognised their king."
His leading lady Ayesha Takia, who is just back from her honeymoon told Salman to marry only when he felt like. But while Khan poked fun at his own infamous, casual approach, the Wanted team could not stop raving about him. Khan said Prabhu Deva was like a 'treasure' as after MJ's death, he was the only great dancer alive.
Salman Khan said he was expecting a very strong word of mouth for this film. He has apparently taken personal interest in all departments, right from music to styling. Khan has even tried his hand at singing. And as for his changing hairstyles through the film, he said, "It's not a continuity jump. I am trying to show the natural process of gaining and losing hair".
Khan closed the event on an interesting note. "I have worked on my weak areas in this film. And the biggest one is acting".
Get the best of News18 delivered to your inbox - subscribe to News18 Daybreak. Follow News18.com on Twitter, Instagram, Facebook, Telegram, TikTok and on YouTube, and stay in the know with what's happening in the world around you – in real time.
Read full article