Sasikala Won't Have to Appear Before Panel Probing Jayalalithaa's Death Immediately
Sasikala and her nephew TTV Dhinakaran along with other family members, have been under a cloud of suspicion on why they maintained such secrecy about any information about Jayalalithaa's state of health.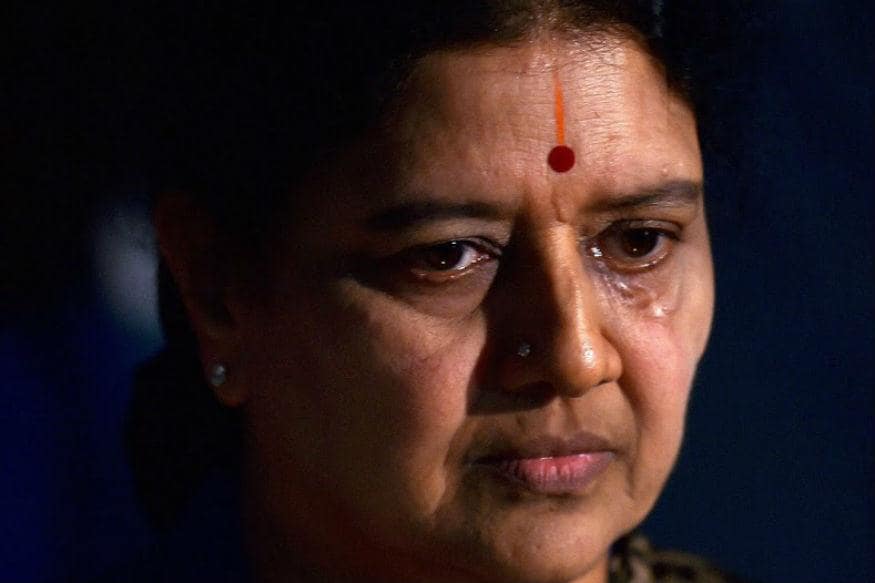 File image of VK Sasikala.
Bengaluru: VK Sasikala may not have to appear personally before the Justice Arumugasamy committee that is probing the death of former chief minister of Tamil Nadu, J Jayalalithaa, in December 2016.
The former aide of Jayalalithaa is currently serving a jail term, convicted of corruption charges.
While the committee has sent a notice to Bengaluru Central Jail authorities about the issue, it has asked her to file objections if she wants to, and doesn't insist on an appearance either in person or through video conference, jail sources told CNN-News18.
"She may file any statements or objections through her lawyers. It is left to her. There is no questionnaire or any such thing attached either, to the notice," a jail official said. She could still be summoned at a later stage if need be, he added.
The clarification comes amid reports of a summons to Sasikala and her family members in the ongoing probe by a retired judge. The probe was ordered by the Tamil Nadu government as questions have constantly been raised by both party workers and family members of Jayalalithaa about the mystery surrounding her illness between September 22, 2016, and December 5, 2016, when she was admitted at the Apollo Hospital.
Sasikala and her nephew TTV Dhinakaran (the newly-elected MLA from Jaya's erstwhile constituency, RK Nagar), along with other family members, have been under a cloud of suspicion on why they maintained such secrecy about any information about Jaya's state of health and why they refused to allow any visitor to see or meet her while she was ailing. There had been attempts by VIP politicians during that period to meet her, including the then governor and Rahul Gandhi.
Jaya's niece Deepa Jayakumar too had not been allowed access to see her at the intensive care unit where Jaya was, and an entire floor had been cordoned off to maintain secrecy.
Dhinakaran, who met Sasikala on Thursday, told newspersons later that he had received summons and will be appearing before the probe committee.
One MLA supporting him had 'leaked' a video showing Jayalalithaa sitting up on her hospital bed and sipping juice just a day before RK Nagar went to polls on December 20 – a video whose authenticity has not been established but the purpose of which was obviously to stave off suspicion of any foul play by the Sasikala/ Mannargudi family in her death – as allegations about this have been many.
Dhinakaran's meeting with Sasikala was rather muted, as Sasikala is on a 'maun vrat' (oath of silence) till the 31st of December, as a mark of mourning for her friend who passed away in December last year.
He has been kept away from the party by the ruling AIADMK government headed by Edappadi Palanisamy and O Panneerselvam, but says his win in RK Nagar shows that the people are with him and that Sasikala gave him her blessings as well.
With speculation rife on whether there is some coldness within his family over his sudden popularity after the election victory, Dhinakaran said, "I'm not in politics for my bread and butter. Many years earlier (2004 to 2010), Amma (Jayalalithaa) had asked me to join politics and I did. After some time, she told me to go mind my own business and I did. Last year, 'Chinnamma' (Sasikala) asked me to be active in the party as the circumstances were such that she could not become CM. I have been given a task and I want to do it properly. If they say I must go away from this tomorrow and someone else in the family must take over, I'm ready for that too."
There have been reports that one of his cousins, Krishnapriya, is taking a greater interest in politics after the RK Nagar elections.
Dhinakaran said the AIADMK had lost this election purely because the people are angry that they (AIADMK) have been bowing with folded hands before the BJP.
Asked if MLAs from the EPS-OPS regime will back him in the coming months, Dhinakaran said that his 'sleeper cell MLAs' will come and act when the time is right.
"The whole world knows that EPS used to be with us, but they are keep their distance from us as they are scared of the BJP," he told the media.
Get the best of News18 delivered to your inbox - subscribe to News18 Daybreak. Follow News18.com on Twitter, Instagram, Facebook, Telegram, TikTok and on YouTube, and stay in the know with what's happening in the world around you – in real time.
| Edited by: Ashish Yechury
Read full article