SC Declares Aadhaar Valid, But Data to Remain Off Limits For Mobile Firms, Banks and Schools
A five-judge constitution bench headed by Chief Justice Dipak Misra held that no corporate entity, including both private and public sector banks as well as mobile telecom companies, can seek Aadhaar details of an individual.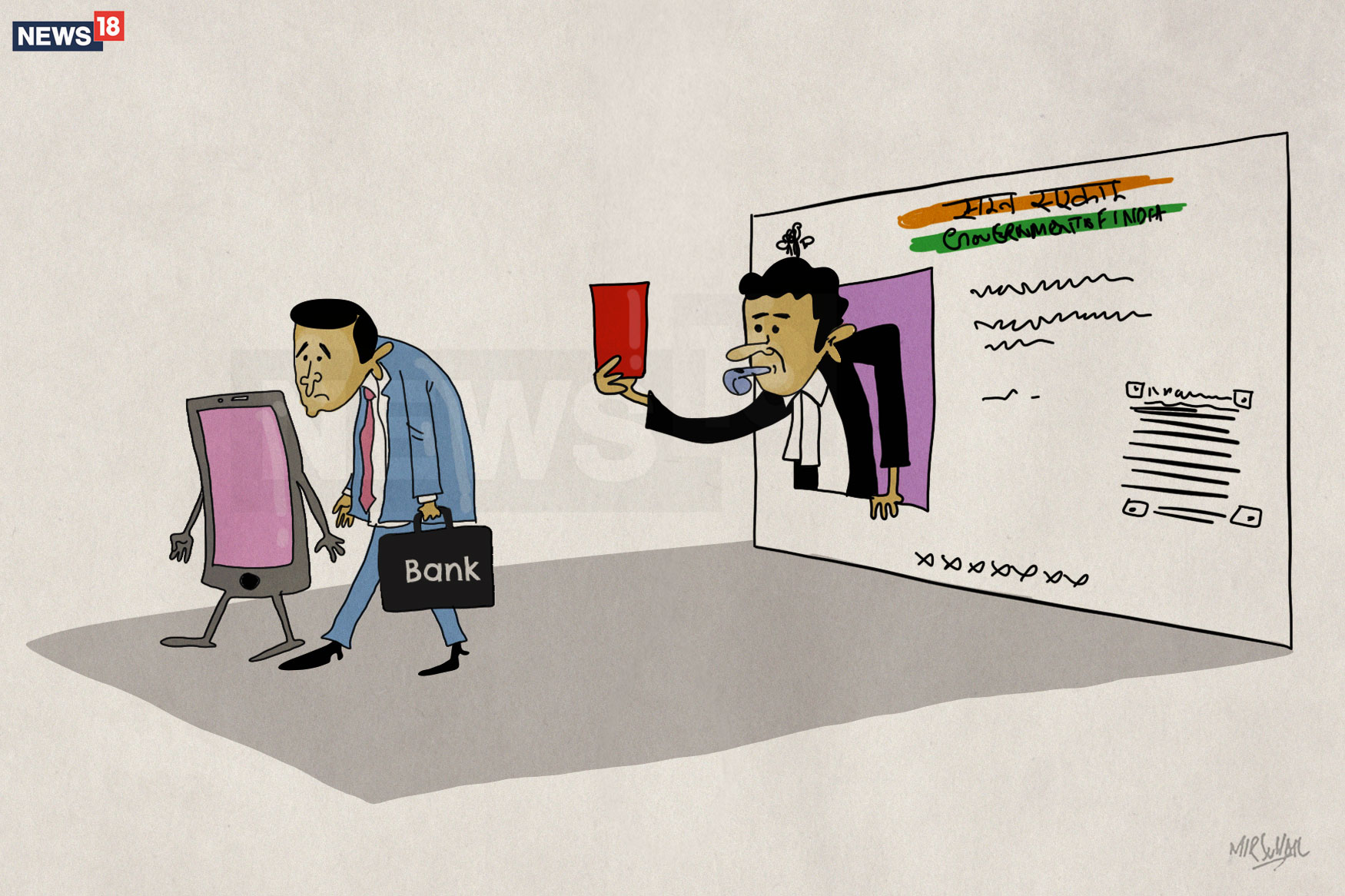 Illustration by Mir Suhail.
New Delhi: The Supreme Court Wednesday declared the Centre's flagship Aadhaar scheme as constitutionally valid but pared its scope significantly by striking down several of its provisions, including mandatory linkage with bank accounts, mobile phones and school admissions.
A five-judge Constitution Bench headed by Chief Justice Dipak Misra held that no corporate entity, including both private and public sector banks as well as mobile telecom companies, can seek Aadhaar details of an individual.
It would also not be mandatory for school admissions, as also for the examinations conducted by the Central Board of Secondary Examination, National Eligibility cum Entrance Test (NEET) for medical entrance and the University Grants Commission. Aadhaar, however, would remain mandatory for filing of IT returns and allotment of Permanent Account Number (PAN).
The bench also struck down the national security exception under the Aadhaar (Targeted Delivery of Financial and other Subsidies, Benefits and Services) Act, 2016.
Observing that Aadhaar was meant to help the benefits reach the marginalised sections of society, it said the scheme served a much bigger public interest and shelving it at this stage could harm it.
The government had introduced the 12-digit Aadhaar number, which is tied to an individual's fingerprints, face and iris scan, primarily to block theft and leakages in the food distribution system but its scope was consistently expanded to include various other services over the years.
The 31 petitions had also challenged passage of the 2016 law as a Money Bill and urged the court to declare it unconstitutional, but the court held that it serves a larger public interest and empowers the marginalized sections of the society.
"The entire aim behind launching this programme is the inclusion of the deserving persons who need to get such benefits," said Justice AK Sikri.
For the exclusion of a "minimal" three per cent, 97 per cent cannot be denied the benefits of Aadhaar, the top court said. "One can't throw the baby out with the bathwater," he said.
Three sets of judgments were pronounced in the matter. The majority one was pronounced by Justice A K Sikri, who wrote the judgement for himself, the CJI and Justice AM Khanwilkar.
Justice DY Chandrachud and Justice Ashok Bhushan, who were also part of the bench, wrote their individual opinions.
Justice Chandrachud said he was expressing certain views different from that of the judgment of the three judges, which amounted to "a dissenting" opinion, while Justice Bhushan said he concurred with the views of the majority.
Justice Sikri struck down Section 57 of the Act that permits private entities like telecom companies or other corporates to avail Aadhaar data.
Ruling that Aadhaar authentication data cannot be stored for more than six months, it directed the government not to give Aadhaar to illegal immigrants.
Justice Sikri said robust data protection regime has to be brought in place as early as possible, noting that the attack on Aadhaar by the petitioners was based on violation of rights under the Constitution, which they felt led to a surveillance state.
Observing that there has been minimal demographic and biometric data collected by the Unique Identification Authority of India (UIDAI) for Aadhaar enrolment, Justice Sikri said unique identification proof empowered and gave identity to the marginalised sections of society and there was no possibility of obtaining a duplicate as there existed a sufficient defence mechanism.
The single dissenting judge, Justice DY Chandrachud, ruled the passage of the Aadhaar Act a "fraud on the Constitution" as it had been passed in a money bill, allowing the government to bypass approval from Parliament's upper house, the Rajya Sabha. He also wrote that Aadhaar violated the right to privacy, as it could lead to profiling of individuals and voters.
The ruling was cheered by detractors of the system, which has already provided biometric identities to more than a billion people, making it the world's biggest such project.
Critics had expressed fears it could spawn a surveillance state and smoothe the way for companies to profile clients.
"This is a fabulous judgment," said Congress leader and lawyer Kapil Sibal, who had argued in court against the sweeping use of Aadhaar for identification.
"It takes care of citizens' rights and it ensures we don't have a surveillance state in place, it ensures that our privacy is not intruded into, and at the same time, it protects the rights of the marginalised," he told CNN-News18.
Unique Identification Authority of India CEO Ajay Bhushan Pandey said the 4:1 apex court judgment is in favour of Aadhaar.
"It is 4:1 judgement in favour of Aadhaar. The court has declared Aadhaar constitutionally valid. It is a money bill. It can be used for PAN card. It empowers poor and marginalised section. Aadhaar can be used for subsidies and government schemes so that there is no leakage of government funds. It can be used for income tax so that tax evasion and black money can be curbed," Pandey said.
Get the best of News18 delivered to your inbox - subscribe to News18 Daybreak. Follow News18.com on Twitter, Instagram, Facebook, Telegram, TikTok and on YouTube, and stay in the know with what's happening in the world around you – in real time.
| Edited by: Aakarshuk Sarna
Read full article