SC Issues Notices to Six BJP-ruled States Over Rising Cow Vigilantism
The Supreme Court on Friday issued notices to six BJP-ruled states — Rajasthan, Jharkhand, Chhattisgarh, Maharashtra, Madhya Pradesh and Gujarat — over rising incidents of cow vigilantism.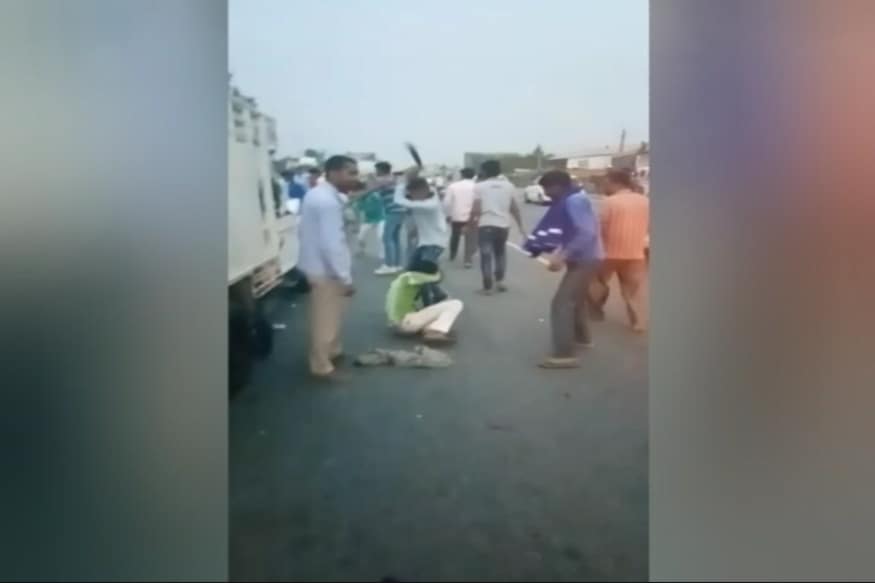 TV grab of alleged cow vigilantes beating cattle transporters in Alwar, Rajasthan.
New Delhi: The Supreme Court on Friday issued notices to six BJP-ruled states — Rajasthan, Jharkhand, Chhattisgarh, Maharashtra, Madhya Pradesh and Gujarat — over rising incidents of cow vigilantism.
A bench comprising Justices Dipak Misra and AM Khanwilkar asked the states to file their reply within three weeks. The bench has fixed the matter for hearing on May 3.
The notices come amid uproar over the lynching of a man in Rajasthan's Alwar and the subsequent flip-flop by Union minister Mukhtar Abbas Naqvi over the issue in and outside Parliament.
Also Read: Wasn't Referring to Alwar, Says Naqvi after Denying Lynching Episode in RS
Police in Alwar have arrested three people for allegedly beating 55-year-old Pehlu Khan to death. Speaking to News18, a source in Alwar police said all three have confessed to the crime and said they were angered on seeing the cows being mistreated.
Police sources said five people were identified from the video that was circulated on social media. Of them, three were seen beating Pehlu Khan and others, while the other two were seen standing nearby.
Also Read: Three 'Cow Vigilantes' Confess to Beating Pehlu Khan to Death in Alwar
During the brief hearing on Friday, the counsel appearing for the petitioner referred to the recent incident at Alwar.
The counsel claimed that the ground-level situation in these states was worrisome as the cow vigilante groups were resorting to violence there.
Solicitor General Ranjit Kumar, appearing for the Centre, told the bench that formal notices were not issued to the states on the plea after which the apex court sought response from these six states.
The Supreme Court had on October 21, last year agreed to examine the plea which sought action against cow vigilantes who were allegedly indulging in violence and committing atrocities against Dalits and minorities.
Activist Tehseen S Poonawalla, in his plea, said violence committed by these 'Gau Raksha' groups have reached to such proportions that even Prime Minister Narendra Modi had declared them as people who are "destroying the society".
The plea also alleged that these groups were committing atrocities against Dalits and minorities in the name of protection of cows and other bovines and they needed to be "regulated and banned in the interest of social harmony, public morality and law and order in the country".
"The menace caused by the so-called cow protection groups is spreading fast to every nook and corner of the country and is creating disharmony among various communities and castes," the petition said.
The plea sought to declare as "unconstitutional" section 12 of the Gujarat Animal Prevention Act, 1954, Section 13 of Maharashtra Animal Prevention Act, 1976, and Section 15 of Karnataka Prevention of Cow Slaughter and Cattle Preservation Act, 1964, which provide for protection of persons acting in good faith under the Act or rules.
"These laws and the protection granted therewith act as a catalyst to violence perpetrated by these vigilante groups," it said.
Speaking to CNN-News18, activist Shehzad Poonawala said: "My brother and I are petitioners in the case. Several wrong practices are being carried out in the name of cow vigilantism. They can't take the law into their hands."
(With PTI inputs)
Get the best of News18 delivered to your inbox - subscribe to News18 Daybreak. Follow News18.com on Twitter, Instagram, Facebook, Telegram, TikTok and on YouTube, and stay in the know with what's happening in the world around you – in real time.
| Edited by: Nitya Thirumalai
Read full article