GET Stock

Quotes


Powered by


SC Questions Govt on Making Aadhaar Mandatory for I-T Returns
The Supreme Court on Friday questioned the Centre for making Aadhaar mandatory for procuring Permanent Account Number (PAN) card.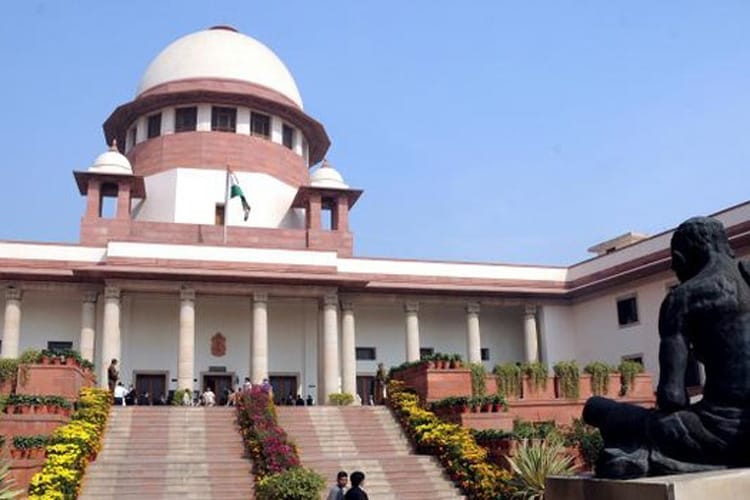 A file image of the Supreme Court of India.
New Delhi: The Supreme Court on Friday questioned the Centre for making Aadhaar compulsory in filing of Income Tax returns, and asked how it was not a violation of the earlier court order against making Aadhaar mandatory for services.
A bench of Justices AK Sikri and Ashok Bhushan was hearing two public interest litigations — filed by SG Vombatkere, a retired Indian Army Officer and Bezwada Wilson, founder and convener of Safai Karmachari Andolan; and the other plea by CPI leader Binoy Viswam — challenging the Section 139AA of the Income Tax Act as amended by the Finance Act, 2017, making Aadhaar mandatory for filing I-T returns.
"How can you make Aadhaar card mandatory when we have passed an order to make it optional? Is making Aadhaar mandatory by force the only way to tackle the menace of fraud and fake PAN (permanent account number) cards?" the court asked the Centre.
The Centre, represented by Attorney General Mukul Rohatgi, argued that this was being done to remove 'black money' from the economy. "We found a number of PAN cards being used to divert funds to shell companies… to prevent this, the only option was to make Aadhaar mandatory. Plus, we have the legislative backing (Aadhaar Act 2016)… The Supreme Court order prohibits (mandatory Aadhaar) only for beneficiary schemes, and not for services like the PAN," said Rohatgi.
Senior Advocate Arvind P. Datar, arguing for one of the petitioners, said, "The consequence is if I don't get Aadhaar my PAN becomes invalid, how do we address this?"
Rohatgi informed the bench that "there was widespread misuse of PAN."
On March 27, the apex court had observed that Aadhaar cannot be made mandatory by the government for extending benefits to social welfare schemes.
"If we understand the previous orders in the right context, we think you cannot enforce it (Aadhaar) for extending benefits but you can do it otherwise… something like opening a bank account… it is not a benefit, so Aadhaar can be pressed," said Chief Justice of India J S Khehar on March 27.
In October 2015, a five judge constitution bench had ordered that use of Aadhaar can be extended to social welfare schemes like public distribution system (PDS) and Mahatma Gandhi National Rural Employment Gurantee Scheme (MNREGS), but barred from making it mandatory.
The present PIL has been posted for final disposal on April 26, 2017.
Also Watch

CJI Impeachment: Can the Chief Justice of India Be Impeached?
Read full article