GET Stock

Quotes


Supreme Court Crisis: Has the Judges' Rebellion Harmed Democracy? Or Saved It?
What has happened in the process though is that the cloak of secrecy and opinion around judges has now fallen. Motives are now openly being attached both against the chief justice and Justice Chelameswar.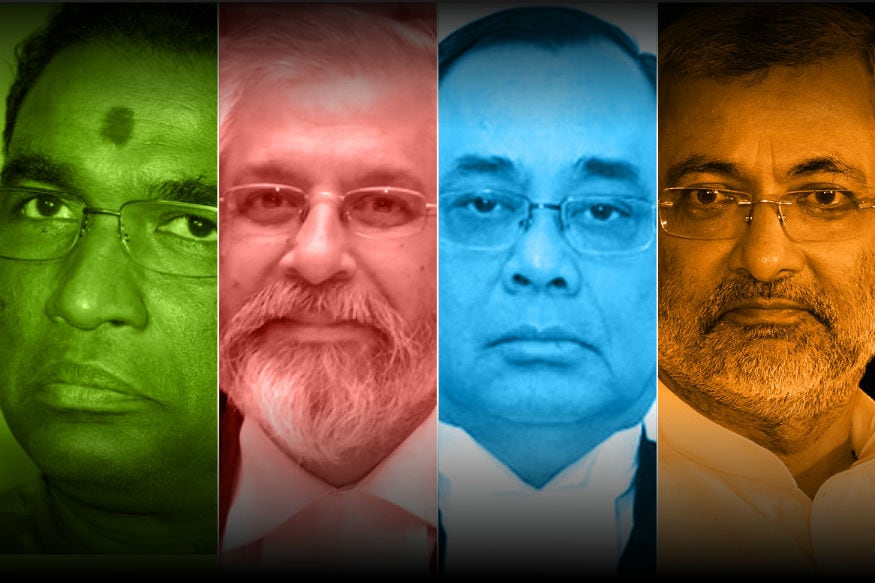 The judges addressed the media include Justice J Chelameswar, Justice Ranjan Gogoi, Justice Madan B Lokur and Justice Kurien Joseph.
We have all been hearing words & phrases like 'unprecedented' & 'never ever in independent India' to describe the SC judges' mutiny. Let us be frank friends. Beyond that, there is precious little in this story that the common man could really comprehend. This is the type of a story that everyone is talking about but nobody fully understands.
Weekend is here and this is what the 'wise men' on the streets are talking about.
1) Judges went against their own.
2) There was some sort of a mutiny.
3) This has never ever happened before.
4) One judge said that we don't want some wise men to say that we sold our soul.
5) This could potentially damage democracy.
It is point number 5, according to me, which is the most important in public discourse. Has it really harmed democracy? Or is this proof that our thriving democracy and its systems are alive and kicking? That is where opinion is divided and I am taking the liberty to assume that this is the crux of every conversation.
"Judiciary protects democracy and keeps it alive. Public perception matters a lot in so far as judiciary is concerned. Unfortunately, this public perception has been harmed with four senior judges coming out in the open. The essence of democracy is public perception. The CJI, being the first among equals, has the responsibility to keep judiciary out of harm's way as far as public perception is concerned. And this case, the strobe lights are on the chief justice himself," says Hindustan Times Political Editor Vinod Sharma.
Lawyer & Columnist Dushyant disagrees: "This belief has taken root that democracy is about perception. And that is why all effort is always invested in managing perception. I feel democracy is about accountability, not perception. In this case also, it is being said that the manner in which things happened is wrong. So essentially we want to put a cloth over the rot. Let a system rot and let us not tell anyone about it. What happened may be tragic but it isn't bad for democracy. The four judges had exploited all their options internally before coming out and speaking."
Senior Lawyer Swapnil Kothari calls this the "darkest day" of his career. "Judiciary was the only institution that preserved democracy. Because the other two institutions – the lax legislature and the excessive executive – have failed significantly. SC has been tarnished by the four judges. Dirty linen is being washed in public. Chief justice is the father of the judiciary. If I have a problem with him, I should solve it within the four walls. Even if I have to fight a mulish stance taken by the CJI. Institutions have to be above the individuals that manage."
Here is an easy to digest explainer on what went wrong in court:
Special CBI Judge BH Loya, handling the Sohrabuddin Sheikh encounter case apparently suffered a cardiac arrest & breathed his last in December 2014. The family later alleged foul play. They felt the judge could be under pressure.
PILs were filed in the Justice Loya death case. And the CJI assigned them to a certain court. Justices J Chelameswar, Ranjan Gogoi, Madan B Lokur and Kurian Joseph questioned CJI on why an important matter relating to death of a judicial officer was sent to a certain court bypassing eight senior judges and benches.
Sources say Justice Misra saw no wrong with this 'administrative order'. The four judges then held a press conference.
Desh Ratan Nigam, a prominent thinker associated with the RSS feels: "Judiciary seems to be getting politicised. Four judges coming out and speaking like this is unethical. CJI is the master of the roster. And he is not supposed to make a distinction between VIP and non-VIP cases. As far as CJI marking cases to benches is concerned, why is there and expectation that certain type of cases should come to certain judges only. To say that certain type of cases should have come to them itself raises suspicion."
Should the judges have come out in public? Was judiciary weakened when judges decided to appeal in the janta ki adalat?
Lawyer Mohit Paul says, "I would like to read out the restatement of values of judicial life. As adopted by the full bench of the Supreme Court on May 7, 1997. It said 'a judge shall not enter public debate or express his views on political matter that are pending or likely to arise for judicial determination'."
Here is a sharp sampling of opinion on this point.
CNN-News 18's legal editor Utkarsh Anand says: "There is nothing that prohibits judges from talking to the media." And an RSS inclined Deshratan Nigam feels this has set a dangerous precedent. "Today these judges have spoken. Tomorrow the lower judiciary will come out on the streets."
Vinod Sharma feels "Institutions are best defended by the people who run it. The four judges raised issues and did not speak about individuals." To which Swapnil retorts: "Today the dignity of judges in the eyes of the people has gone down. People feel that if judges cannot resolve a dispute within themselves how are they going to resolve a dispute between us?"
Like every other, the government is only just recovering from the aftermath of the press conference shocker. After many hours of silence on Friday, the Attorney General KK Venugopal said that holding a press conference "could have been avoided". He felt that all judges, including CJI, would rise to the occasion to "wholly neutralise" the "divisiveness".
"Rising above divisiveness should not mean pushing all issues raised here under the carpet," says Dushyant.
The government's initial response to this crisis – saying that the judiciary itself needs to handle it – is pretty disappointing and hands off.
"If we intervene, then people will accuse us of meddling in the judicial process. Judges only have to handle this," BJP spokesperson with a legal background, Rajeev Pandey, remarks.
However a counter to this view is that judiciary's problems are not entirely its own doing. And solutions also lie elsewhere.
"This is a multi-institution issue. There are questions on impeachment being spoken about here. Impeachment of CJI or impeachment of the 4 judges who went live? Both these issues involve arms of the executive and Parliament to intervene. It is very important for other institutions to weigh in. You cannot get away by saying that this is an issue which only the judiciary can handle," says Dushyant.
"Why is the government not acting fast on a memorandum of procedure for appointing senior judges? Why the delay?" Congress' Aadil Singh asks.
What has happened in the process though is that the cloak of secrecy and opinion around judges has now fallen. Motives are now openly being attached both against the CJI and Justice Chelameswar. What was so far the dirty preserve of public politics, has now reached courtrooms as well.
"Justice Chelameswar has been the most vocal about the independence of the judiciary. But then he comes out with a press conference and then happens to meet his old friend or school friend or whoever he is, Mr D Raja. Judges of the Supreme Court don't meet people like that. I am sure they were not discussing the weather in Delhi," an agitated Swapnil Kothari remarks.
Since the judges took their grievance to the public, we took our question on twitter. Has democracy been harmed we asked.
#POLL | #SCJudgesMutiny - Does this harm democracy? Tweet us your views using #SCJudgesMutiny

— News18 (@CNNnews18) January 12, 2018
Forty five percent of you said 'Yes'. Fifty five percent said 'No'. Are these the wise men talking?
Also Watch
| Edited by: Bijaya Das
Read full article