0/288 Seats ((145 Seats to Win)
Alliance
BJP+
YSRCP+
TDP+
INC+
OTH
Wins + Leads
133
31
31
18
13
+/- 2014
+12
-06
-02
+01
0/90 Seats ((145 Seats to Win)
| Alliance | BJP+ | INC+ | BJD+ | OTH |
| --- | --- | --- | --- | --- |
| Wins + Leads | 133 | 31 | 18 | 13 |
| +/- 2014 | +12 | -06 | -02 | +01 |
Seculars Don't Have 'Their Own Identity', Says Union Minister Hegde
Ananth Kumar Hegde, a five-time Lok Sabha member from Uttara Kannada, is no stranger to controversies.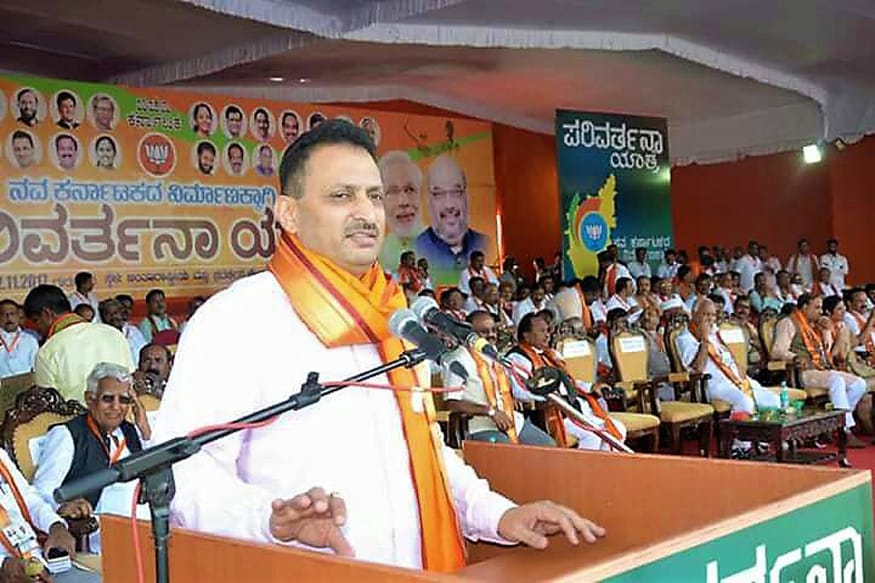 File photo of Anantkumar Hegde. (Twitter)
Bengaluru: Union Minister Ananth Kumar Hegde has again stoked a controversy, saying those who consider themselves secular and intellectual do not have "their own identity" and they were also unaware of their parentage.
Hegde, a five-time Lok Sabha member from Uttara Kannada, is no stranger to controversies.
A case was registered against him for allegedly using derogatory language against Karnataka Chief Minister Siddaramaiah at Kittur in Belagavi district.
He had been slapped with cases for his "hate speeches", including one where he allegedly equated Islam with terrorism.
Hegde, 49, said a new tradition was in vogue, where people project themselves as secular, but asserted he would feel "happy" if someone claims with pride that he is a Muslim, or a Christian, or a Lingayat, or a Brahmin, or a Hindu.
"I feel happy because he (the person) knows about his blood, but I don't know what to call those who claim themselves secular," the minister for skill development and entrepreneurship said.
"Those who, without knowing about their parental blood, call themselves secular, they don't have their own identity...They don't know about their parentage, but they are intellectuals," he said at an event organised by the Brahman Yuva Parishad in Kukanur town in Koppal district.
He launched the Parishad's website and women's wing yesterday.
Urging people to identify with their religion or caste, Hegde said, "I will bow to you, you are aware of your blood. But if you claim to be secular, there arises a doubt about who you are."
He said he respects the Constitution but "it will be changed in the days to come". "We are here for that and that is why we have come."
Hitting out at Hegde on Monday, Chief Minister Siddaramaiah said the minister has not studied the Constitution, does not know parliamentary or political language.
He said Hegde has not learnt the social system and added that people belonging to various religions live in India.
"Each and every individual in this country is an Indian, and every religion has equal right and opportunity. He does not have this basic knowledge," Siddaramaiah told reporters in Hubballi.
Get the best of News18 delivered to your inbox - subscribe to News18 Daybreak. Follow News18.com on Twitter, Instagram, Facebook, Telegram, TikTok and on YouTube, and stay in the know with what's happening in the world around you – in real time.
| Edited by: Ashish Yechury
Read full article