'Sexual Assault, Mental Illness, Very Thin Inmates': How a TISS Report Exposed Bihar's Shelter Homes
Shelter Home residents said that their friends were slowly losing mental stability and "they knew they would soon join them but could do nothing but watch helplessly."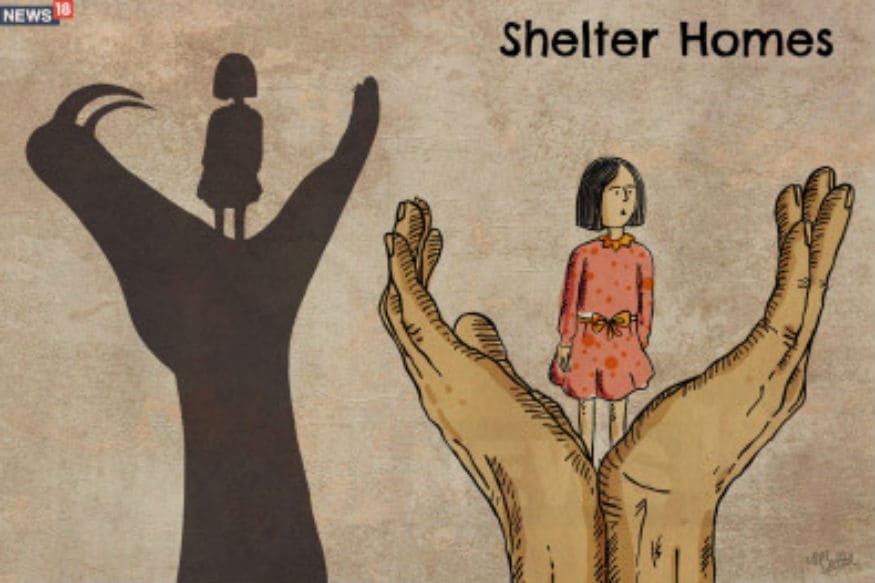 Image for representation only. News18 creatives/Mir Suhail
New Delhi: 'Painfully thin' residents cramped up in a hall, scars on body, people losing mental stability and staff trying to touch women's private parts are some of the revelations made in the 100-page TISS report, which first blew the lid off Muzaffarpur rape cases.
A seven member team of Tata Institute of Social Sciences (TISS), headed by its Mumbai director Tarique Mohammad, found that besides Muzaffarpur, there were 14 other shelter homes in Bihar where residents were subjugated to physical and sexual abuse.
The TISS report, exclusively accessed by News18, conducted social audit of 110 shelter and short-stay homes in 35 districts of Bihar. The team submitted its report to the State Social Welfare Department on March 15 this year.
Titled 'Social Audit of Non-Government and Government Welfare Institutions', the report dedicates an entire section to highlighting the gruesome stories encountered by its authors during the audit.
This particular section subtitled "Grave Concerns — institutions requiring immediate attention" provides explicit details of how girls, boys and adults have been subjected to "dreadful details of physical violence, sexual abuse and mental harassment".
Woman Suffering from Mental Illness Found at Munger Short Stay Home
At the short stay home in Munger run by 'Novelty Welfare Society', the TISS team found a closed room that the owners tried to hide. After unlocking the room, they found a woman suffering from mental illness sitting alone on a cot with no mattress. The administrators claimed that it was done "to stop her from becoming violent". However, "the woman held one of the (TISS) staff and started weeping," said the report.
People Bundled Up in Hall at Gaya's Sewa Kutir
The fact that these residents have accepted their fate was reiterated when the team reached Sewa Kutir in Gaya run by "Metta Buddha Trust." The residents were all "painfully thin and sitting bundled up together in the hall," found the TISS team in its report. There were a large number of people with mental illnesses and residents reporting that their friends slowly losing mental stability and "they knew they would soon join them but could do nothing but watch helplessly," said the report.
Scars of Body, Barrack-Like Infrastructure at Mohitari & Munger Boys' Home
Serious physical and sexual abuse was reported by residents of the Boy's Children Home in Motihari run by 'Nirdesh', an NGO. One of the staff members, the report found, used to hit the children with a "thick pipe". Similarly, at Boy's Children Home in Munger run by NGO "Panaah" the children were found living in a "barrack like infrastructure".
"The boys reported being forced to work for the superintendent… one of the older boys, suffering from hearing and speech impairment who was supposedly a good cook, showed us a three inch long scar across his cheek as he was hit by the superintendent when he refused to cook for him", said the report. In the same shelter home, a 7-year-old boy, also suffering from hearing and speech impairment told the team that his hearing aid had been taken by the staff.
Female Staff 'Force' Boys to Write 'Lewd Messages' at Gaya Home
At Boy's children home in Gaya run by the NGO "DORD", the boys informed the TISS team how some of the female staff members were forcing them to write "lewd messages on paper and passing them to another female staff member who had joined recently".
The team also found plastic bottles with urine in it and upon enquiry, learnt that boys were forced to urinate in bottles once the ward was locked for the night, phenomenon observed across Homes.
How Araria Shelter Home Turned into 'Bigaad Grah' from 'Sudhaar Grah'
At the Government-run Observation Home in Araria district, TISS found that the Bihar Police appointed guard has been inflicting physical abuse on the inmates without any fear of confrontation only on the basis of his state-sponsored appointment. A boy showed the TISS members "a mark that went across his entire chest and looked like a compression of muscle tissues in the area and swelling around it".
"Is jagah ka naam sudhar grih se badal kar bigaad grih kar dena chahiye (this place should be called destruction home instead of correction home), said the boys to the social audit team of TISS.
Girl Commits Suicide at Patna Home
The report further said that a short-stay home in Patna run by "IKARD" was being managed in a "severely custodial and violent manner that unable to cope with the violent atmosphere one girl had committed suicide about a year ago while another had lost her mental balance from the trauma she suffered there". The girls reported that they got no clothes, medicines, toiletries etc.
Guard Attempts to Sexually Abuse Women at Motihari Shelter Home
In the short-stay home in Motihari run by the NGO "Sakhi", the girls were found suffering from "mental illness". No sanitary pads were provided to them, it said further. At the short-stay home in Kaimur district run by "Gram Swaraj Sewa Sansthan", the guard was reported to be "sexually abusive". "The women / girls reported that he often passed lewd comments and attempted to touch their private parts," said the report.
Other 'Horror' Shelter Homes in Bihar
The report highlights fourteen such shelter and short stay with widespread cases of sexual and physical abuse. The other Homes to be named in the list are: Sewa Kutir at Muzaffarpur run by the NGO "Om Sai Foundation", Sewa Kutir at Gaya district run by "Metta Budddha Trust", Kaushal Kutir in Patna run by "Don Bosco Tech Society".
In conversation with News18, Tarique, Director TISS says, the idea of the report came after a senior bureaucrat came to know about unscrupulous activities going on in these Homes. He wanted Tarique and his team to inspect the shelter homes in Bihar to find out which of them requires more help from the state and which of them were not following the laid down best practices.
Conducting social audits of hundreds of shelter homes in the country was the-first-of-its-kind project in India.
Get the best of News18 delivered to your inbox - subscribe to News18 Daybreak. Follow News18.com on Twitter, Instagram, Facebook, Telegram, TikTok and on YouTube, and stay in the know with what's happening in the world around you – in real time.
Read full article