GET Stock

Quotes


Massive Operation in Kashmir Leaves 3 Jawans, 12 Militants Dead; Police Say 'Avenged Umar Fayaz Killing'
Two civilians were also killed and dozens of others injured in clashes that broke out between protesters and security forces following three separate encounters in several parts of the region.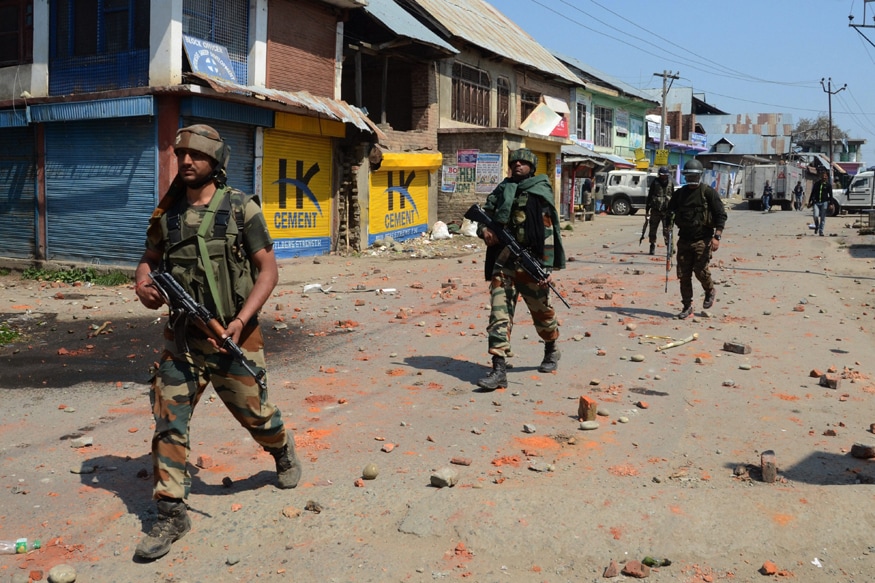 Army soldiers during a gun battle between security forces and militants in Shopian, of South Kashmir on Sunday. (PTI Photo)
Srinagar:
Three Army jawans were martyred and twelve militants, including 'top commanders' of militant outfits, were killed in encounters across south Kashmir on Sunday. This was one of the biggest offensives on militancy in recent times in the trouble-torn state while police said the forces had avenged the brutal killing of Lieutenant Umar Fayaz.
Four civilians were also killed and over 100 injured in clashes that broke out between protesters and security forces following three separate encounters in different parts of the region.
At a hurriedly called joint press conference of Army, police and CRPF, Jammu and Kashmir Police chief S P Vaid said this is one of the biggest counter-offensives in recent times against terror groups operating in the Kashmir Valley.
The operations by security forces rendered a severe dent to militant groups such as the Hizbul Mujahideen and the Lashker-e-Taiba, officials said here.
Police added that one militant had surrendered before the security forces in Anantnag district.
One militant was killed and another arrested in Dialgam of South Kashmir's Anantnag district, while seven terrorists were gunned down in Draggad. Four in Kachdooru areas of Shopian district.
Out of 12 terrorists, 11 have been identified so far and all of them are locals, officials said.
Mobile internet services were suspended in the Kashmir Valley on Sunday as a precautionary measure following the killings.
The anti-militancy operations by security forces were launched on Saturday night at three places in south Kashmir simultaneously, following information about the presence of large number of militants there, a police official said.
A police officer said that the militants had assembled at these places to hold meetings about their plan to carry out subversive activities, including targeting security personnel and political workers.
While one militant was killed and another surrendered before the forces at Dialgam in Anantnag district, seven ultras were killed in the Dragad gunbattle in Shopian district, police said.
The third encounter happened in Kachdoora area of Shopian where some civilians were trapped, Vaid said. "There were encounters in Kachdoora Shopian, some civilian were trapped and efforts are being made to rescue them," he had said earlier.
Clashes between protesters and security forces broke out soon after the news of militant killings spread in several parts of south Kashmir.
The protesters at Dragad and Kachdoora hurled stones at the security forces who responded by opening firing, the official said.
He said four civilians have died so far while scores others were injured. Several of the injured were taken to hospitals here.
Reports of clashes have been received from other parts of south Kashmir and some parts in the city as well. Authorities have deployed police and paramilitary personnel in strength in the city for maintaining law and order.
Meanwhile, Joint Resistance Leadership (JRL) has called for a strike across Kashmir Valley today and tomorrow in view of the encounters.
The organisation, which includes Hurriyat leaders Syed Ali Geelani, Mirwaiz Umar Farooq and JKLF chief Yasin Malik, has asked people to suspend their business and other activities, and offer "funeral prayers in absentia" at 4 pm.
Earlier, at a press conference called at Victor Force headquarters at Awantipura, around 33 kms from here, Corps Commander of XV Corps, Lt Gen A K Bhatt, termed it one of the biggest operations in recent times and said the death of Lt Umar Fayaz, who was brutally killed in Shopian last year, had been avenged.
"Among the militants killed are Ishfaq Malik and Rayees Thokar. They were responsible for his death," Bhatt said.
Fayaz, 22, was killed by militants in May last year. His body was found with bullet wounds in the Hermain area of Shopian district in south Kashmir.
Based on specific input, security forces launched a cordon and search operation in Peth Dialgam area of Anantnag in the early hours, police said.
The official said that the militants were detected and security forces made repeated requests on loud speakers asking them to surrender, as per the standard operating procedure.
On this, the official said, one of the militants (name withheld) came out of a house and surrendered.
He has been taken into custody, the official said, adding, his family also helped the police in motivating him to come out of the house and surrender.
The other militant did not surrender and instead resorted to firing on forces which was retaliated and in which he was killed, he said.
The slain militant was identified as Rouf Khanday, the official said, adding he had gone missing early this year and a photograph of him holding a gun was posted on social media in the last week of March.
His body has been handed over to the family for last rites. Both militants were part of the outlawed militant organisation Hizbul Mujahideen, the official said.
(With inputs from PTI)
Also Watch
Read full article