nda:
Needmore seats to Win

Needmore seats to Win
upa:
Should India Re-evaluate Its Afghanistan Strategy?
Does this "new direction" in the United States Afghan strategy mean that India should start to re-evaluate its approach on Afghanistan and take a more active role?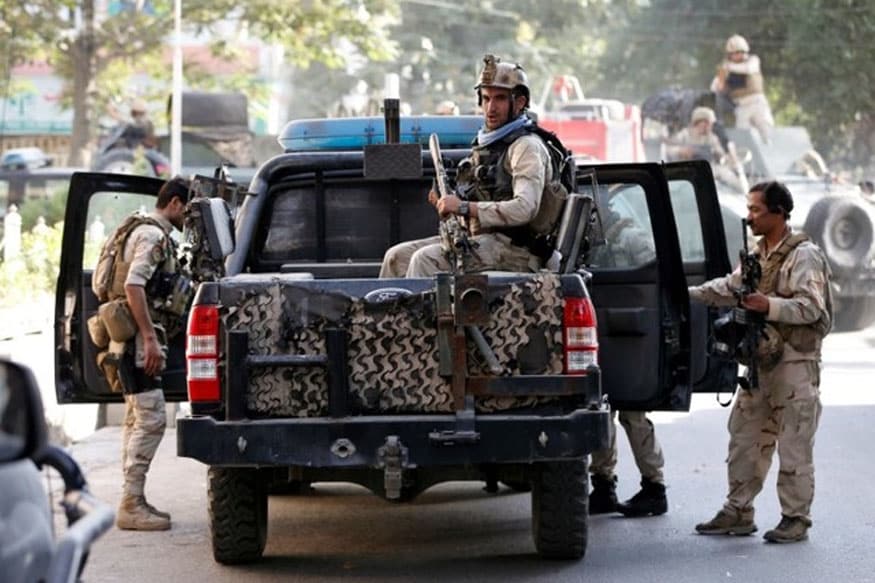 File photo of Afghan security forces. (Photo: Reuters)
A new plan for Afghanistan enunciated by President Trump on Monday, calls for additional US forces, greater NATO participation and regional pressure. Echoing previous administrations approach to Afghanistan, the new strategy would be more aggressive and condition-based to determine when US forces would withdraw. Less expectedly the strategy also demands India provide more economic aid to Afghanistan. Does this "new direction" in the United States Afghan strategy mean that India should start to re-evaluate its approach on Afghanistan and take a more active role?
Over a decade of US-led war in Afghanistan has failed to defeat the Taliban, eliminate Al Qaida, or create an effective state. As foreign troops have drawn down the Taliban have made large territorial gains, Afghan security forces have suffered unsustainable losses, political divisions have widened, and Islamic State are establishing a presence.
The United States and India's share an interest in a stable, democratic Afghanistan that would prevent the rise of the Taliban has evolved into substantive cooperation in several dimensions in the recent past. The United States-India-Afghanistan
trilateral talks
started up again, on the sidelines of the United Nations General Assembly session in September 2016 to discuss counter-terror measures, reflects India's interests in the Afghanistan.
The United States has encouraged Indian economic projects in Afghanistan, such as the Afghan-India Friendship Dam, operationalised in June, 2016. So far India has provided $2 billion in economic aid and has pledged another $1 billion over the next few years for the country. India is also set to deliver more arms to Afghanistan to help it fight Islamist militants, including more Mi-25 attack helicopters and smaller helicopters used for transporting troops and medical emergencies, and spares for existing Russian-origin aircraft in the Afghan air force fleet among other equipment.
The commander of the US forces in Afghanistan, General John Nicholson, has visited New Delhi a number of times over the past few months to fast track ways in which New Delhi could help the Afghan air force, which is struggling to maintain aging Russian aircraft because of sanctions on Moscow. Although India has assisted in the training, equipping, and capacity building programs for Afghan National Security Forces,
official requests
from the Afghan government for more tangible military assistance have been met with modest responses over concerns of balancing New Delhi's relationship with Islamabad. With the weight and support of the President Trump's call for India to do more, Afghanistan may see more success.
New Delhi has viewed recent peace talks with concern, in part because any settlement that empowered Pakistan-backed Taliban factions could affect Indian security interests. The US and China both continue to support Pakistan to bring the Taliban to the negotiating table. India would also face serious problems if the conflict in Afghanistan were to continue, especially if Western financial support to Kabul were to dwindle and India's anti-Taliban partners, Iran and Russia, were to align with China and Pakistan in favour of an imperfect settlement. India would have a limited ability to launch any sustained, effective challenge to such an outcome.
While Afghanistan has the support of all regional powers, their imperatives differ. Russian main concern is on preventing any spread of terrorism into Central Asia and would likely adopt a pragmatic approach to any settlement that reduced violence. Iran has maintained good ties with Kabul, simultaneously supporting certain Taliban factions keeping its options open.
President Trump's new demands on India in his South Asia strategy centered on Afghanistan lacks appreciation of U.S dependence on Pakistan in any strategy involving the increase of troops in Afghanistan or India restrictions in its engagement with Kabul in the economic realm to avoid any backlash from Pakistan. While Indian analysts may view the Trump's ultimatum to do more as an opportunity to increase of Indian activity in Afghanistan as an act of compellence vis-à-vis Pakistan, it is fraught with its own risks.
Afghanistan needs to be viewed by New Delhi in the wider context of Central Asia, where China has expanded its sphere of influence through the One Belt One Road initiative. It access to the region is contingent on stability in Afghanistan.
Given the centrality of the Afghanistan to India's national security and China's increasing activity and ambitions in the region, New Delhi must recapitalize and optimize its support to Afghanistan in order to bring strategic and security dividends. However, not losing United States support for its key objectives, especially regarding China and Pakistan will remain a challenge, as New Delhi seeks to balance its relationships in the region.
(Pushan Das is a Programme Coordinator at the Observer Research Foundation in New Delhi. Views are personal.)
(Get detailed and live results of each and every seat in the Lok Sabha elections and state Assembly elections in Andhra Pradesh, Odisha, Arunachal Pradesh and Sikkim to know which candidate/party is leading or trailing and to know who has won and who has lost and by what margin. Our one-of-its-kind Election Analytics Centre lets you don a psephologist's hat and turn into an election expert. Know interesting facts and trivia about the elections and see our informative graphics. Elections = News18)
Read full article
Countdown To
Elections Results
To Assembly Elections 2018 Results