Shujaat Bhukhari's Murder Sends Shockwaves, Rajnath Singh Says No Doubt Terrorists Behind It
The senior journalist was shot dead outside his office in Srinagar.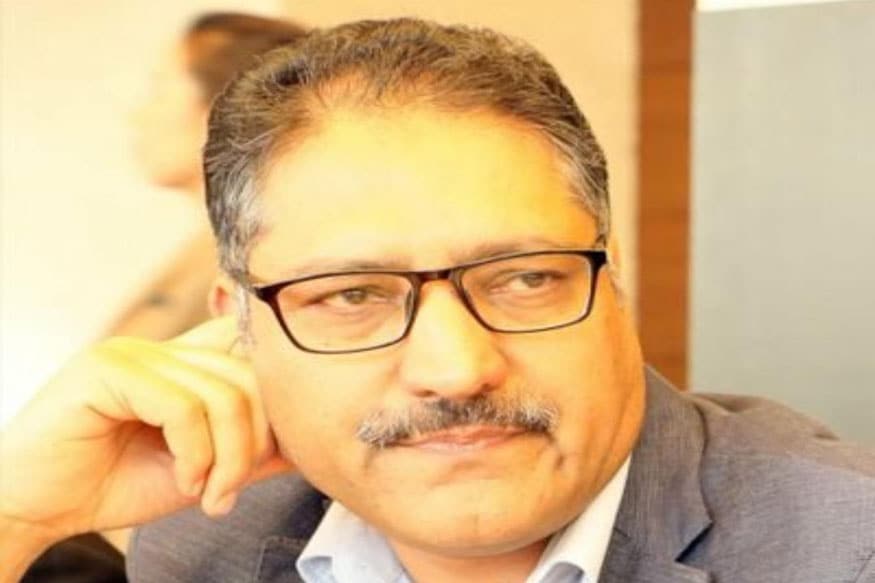 Shujaat Bukhari.
New Delhi: The murder of veteran journalist and Rising Kashmir editor Shujaat Bukhari has sent shock waves across the country, with several top political leaders and editors taking to social media to deplore the tragedy and condemn the tragic death.
Condemning the attack, Home Minister Rajnath Singh said it was an attempt to silence the saner voices of Kashmir. He said he did not have an iota of doubt that terrorists killed Bukhari. Jammu and Kashmir police, in a statement, also said that preliminary probe pointed to the role of terrorists.
"The killing of Rising Kashmir editor, Shujaat Bukhari is an act of cowardice. It is an attempt to silence the saner voices of Kashmir. He was a courageous and fearless journalist. Extremely shocked & pained at his death. My thoughts and prayers are with his bereaved family," he wrote.
Congress President Rahul Gandhi also expressed anger over the act. "I'm anguished to hear about the killing of Shujaat Bukhari, editor of Rising Kashmir. He was a brave heart who fought fearlessly for justice and peace in Jammu & Kashmir. My condolences to his family. He will be missed," said Gandhi in a tweet.
Bukhari, who was in his 50s, was leaving his office in Press Enclave in the city centre Lal Chowk for an iftar party when he was shot, officials said. While one of the personal security officers (PSO) guarding him was killed, another policeman and a civilian were injured, they added.
Bukhari's personal security guard and the driver were also killed in the attack.
Jammu and Kashmir Chief Minister Mehbooba Mufti said in a message that she was shocked and saddened by Bukhari's "sudden demise".
"The scourge of terror has reared its ugly head on the eve of Eid. I strongly condemn this act of mindless violence & pray for his soul to rest in peace. My deepest condolences to his family," the chief minister said on Twitter.
Terrorism, she said, has hit a new low with Bukhari's killing, "that too on the eve of Eid".
"We must unite against forces seeking to undermine our attempts to restore peace. Justice will be done," Mehbooba said.
It was not immediately clear how many gunmen attacked Bukhari, who earlier worked with The Hindu newspaper as its Kashmir correspondent.
Former chief minister of Jammu and Kashmir Omar Abdullah revered the scribe and tweeted, "even in the last tweet he put out he was defending himself, his colleagues & his profession. He died in the line of duty doing what he did best & loved doing - journalism."
Chief Minister of West Bengal Mamata Banerjee expressed shock.
"Saddened and shocked at the brutal killing of respected editor and senior journalist. With a few hours to go for Eid this is terrible. No words are enough for this big tragedy," said the leader of Trinamool Congress in a tweet.
Bukhari was instrumental in organising several conferences for peace in the Kashmir Valley.
Information and Broadcasting (I&B) Minister Rajyavardhan Singh Rathore called the "assassination" of Bukhari "a brutal attack on freedom of press."
"Assassination of #ShujaatBukhari is a brutal attack on freedom of press. A cowardly and deplorable act of terror. Our fearless media is one of the greatest strength of our democracy and we are committed to provide a safe and conducive working environment to media persons," he wrote on Twitter.
Delhi chief minister Arvind Kejriwal tweeted, "Heard the terrible news about senior journalist Shujaat Bukhari. Enemies of humanity have silenced a voice of sanity in Kashmir. May God give courage to his family in this hour of grief."
The Editors Guild of India, an association of journalists, and human rights body Amnesty also condemned the assassination on Twitter.
"The Editors Guild of India unequivocally condemns the assassination of Rising Kashmir Editor Shujaat Bukhari. This is a grave attack on press freedom and democratic voices," the Editors Guild said.
Amnesty India tweeted, "We're deeply dismayed to hear about the killing of Shujaat Bukhari, editor of @RisingKashmir. He was a brave and outspoken voice for justice and equality in Jammu and Kashmir."
Friends and colleagues like Suhasini Haidar, Shekhar Gupta, Barkha Dutt and Siddharth Vardarajan also condemned the attack.
"Life is too fragile, too short, too unpredictable. This just two weeks ago at Rising Kashmir office in Srinagar. We have all lost a battle today. Devastated," wrote Haidar, who worked with Bukhari in Hindu.
Barkha Dutt said the death of Bukhari was a personal loss for her. "There is no getting around it : @bukharishujaat has been assassinated for being an advocate for peace and reconciliation; for his refusal to give up hope; for his constant search for Kashmir's elusive middle ground," she tweeted.
"Heartbreaking the loss of Shujaat Bukhari, an incredibly brave editor & an invaluable voice of middle-ground moderation. This is a loss for all Kashmiri's, India and the entire journalistic community," tweeted former Indian Express editor Shekhar Gupta.
Read full article