GET Stock

Quotes


Inmate 7402 released, invites jailer to Chennai
She had just two bags with her, one of them containing her medicines.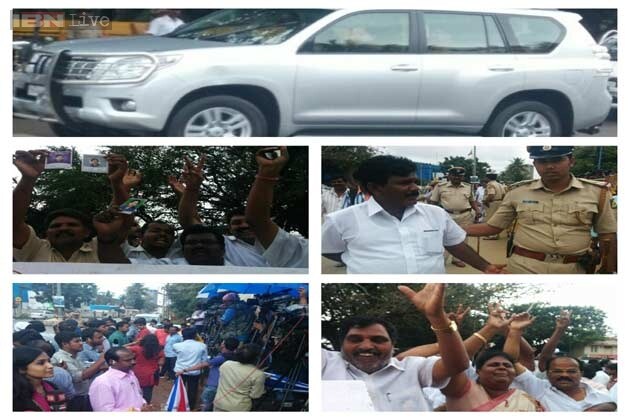 She had just two bags with her, one of them containing her medicines.
Bangalore: "Madam, it won't be possible for me to see you when I come to Chennai." Pat came the reply, "You come to Chennai and you can meet me,". This is what the most high profile inmates in the recent times at Bangalore's Parappana Agrahara Central Prison told the jailer shortly before she walked out of the jail. PM Jaisimha, DIG Prisons at Parappana Agrahara, can have a peaceful sleep tonight after AIADMK supremo J Jayalalithaa was released on bail on Saturday. "I am mentally relieved now. It is not an easy job," he says.
Most of the jail staff, including senior officials, had limited and restricted access to inmate number 7402. But on the day of her release on bail, Jayalalithaa thanked the jail officials telling she was looked after well by them. Many say her stay in Bangalore is a homecoming of sorts. Born in a Tamil Iyengar family in Melukote near Mysore, the former Tamil Nadu Chief Minister spent her early years in Bangalore, studying at Bishop Cotton Girls' School before shifting base to Chennai(Madras, then) for an acting career.
Though close associate Shashikala met a few lawyers, sources confirm that during her three week-long stay, Jayalalithaa did not meet any outsiders. Even on the day of her release, except for prison officials, Jayalalithaa did not stop to speak to anyone including Tamil Nadu Chief Minister O Panneerselvam who had been camping in Bangalore since Friday evening. Panneerselvam, who had come the Parapana Agrahara in the hope of receiving Jayalalithaa, had to wait outside the barricade near the prison gate.
"She did not even step out of her cell even for a morning walk," Jayasimha says. Jayalalithaa did not watch anything on TV though a TV set with cable connection was provided in her cell.She spent her time in the cell reading English and Tamil newspapers and Tamil magazines.sitting on her iron cot or the chair.
On the day of her release, Jayalalithaa had a breakfast of toast and milk. The bread, in fact, is made in the prison bakery itself. For those curious, she would alternate between idli and toast for breakfast everyday, while sticking to curd rice for lunch and dinner.
Before she left, jail officials returned her watch and a pair of gold earrings. She had just two bags with her, one of them containing her medicines.
"I was responsible for her security from September 27 till the moment she left the jail premises in the car. This is the biggest experience for me," says Jayasimha who was transferred to the Central Prison just three months back.
Also Watch
Read full article