GET Stock

Quotes


EC's Legal Veteran Counters Poll Panel Chief on Simultaneous Elections, Says It Will Take At least 3 Years
In an interview to News18, Mendiratta said, "With present EVM and VVPAT machines, simultaneous polls cannot be held and it would take at least three years for the commission to procure required number of machines."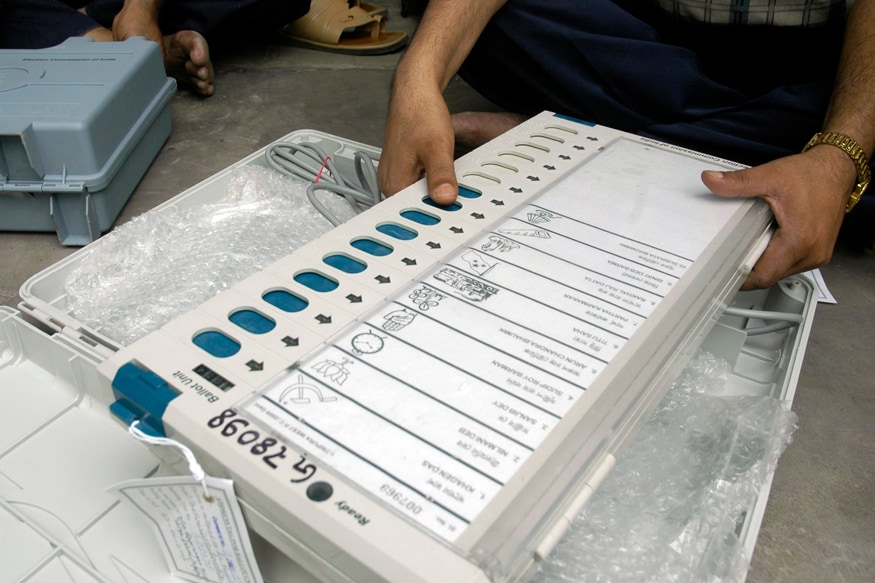 Image for representational purposes only.
New Delhi:
S K Mendiratta, legal advisor to the Election Commission of India for over five decades, says that it would take at least three years of logistical preparations to conduct simultaneous polls in India.
In an interview to News18, Mendiratta said, "With present EVM and VVPAT machines, simultaneous polls cannot be held and it would take at least three years for the commission to procure required number of machines."
Mendiratta's statement comes just after
Chief Election Commissioner O P Rawat's interview to News18
earlier this week claiming EC was "capable of holding simultaneous elections in a few months" of parliament making necessary legal changes.
The debate over one nation one poll assumed greater importance recently after the Law Commission of India released a white paper on the possibility of simultaneous polls and laid down the required constitutional amendments required for it to take place.
However, Mendiratta who has seen the commission function close quarters told News18 that "currently available voting machines would not be enough for simultaneous polls and that it would at least another three years for the commission to be logistically prepared."
"Simultaneous polls cannot take place before three to four years. I know that we (EC) do not have so many EVM machines to help us conduct simultaneous polls. We need to have two voting machines in each voting area. From where we will source it in excess? We cannot get it from abroad," he said.
"We have only two companies manufacturing it for us in India, Bharat Electronics Corporation in Bengaluru under Ministry of Defence and Electronics Corporation of India, Hyderabad. We know their speed since 1977. The commission does not want to involve other companies too as it difficult to control them," Mendiratta told News18.
CEC Rawat had also told News18 a new tranche of machines will be available with the Commission by "September end" but that "it would not be possible to get first level check in such a short time".
The CEC, thus, ruled out possibility of holding early Lok Sabha polls with four other state assembly elections slated for December this year. He however clarified that the Commission would be in a position to hold Lok Sabha polls and five state assembly elections together in mid-2019.
However, the legal veteran said that deadlines are often set but hardly met by the manufacturers, hence conducting the polls before three years was out of question.
"They have increased the manufacturing capacity now and one of the companies has set up some other units too, but how can they ensure the quality like in Bengaluru and Hyderabad, is doubtful. They say they will give units within some time, but they are regularly called for delays and meetings have been held," the legal veteran said.
"Even if EC is able to have VVPAT machines all over India by the next Lok Sabha elections, it will be a great achievement. If we have 15 lakh machines now and we wish to take it up to 30 lakh then it would need some time. This 15 lakhs have been only managed after several years in installments," said Mendiratta.
Prime Minister Narendra Modi has on numerous occasions underscored the need to hold simultaneous polls in the country to cut down on repeated election expenditure. The issue also found mention in President Ram Nath Kovind's address to the joint session of Parliament earlier this year.
But the senior legal veteran, who retired from EC this April, believes that "such constitutional amendments were very difficult to achieve".
"Now if all states are BJP ruled then it's a different story. But will the ruling party in Tamil Nadu agree to leave government in between. Then if there is president rule in between after government in any state falls, then is it feasible to have presidential rule for three years? Then there will be challenges against it in the SC stating that basic structure doctrine has been violated and centre state relations have been violated," said Mendiratta.
The law commission has recommended a two-phased election process for the simultaneous election process and has stated that the Constitution "foresaw that the elections to the legislatures of various states and the Centre will not always be concurrent".
The commission also suggested that amendments would have to be made in the Constitution, Representation of Peoples Act, 1951 and "rules of procedure of Lok Sabha and those of the state legislative assemblies".
But former Chief Election Commissioner, N Gopalaswami, told News18 that logistical issues of the commission would come into picture later once the constitutional amendments were in place and that by the time amendments are brought in, the commission would be ready with machines too.
Mendiratta has also questioned as why the government believed that a petition to make the terms of removal of a CEC and EC on par to be "misconceived" and said that it needs to be done at the earliest if independence of the commission has to be safeguarded.
Recently while dealing with a PIL to make removal of ECs similar to that of the CEC where the process of removal is like that of an SC judge and not CECs recommendation with Presidential assent, the centre submitted that it cannot do so as the petition was "misconceived."
"Once you appoint an Election commissioner, you give him a place of prestige and protection, so that he can independently take decisions. There can be a CEC in the future who might say that if the EC does not work according to his wish, then he would recommend his removal to the government. With this independence of election commission will be in danger and one can't take decisions independently," said Mendiratta.
Mendiratta believes that if EC's can have all the same rights post the TN Seshan case then why difference of removal process. Article 324 (5) of the Constitution mandates that the CEC be removed as per the procedure laid down for a SC judge which passes through the parliament, whereas an EC can be removed when CECs recommends his removal to the government.
"You are doubting the independence of the Commission but you are still sticking to the 1950 constitutional provision which grants the CEC with the status of a SC judge. Why is the government now saying that it's not possible to alter this? In TN Seshan case, itself the SC agreed that EC and CEC was made equal and they are equal, salary, pension, and why not their removal process? Equality and parity should be at all levels," said Mendiratta, who stated that without the required change in law, ECs may remain in fear of removal.
The legal veteran stated that he has been "writing to the government to implement this for a very long time."
"I don't know why the government has opposed this plea. Even the law commission and Justice Venkatachaliah commission has agreed to it. They all have agreed that it is needed to safeguard the independence of the institution. CEC has been given protection but no independence to the judiciary. Why should the government wait for an instance? This amendment then would be fruitless as the damage has already been done," said the legal veteran.
Read full article