GET Stock

Quotes


'Singh Saab The Great' review: Sunny Deol's stunts, dialogues stand out
Sunny is effortlessly impressive as a collector-turned-social worker seeking to know ways to remove corruption.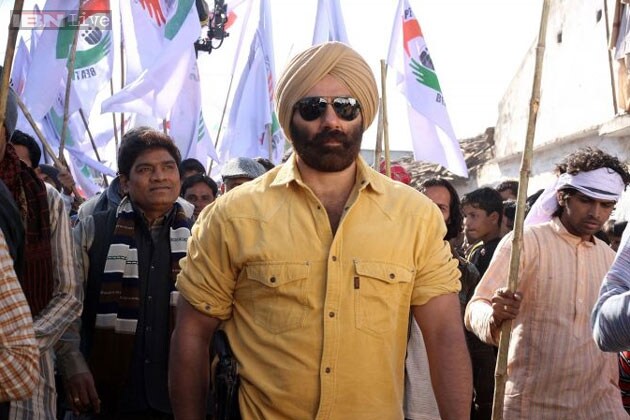 Sunny is effortlessly impressive as a collector-turned-social worker seeking to know ways to remove corruption.
Cast: Sunny Deol, Prakash Raj, Urvashi Rautela
Director: Anil Sharma
'Singh Saab The Great' might not be one of those films which is wanted strongly by filmmakers and critics alike, but is that enough to say it will not leave a lasting impression on cine goers? No. For the film still comes across as a heartfelt and efficacious drama, that packs an emotional punch and brings forth yet another stellar performance from Sunny Deol. The seeming plainness and force of the film is coupled with a plot that is trite and familiar, but going by the actor's huge fan following, nothing can deter his supporters from making a beeline for the film outside cinema halls.
At its center is a strong-willed collector Saranjit Singh Talwar (Sunny), and his battle against corrupt and unscrupulous activities in Bhadori. Since Saranjit takes on the chillingly sinister goon Bhoodev Singh (Prakash Raj) who intend to teach him a lesson for not letting the latter continue with his nefarious activities, a battle between the two ensues. While Saranjit stands up for his values which develops his credibility, Bhoodev believes nothing can beat money - the ultimate power. In his battle against Bhoodev, Saranjit, who comes across as the person who will give it back when the violence hit home, not only loses his wife, but also serves a seven-year-long term in jail on being framed under charges of crimes he never committed. With a cop friend's help, he manages to get out of the prison and decides to alter his identity. Now popular as Singh Saab, he believes in the concept of 'badlav', not 'badla'.
Unlike other actors who follow rigorous workout sessions to get six packs to become one of the most sought-after leading men in Bollywood, Sunny's 'saade teen kilo ka haath' is enough to woo fans. And his believable action sequences don't draw away from the narrative, but show how important they are to the protagonist and make the film unforgettable. So those who rooted for Sunny when he yanked the hand pump out in 'Gadar' are expected to hold him in high regard for ripping out a banyan tree's root with ease.
And when it comes to iconic dialogues like 'Bali bakre ki chadti hai, sher ki nahi', 'Saade wich Gandhi vi hai, Patel vi hai, tae thoda Bhagat Singh bhi hai' Sunny proves only an actor of his caliber can them pull off so convincingly.
Urvashi Rautela, who makes her Bollywood debut with 'Singh Saab The Great' doesn't have much to offer. Since her role is neither powerful nor deeply moving, the dolled up Minnie (Urvashi) has nothing to do except flaunting low back suits which not only gives a glimpse of her skin but makes her an object of desire for Saranjit. Agreed, she's the source of motivation for all of Singh Saab's trials, driving him to take on the goons, but she still comes across as a prop used to add some glamour to the film. All in all, her role remains frustratingly flat.
Amrita Rao could have performed better had she been given a meaty role. Also, her lapse in logical thinking - she forgets her mobile while escaping from the goons - doesn't make her a true crime reporter. And her inability to carry off oh-so-desi accent doesn't help the film.
For most of 'Singh Saab The Great', Sunny certainly has the upper hand. He is stronger, and his famous bare fists are enough to take down the bad guys. However, Prakash is also convincing as he uses trickery to claw his way up to the highest level of corruption. He uses pride, wrath and envy to defeat the intrepid Sunny, and make his life miserable. Even though if he lands hard punches first, all slips away in the end, before he is vanquished. Known for making love-to-hate villains a rare commodity, Prakash is likely to be permanently etched in Indian viewers' memory, courtesy his mannerisms and inimitable style.
Those who have watched Sunny Deol's 'Gadar' will agree that 'Singh Saab The Great' reminds one of the popular film which broke many a BO records. Whether it is the determination in battling out the foes or flattering fans with his trademark might, Sunny Deol remains the same. Also, the lack of chemistry between Sunny and Urvashi makes their love sequences both weird and boring. The age difference, which Sunny mentions in the film to amuse fans, doesn't work in their favour either.
The film's soundtrack isn't striking. While the title tack is unforgettable, 'Daaru Band Kal Se' will find a few takers, 'Jab Mehndi' is not too impressive and 'Palang Todh' a bit forced.
'Singh Saab The Great' marks the return of the explosive action star Sunny Deol we missed for years. That says it all.
Rating: 2.5/5
Read full article