nda:
Needmore seats to Win

Needmore seats to Win
upa:
Sirisena's 'Assassination Claim' by RAW Has his Ministers Disagreeing, Foreign Ministry Issues Clarification
The president's reported disclosure at a Cabinet meeting has sent shock waves across political and diplomatic circles in Sri Lanka.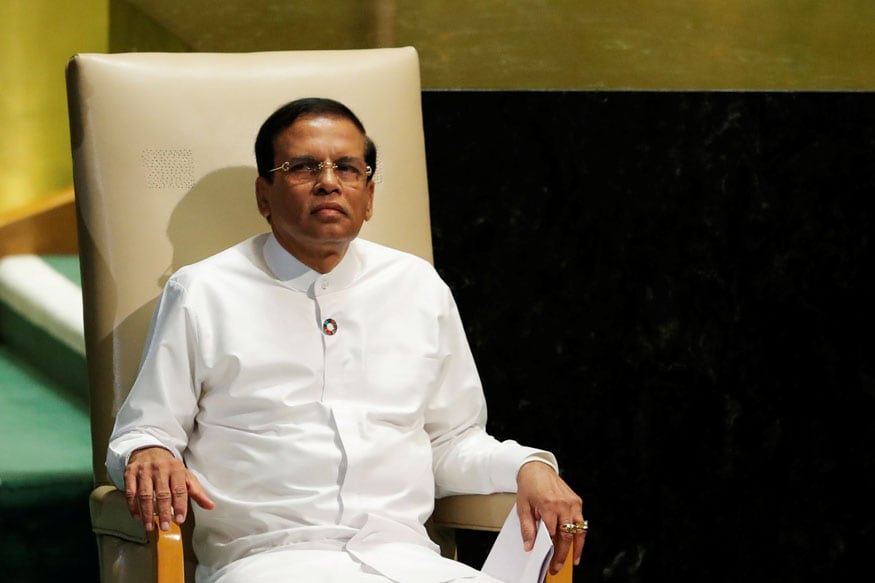 File image of Sri Lanka President Maithripala Sirisena.
New Delhi:
Sri Lankan President Maithripala Sirisena's allegation that Research and Analysis Wing (RAW) is plotting his "assassination" seems to have not gone down well with his own Cabinet. Some ministers have expressed serious displeasure over the claims without proof.
His reported disclosure at a Cabinet meeting has sent shock waves across political and diplomatic circles in Sri Lanka. Even though President's advisor Shiral Lalthilaka has denied the reports that Sirisena has named RAW, three top Cabinet ministers who spoke to News18 independently confirmed that the President has indeed named RAW and expressed fears that his life is under threat.
A minister who has been an MP for almost 20 years said, "Sirisena told us that RAW is planning to assassinate him and Prime Minister of India Narendra Modi may not be aware of it. He even added that America's CIA does similar things without the knowledge of President Trump. We were shocked beyond belief. I feel that the President who is the head of the nation should not make such statements. It can cause a huge damage to Indo-Lanka relationship which is already deteriorating for various reasons. We are unhappy with the developments."
Another minister who is an MP from the United National Party (UNP) of the Prime Minister Ranil Wickeremesinghe has also criticised Sirisena for the statement. Speaking to News18 he said, "We are concerned about the President. But he should make responsible statements. I don't think PM Wickeremesinghe is happy with this. He is a seasoned politician and aware of the consequences. It can harm us in the long run. If we can't prove the allegations, who will take us seriously in future?"
In a latest development a Presidential aide said that Sirisena was asked if the arrested "spy" was an agent of the RAW and he said that Indian spies are after him.
A top UNP leader who spoke to News18 on condition of anonymity said that Sirisena was playing into the hands of former President Mahinda Rajapaksa. He said "I suspect Rajapaksa is behind it. He has misguided Sirisena to achieve his narrow goals. Without realising the damage he is causing to our nation in the long run, Sirisena has walked into the trap laid by Rajapaksa. In the 2020 January Presidential elections Rajapaksa wants to recapture the power and he is discrediting Sirisena by convincing him that India is out to eliminate him. The President is very susceptible. That is our worry".
The alleged "assassination" plot came to light in early September after an anti-corruption activist Namal Kumara told media that he was in possession of a telephonic conversation between Terrorism Investigation Division (TID) head DIG Nalaka Silva and other alleged plotters. He played the audio tapes of alleged conversations claiming that Nalaka Silva has hatched a plot to assassinate Sirisena and former defence secretary Gotabaya Rajapaksa who are against the drug cartels.
After that the CID took over the investigations and arrested one Marceli Thomas, reportedly an Indian national, from Negombo, a suburb of Colombo. Thomas, who is said to be a native of Kerala, is currently held at a high security prison and is being interrogated by the CID.
According to an investigative report in Sri Lanka's leading weekly newspaper "The Sunday Times" by journalist Namini Wijedasa, the alleged Indian "spy" is not in proper senses and looks like a destitute. He has psychological issues and was twice injured in accidents, the report claims. According to her findings, Thomas was working at Airports Authority of India (AAI) in Thiruvananthapuram and had to quit his job due to injuries. His wife got the job promising him that she will look after him. Once she got the job she took another man as her partner and threw Thomas out claims his brother.
Alleging that some unknown people are after his property, Thomas started roaming around like vagabond and fled to Sri Lanka in January 2017 with his property papers. According to his brother Binny Thomas, he is a harmless man in distress and perhaps does not even know who Sirisena is.
Thomas was begging on the streets of Negombo for food and was looking terribly ill when the Sri Lankan CID arrested him suspecting that he is an Indian "spy".
According to the CID, they are still finding out how he landed in Sri Lanka and who helped him. A CID official told News18 that they did not want to leave anything to chance and were conducting a thorough probe. He declined to confirm if Thomas is really mentally unsound. "Spy agencies use all kinds of people and employ all kinds of tricks. We can't declare him innocent merely on the basis of his looks and behavior," he said.
The Indian High Commission is closely watching the developments and has shared all details about Marceli Thomas with the Sri Lankan government. According to Indian High Commission, Marceli has been unwell since the year 2000 and he has an 18-year-old son back home in Kerala.
On Wednesday, a magistrate court in Colombo ordered medical test of Marceli Thomas to determine if he is really mentally unsound.
Life has come a full circle for Sirisena. When he handed out a shock defeat to Rajapaksa in 2015 January Presidential elections, it was attributed to the RAW by Rajapaksa camp. Even during the middle of electioneering the RAW station chief in Colombo was recalled by India after Sri Lankan government made serious allegations that the RAW was helping Sirisena to become the President by subverting the democratic election.
In a turn of events, Mahinda Rajapaksa, who had openly attacked India for his defeat, seems to have mended the relationship with New Delhi in the last one year. Sirisena, who was seen as a pro-India President, has started making noise about the Indian "interference" in the affairs of island nation with his close associates and has repaired the relationship with the Chinese government.
On Wednesday afternoon, the ministry of foreign affairs in Colombo issued a statement refuting all media reports on alleged involvement of an Indian Intelligence Service in the alleged assassination plot.
"The attention of the Ministry of Foreign Affairs has been drawn to media reports attributed to President Maithripala Sirisena alleging the involvement of an Indian Intelligence Service in a plot to assassinate him. The Ministry wishes to clarify that the media reports in this connection are baseless and false. The Ministry wishes to emphasise that relations between Sri Lanka and India including at the highest levels of government are strong, encompassing multiple spheres, including intelligence sharing. It is disappointing therefore that matters of this nature have become the subject of distorted and erroneous media reports taking the President's remarks out of context, which has given rise to further media and social media speculation and the spread of unfounded fear among the public," said Sri Lanka's Foreign Affairs Ministry in a statement.
(Get detailed and live results of each and every seat in the Lok Sabha elections and state Assembly elections in Andhra Pradesh, Odisha, Arunachal Pradesh and Sikkim to know which candidate/party is leading or trailing and to know who has won and who has lost and by what margin. Our one-of-its-kind Election Analytics Centre lets you don a psephologist's hat and turn into an election expert. Know interesting facts and trivia about the elections and see our informative graphics. Elections = News18)
| Edited by: Parth Sharma
Read full article
Countdown To
Elections Results
To Assembly Elections 2018 Results