Six Kanwariyas Arrested For Vandalising Police Car in Uttar Pradesh's Bulandshahar
The incident took place in Kinauna village in Bulandshahr where two people named Pappu and Deepu had a brawl and when police reached the spot they had to run for cover as angry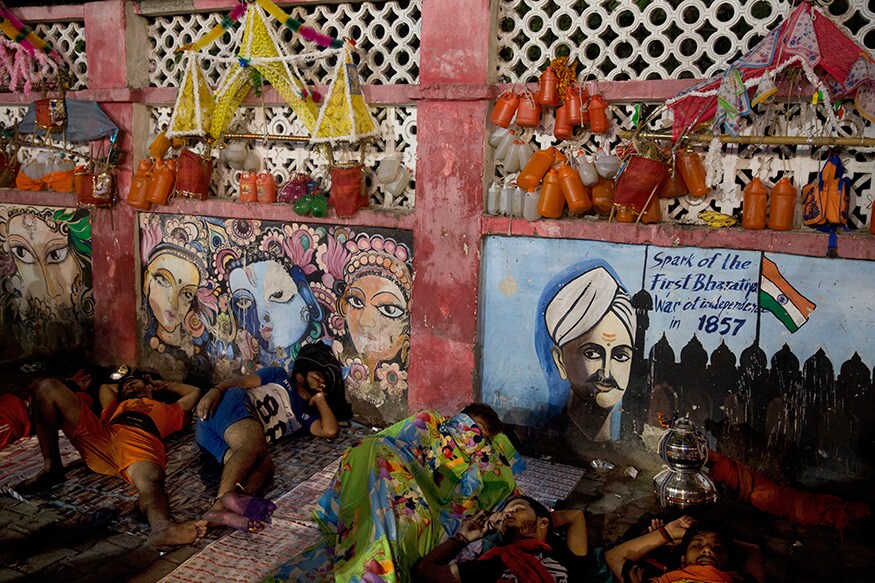 Kanwarias sleep by road side Meerut. (Image: AP)
Lucknow: After a video of a group of Kanwariyas attacking a police vehicle in Uttar Pradesh's Bulandshahr went viral, the police on Friday arrested six Kanwariyas in connection with the incident, including the main accused.
The incident took place in Kinauna village in Bulandshahr where two people named Pappu and Deepu had a brawl and when police reached the spot they had to run for cover as angry.
Kanwariyas began to beat down on the police vehicle.
The officers inside the vehicle at the time of the attack had to run for their lives as hundreds of Kanwariyas started vandalising the vehicle with sticks and bricks.
Speaking to news18, SP City Bulandshahar, Praveen Ranjan Singh said, "The issue came to our knowledge yesterday. It happened because of personal rivalries as the brawl between the two took place over the installation of an electricity metre. Those who were involved in the act of vandalism have been identified and they will be arrested soon."
In Delhi, a similar video of a group of Kanwariyas was seen vandalising the car of two girls who accidentally bumped into one of their members.
The nonchalance of two police officers visible in the video, who remained inactive even when the Kanwars attacked the car with sticks, has outraged masses.
One accused has been arrested by Delhi police in this case.
Read full article