INDIA
Sobhraj's sweetheart starts fight to be his saviour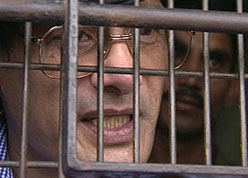 Kathmandu: Nihita Biswas, the 20-year-old Nepali woman who hit the headlines worldwide last week after to her engagement to serial killer Charles Sobhraj, has taken the media plunge.
She is now defending him resolutely against the murder sentence he is currently serving in a high-security Kathmandu prison.
Nihita, who has been under media glare since her engagement to 64-year-old Sobhraj on Thursday, appeared in public for the first time to defend herself and her fiancé against what she called were untrue and defamatory reports.
Nihita first appeared on the eight o'clock news bulletin of Kantipur, Nepal's biggest private TV station, on Saturday night and said Sobhraj was the victim of "rumours".
Nihita alleged Nepal police had arrested Sobhraj, sentenced to jail for 20 years for the murder of an American tourist nearly 40 years ago, illegally in 2003 and forced him write 11 pages so that they could get samples of his handwriting and signature.
Police used the samples to fake a document and claimed it was signed by Sobhraj in 1975 when he visited Nepal and signed a hotel guest register, Nihita said. She also said that though the law requires it, prosecution has never been able to produce the original document.
Nihita, who met Sobhraj in Kathmandu's central jail where she had gone to meet him after someone said he was looking for an interpreter, said she had been attracted to him first because of his humility. She said he was humble and listened to her patiently though she was a nobody and he did not need an interpreter.
Nihita said her mother was stunned at first when she broke the news to her. However, she was won over by Sobhraj when she went to the prison to meet him and told Nihita: "You have made the right choice."
In her subsequent interviews to Indian TV channels and Al Jazeera, she also said the media reports that Sobhraj was already married and would be jailed for bigamy if they married were utterly untrue.
"He was married only once," she said. "However, he and his French wife divorced in 1977 and we have the documents to prove it."
PAGE_BREAK
She laughed off the report that Sobhraj, whose crime exploits in the 60s and 70s had assumed legendary proportions, had an Australian wife as well. She said it was news to him as well.
Dismissing a statement made by one of Sobhraj's lawyers to an Indian TV channel last week, saying he was shocked at the news of the engagement since Sobhraj was already married, Nihita said Sobhraj kept his personal life private and his lawyers knew nothing about his family.
Asked about their future plans, she said she and Sobhraj had earlier planned to have a marriage ceremony in Nepal to be followed by a second one in Paris, where they would be wedded again under French law.
However, she said after the malicious and harmful media reports in Nepal, they had decided to move to Paris after Sobhraj's release and get married there.
Asked frequently if she was not bothered by the 44-year gap between her and Sobhraj and his criminal record, she said she had maturity on her side. She also said that much of the myth about Sobhraj's criminal career was fuelled by unsubstantiated rumours.
Support the daily wage earners who have been hit the hardest by the COVID-19 crisis. Click here to contribute to the cause. #IndiaGives
The daily News18 Coronavirus COVID-19 newsletter - Get your copy here.
Subscribe to News18 Daybreak. Follow us on Twitter, Instagram, Facebook, Telegram, TikTok and on YouTube
Read full article