GET Stock

Quotes


Social Media Campaign, Adaalats: Kerala Goes all out to Ensure Safety to Migrants
The state administration is all set to organize 'adaalats' in all districts come weekend wherein all migrant workers of the area have been asked to come and discuss the issues they are facing.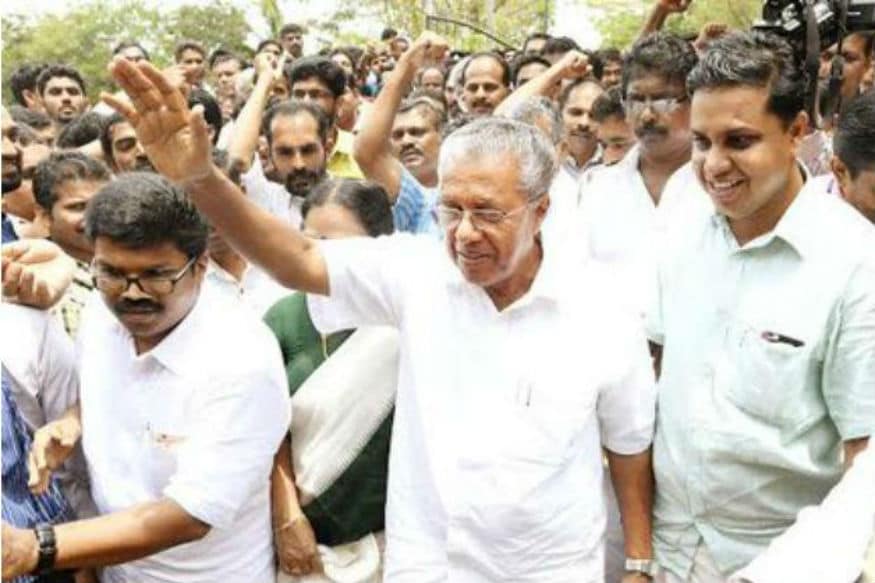 File photo of Kerala Chief Minister Pinarayi Vijayan.
New Delhi
: After the rumored exodus of around 400 migrant labourers from Kerala, the state police department is working towards ensuring that the environment in the state was safe.
To start with, the state administration is all set to organize 'adaalats' in all districts come weekend wherein all migrant workers of the area have been asked to come and discuss the issues they are facing. Speaking to CNN-News18, state police chief Loknath Behara said that all district magistrates were working towards ensuring an equal platform to all workers so that issues faced by them, if any, are addressed properly.
"The notice has already gone out, and we are expecting a good strength. Our objective is to reach out to every possible migrant worker and make sure they feel safe," said Behara.
He added that district magistrates and various other functionaries of the state administration were personally meeting migrant workers already to assure them of their safety. "I'm also meeting many such workers in Cochin in a day or two. We're doing everything possible to quash these rumours," he said.
An audio clip on WhatsApp said that a Bengali worker was beaten up by a hotel owner on Sweet Meat Street in Kozhikode and later killed. The clip had created quite a stir among the migrant labourers in the state.
Other than the public courts and personal meetings, the Kerala police department has already started a massive campaign on social media, with a series of videos in Hindi and Bengali, in which Behara can be seen talking about adequate police protection to the migrant workers, if required. The vidoes have been shared on all social media platforms.
"I wanted to tell you that Kerala is a beautiful and a safe state. People in Kerala consider you as one among them. You come here, work hard, send the money to your families — you are also happy and Kerala is also content. In between all this, some anti-social elements send out a message saying that you're unsafe — it's wrong. Don't believe it. If you have any issue, go to the police or your employer; we are all with you," Behara says in the video.
Soon after the photos and news of the alleged attack on a migrant worker went viral, Kerala CM Pinarayi Vijayan on Monday assured migrant workers in the state that the messages circulating on WhatsApp groups threatening their safety are nothing but 'fake news' and that such lies were being spread from the "north of the country."
Kerala: The Promised Land
Migrant workers are an important part of the state's economy, mostly because they fill the gap in Kerala's own lack of domestic labour force. A paper released by the International Journal of Commerce, Business and Management in 2016 states around 60 percent of internal migrants in Kerala are workers in the construction sector, and the rest in the hospitality, manufacturing, trade and agriculture sectors.
The majority of the internal migrant workers in Kerala are from West Bengal, Bihar, Assam, Uttar Pradesh and Orissa. They remit more than Rs 17,500 crores to their states from Kerala, the paper further says. Another study conducted by the Gulati Institute of Finance and Taxation for the Kerala government in 2013 revealed that there are over 2.5 million internal migrant workers in Kerala with an annual arrival rate of 2.35 lakh —14 % of migrant workers in Kerala are from UP, 17% from Assam, 20% from West Bengal, 18% from Bihar, 6% from Orissa and the rest are from other states.
Another 2016 paper, Social Integration of Migrant Workers in Kerala: Problems and Prospects, which was sponsored by the Kerala Institute of Labour and Employment, stated, "High wages, and the shortage of skilled and unskilled labour due to high education levels and emigration from the State to West Asian countries, make Kerala an attractive destination for workers from north, central and north-eastern India."
The state also happens to be one of the few states with functional policies and schemes for migrant workers in place — including insurance, education among others.
The aforementioned 2016 paper also added, "Kerala, for one, has set the ball rolling by beginning work on a piece of legislation specifically 11 focused on migrant workers. Tentatively titled the Kerala Migrant Workers (Conditions of Service and Compulsory Registration) Social Security Bill, the proposed law could turn out to be yet another model from the State for the rest of the country if handled sensitively and imaginatively."
Also Watch
| Edited by: Mirza Arif Beg
Read full article