Solution to Kashmir Problem and Naxalism by 2022, says Rajnath Singh
Union Home Minister Rajnath Singh says the Centre has pledged to create a New India by 2022 and a solution to the Kashmir problem, terrorism and naxalism will be found by then.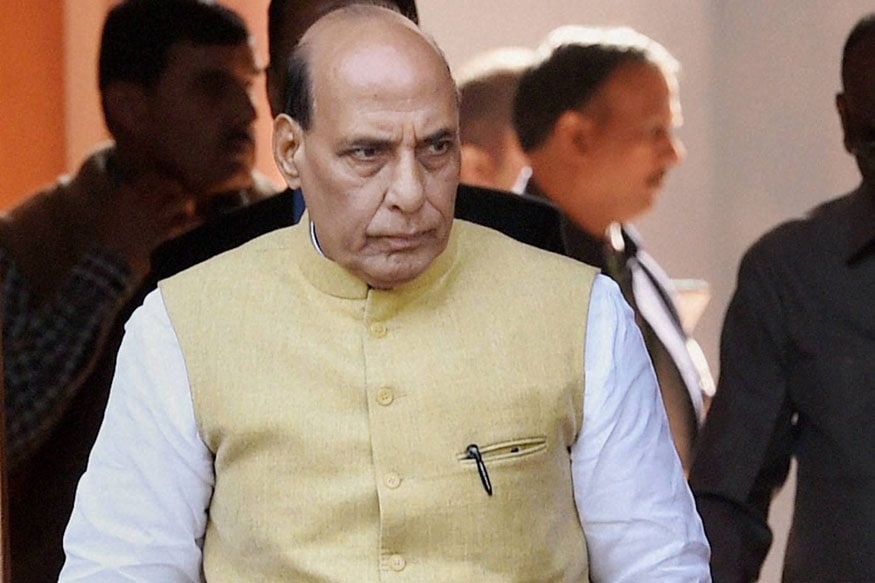 File photo of Union Home Minister Rajnath Singh.
Lucknow: Union Home Minister Rajnath Singh on Friday asserted that by 2022, a solution would be found to the Kashmir problem as also other problems like terrorism, naxalism and North East insurgency.
"There are a lot of problems — terrorism, naxalism, Kashmir problem. Much is not needed to be said about these problems. But I can assure you this much that by 2022, we have pledged to create a 'new India'...So a solution will be found to all these problems before 2022. We want to assure the countrymen on this," he said.
Singh was addressing a programme here titled 'Sankalp se Siddhi - New India Movement (2017-2022) Naye Bharat kaa nirmaan'.
On the occasion, he administered oath to the gathering for making India 'Swachh' (clean), poverty-free, corruption- free, terror-free, communalism-free and casteism-free.
"If people could take (Quit India) pledge in 1942 and get freedom in 1947, then why is it so that after 70 years of Independence, India is not that self-reliant which it should had been?
"I would congratulate Prime Minister Narendra Modi for taking a pledge to create a 'new India' before the country celebrates its 75th year of freedom," he said.
He said Mahatma Gandhi understood the importance of cleanliness and had made it a campaign but it is Modi who gave it the shape of a mass movement.
"For 85 long years after the first war of Independence in 1857, India understood the country's power and kept on gathering it.
"In 1942, the entire nation stood united when Mahatma Gandhi said 'British should Quit India' and gave the clarion call of 'do or die'. ... It was the result of this pledge which bore fruits five years later," Singh said.
He said if in five years after launch of Quit India movement, India could achieve Independence, "then why can't we make a 'new India' after taking pledge in 2017 and realising it in 2022?"
He said Pandavs also had achieved victory in Mahabharata because of their pledge and resoluteness.
"This (new India) will be an India where there will be no poverty or illiteracy, every person will have a house, no one will die of shortage of medicine. On the global stage, India will emerge as a powerful nation.
Talking about corruption, the home minister said, "In the first meeting of the Union Cabinet, we took a pledge to fight corruption. Our pledge was to change power and system."
Referring to GST which was rolled out on July 1, he said, "Many of our friends are having problems but after a few months, all will praise GST. We passed GST with the pledge of 'one-nation, one-tax."
Singh said BJP does not indulge in politics of government formation "but for nation building and development."
Get the best of News18 delivered to your inbox - subscribe to News18 Daybreak. Follow News18.com on Twitter, Instagram, Facebook, Telegram, TikTok and on YouTube, and stay in the know with what's happening in the world around you – in real time.
Read full article