Sony mourns its all-time music star
A statement said MJ was one of the profoundly influential artists of all-time.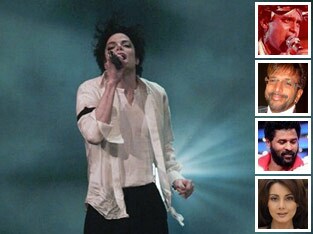 A statement said MJ was one of the profoundly influential artists of all-time.
New York: Sony Music, which brought out five of Michael Jackson's all-time hit albums, mourned the death of the King of Pop on Friday.
In a statement in New York, the company said Jackson was one of the profoundly influential artists of all-time. Fifty-year-old Jackson, who reportedly died of a cardiac arrest in Los Angeles on Thursday, sold 750 million records worldwide, including 13 No 1 singles.
His all-time top-seller albums Off the Wall, Thriller, Bad, Dangerous and HIStory were brought out by Epic Records, a Sony Music label.
Mourning the legendary star, Sir Howard Stringer, chairman, CEO and president of Sony Corporation, said:"Michael Jackson was a brilliant troubadour for his generation, a genius whose music reflected the passion and creativity of an era.''
He said: "His artistry and magnetism changed the music landscape forever. We have been profoundly affected by his originality, creativity and amazing body of work. The entire Sony family extends our deepest condolences to his family and to the millions of fans around the world who loved him.''
Rolf Schmidt-Holtz, CEO of Sony Music Entertainment, said: "Michael Jackson's unsurpassed artistry and beloved music brought joy to every corner of the world.''''
He said, "It was a true privilege for all of us in the Sony Music family to work with one of the most talented superstars in the history of music. We will miss him greatly.''
Martin Bandier, chairman and CEO of Sony/ATV Music Publishing, said: "Michael was the kind of amazing talent that comes along once in a lifetime. He was an incredible recording artist, an insightful businessman, an unmatched performer, and a true icon.
"To all of us at Sony/ATV Music Publishing, he was also a trusted and passionate partner, who was very proud of our accomplishments. He will be dearly missed.''
Jackson is one of the few stars to be inducted twice into the Rock and Roll Hall of Fame.
The Guinness Book of Records has recognised him as the 'Most Successful Entertainer of All Time' and his album Thriller as the 'Biggest Selling Album of All Time'.
Jackson won 13 Grammy Awards and received the American Music Award's Artist of the Century Award.
Get the best of News18 delivered to your inbox - subscribe to News18 Daybreak. Follow News18.com on Twitter, Instagram, Facebook, Telegram, TikTok and on YouTube, and stay in the know with what's happening in the world around you – in real time.
Read full article