Soon, Walk Amid Snow Leopards and Himalayan Bears at Kashmir's First Zoo in Pahalgam Valley
The Pahalgam zoo will be an upgrade of the nine-hectare deer park that was set up on a hillside at an altitude of 7,000 feet. A 43 hectare land was added for the proposed zoo.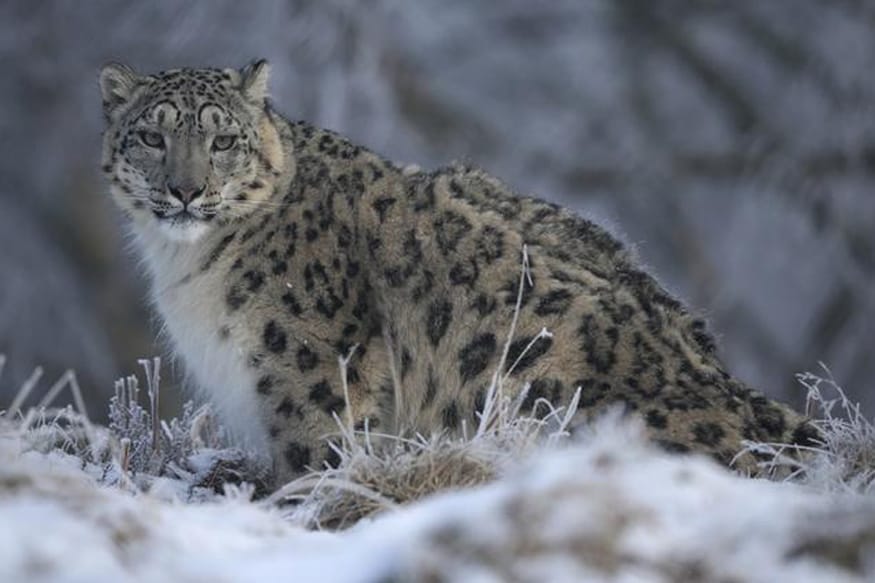 File photo of a snow leopard. (Image: Reuters)
Pahalgam (J&K): There is good news for animal lovers. Kashmir's maiden zoo in the stunning Pahalgam valley will be a reality in few years. The zoo, spread over 47 hectares, will initially have over 20 species for display and will be set up at a cost of Rs 100 crore.
It will house native species like the leopard, Himalayan black and brown bears, spotted deer, musk deer, Hangul - the Kashmiri stag - and the goat antelope species of Serow, Goral, Markhor. Grey Langoors, leopard cat and even the prized snow leopard will also be exhibited in the zoo.
Intisar Suhail, wildlife warden in South Kashmir, said that the department proposes to build 10 state of art enclosures for the upkeep of the animals to start with. "The enclosures will be on modern lines as per European standards and will gel with the valley climate," he said, while fondling a pair of giant black bears.
Suhail said work on the peripheral fencing is on and the next step is to erect the animal enclosures. "Our department will float tenders and experts will then design the zoo as per the Zoo Authority of India guidelines," he added.
"There would be sections for reptiles like the viper and rat snakes, birds like partridges, tragopan, fouls and even butterflies."
The Pahalgam zoo will be an upgrade of the nine-hectare deer park that was set up on a hillside at an altitude of 7,000 feet. A 43 hectare land was added for the proposed zoo.
The zoo is situated next to the golf club and sits in the middle of Overa-Aru wildlife sanctuary arc and on top of a roaring Lidder river. "Former chief minister Mufti Mohammad Sayeed wanted a recreational facility for tourists travelling to Pahalgam and hence the deer park was established in 2003," Manoj Pant, chief wildlife warden for Jammu and Kashmir told News 18.
Pant said for a zoo to be set up, five things are a must - network of roads, water supply, electricity, enclosure security and an inoculation centre.
"Electric and water supply, enclosures and even animals are already here. The park need a revamp to be converted into a full-fledged zoo," said Rashid Naqqash, regional wildlife warden for Kashmir.
Intisar said that the department has been able to successfully breed spotted deers, and as of today, they have 17 of all ages and sizes. "The authorities saw an administrative ease in upgrading the deer park to a zoo in Pahalgam. We are waiting for a detailed project report to accelerate the pace of work because of the steady flow of funds," Naqqash said.
Chief warden Pant said that since the valley zoo is in Himalayas, there will be limited choices of new animals being introduced under the zoo exchange programme. "The Gangtok zoo has a climate akin to Kashmir. That is one possibility where we can barter the animals," he said, addingthat animals from outside are cumbersome and would require Centre's clearance.
The Kashmir zoo will have a musk deer safari, a nature interpretation centre and in the second phase a breeding centre and a comprehensive vet division.
Pant said the 230 hectare zoo in Jammu is also coming up, first phase of which will be completed this year. The zoo which comes at an estimated cost of Rs 120 crore will have wide variety of wildlife keeping in view a hotter climate. "In Jammu, we hope to start a safari. There would be battery operated carts and cycles on rent for tourists besides food plaza, waterfall and natural pond," he said.
Get the best of News18 delivered to your inbox - subscribe to News18 Daybreak. Follow News18.com on Twitter, Instagram, Facebook, Telegram, TikTok and on YouTube, and stay in the know with what's happening in the world around you – in real time.
| Edited by: Huma Tabassum
Read full article