Spent Sleepless Nights for 6 Years: Woman Who Awaits Her Son's Return from Pak Jail
Ever since he went missing, his mother, Fauzia Ansari, a retired school teacher, has been fighting the lone battle to get Hamid released.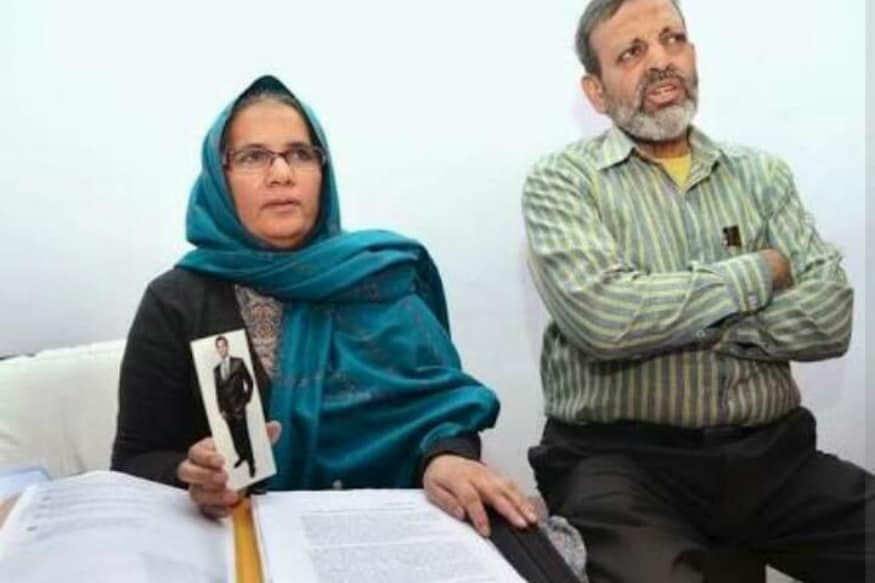 Fauzia Ansari showing picture of her son, Hamid Ansari.
Mumbai: Without documents in November 2012, young Hamid Ansari, a resident of Versova in Mumbai, tried to enter Pakistan through Afghanistan to look for a female friend he had befriended online. He was apprehended by the local police and intelligence agencies.
Ansari was then taken in the custody by the Pakistan army. He was later court martialled. In 2015, he was sentenced for three years, accused of espionage. Ansari's prison term is ending this week. The 33 year old is expected to be deported soon after.
Ever since he went missing, his mother, Fauzia Ansari, a lecturer, has been fighting the lone battle to get Hamid released. From meeting the top ministers in Mumbai and Delhi, including Sushma Swaraj, to knocking the doors of PMO, Fauzia never gave up on her fight to bring her son home. She even wrote to the then Prime Minister of Pakistan Nawaz Sharif and held numerous online and signature campaigns. Today she is relieved.
Pakistan had turned down several requests for consular access over the last few years. "We did not get consular access despite fighting for it more than 40 times. We filed a petition seeking remission of his sentence as he had spent more time in detention than his three-year sentence. Although it was heard by Peshawar High Court, no remission was given. I used to eagerly wait for the next court date so that petition will be heard but there were so many delays and finally they turned down our plea. It was heartbreaking," said a teary-eyed Fauzia. She says now that her son is returning, she is happy but anxious as well.
Pakistani human rights lawyers who represented Ansari before the court used to keep Fauzia updated about her son's well-being.
"He was attacked in the prison a few times in 2016. That was a stressful period for us. Thankfully, he was shifted to another cell. I have spent sleepless nights over the last six years, hoping for his return. I can't imagine how his health and mental state will be," she says.
As the day of his release is inching closer, Fauzia is immersed in prayers. Running from pillar to post to bring back her son, Fauzia's health took a hit in the struggle. "I heard that even if he is released this week, deporting him will take a few more weeks. I have waited for this long, so a few more weeks will not make a difference. I just want to see him hale and hearty."
She said she is worried about his mental state. "Being in prison at a young age in another country for what he did inadvertently is harsh. I hope we help him deal with this trauma once he comes back. We will give him all the love that he needs," she said. Fauzia herself had been traumatised and shattered. "My life had been about bringing Hamid back the last six years. I did everything I could, met and wrote and pleaded with every powerful and influential person. Some were helpful, some were helpless. But I kept the fight going and now I can't wait to see my son."
| Edited by: Sana Fazili
Read full article