GET Stock

Quotes


Sports for National Integration, Says Modi; Launches Reliance Foundation Youth Sports
Reliance Foundation led by Nita Ambani will fund and develop the sports programs as well as create a talent scouting pool in all disciplines to provide scholarships to deserving children.
Quick Read
Prime Minister Narendra Modi on Saturday called for promotion of sports in the country, saying it would go a long way in helping national integration.
Digitally launching the Reliance Foundation Youth Sports initiative, India's largest multi-city school and college sports competition, Modi said youngsters should take to sports to become strong individuals.
"From sports, we learn sportsman spirit and that acts as a lubricant in our social life. More than winning, sports helps you learn to deal with defeats. Sports helps you become a fighter," he said.
PM Modi called the nation to "Let's Play" while hailing the initiative as a unique step in promoting culture of sports. Reliance Foundation Youth Sports initiative is in sync with the Government of India, Ministry of Youth Affairs and Sports' vision of 'Khelo India'.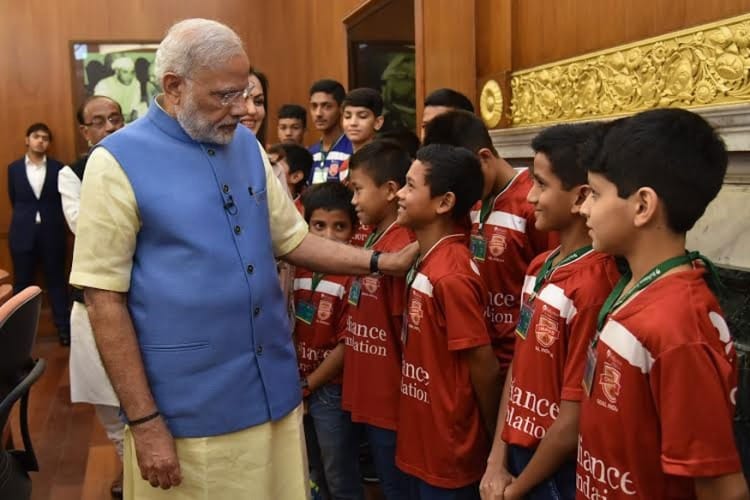 Nita Ambani, Founder & Chairperson, Reliance Foundations said: "It has been my dream to see India develop as a multi-sports nation. I truly believe that sports can develop the youth in our country and inculcate values of self-discipline, sportsmanship, team spirit, leadership, integrity as well as promote a healthy lifestyle. Our vision is to promote and encourage large participation across multi-sports discipline in over 50 plus cities by 2020 and create opportunities for youngsters to take up sports as a professional careers."
Reliance Foundation will fund and develop the sports programs as well as create a talent scouting pool in all disciplines to provide scholarships to deserving children.
RFYS to launch with Football in 2016
For the inaugural year, RFYS will have football competitions in these eight cities competing in four categories i.e. Junior Boys (Grade 7 - 10); Senior Boys (Grade 11 - 12); Senior Girls (Grade 11 – 12 ) and College Boys (Graduate institutes).
In its first year, over 2 million youths will be reached through 2000 school and college institutes and 40,000 students expected to participate from these eight cities. Participating teams across categories will compete in city qualifiers beginning August 2016, followed by City Championships in October-November and finals to be played in January-February 2017.
By year 3 (2018-19) the competition is expected to be played in 32 plus cities, and by year 5 (2020-21), it will spread to over 50 cities, a release from the RFYS said.
RFYS – Multi Sports
From second year (2017-18) onwards, the foundation plans to add multi-discipline sports like Basketball, Athletics, Badminton, Volleyball and Tennis.
RFYS will cover 16 cities, 4000 institutions and expect to have 1 lakh students' participation and impact 4 million children through the initiative, the release said
In the third year, RFYS eill ateempt to reach 32 cities with 10,000 institutions participation and 10 million reach.
Participation in RFYS competitions will be free for all schools and colleges, the RFYS release said adding, the matches will predominantly be played only in weekends and in schools and college campuses.
3000 Games on Digital Broadcast
RFYS said it is planning to have over 3000 games in Football competition broadcast on digital platform in the inaugural year thus providing exposure to student athletes.
Read full article