'SS' is the easiest film I have ever done: Nagarjuna
Nagarjuna plays Sai in the 'Shiridi Sai'. The film is mainly inspired by Sai's philosophy and thought process.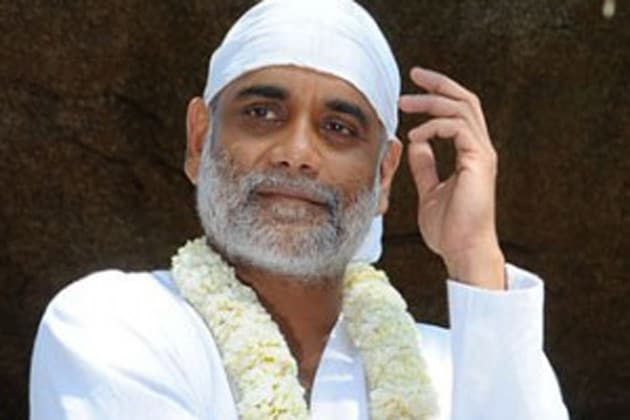 Nagarjuna plays Sai in the 'Shiridi Sai'. The film is mainly inspired by Sai's philosophy and thought process.
Akkineni Nagarjuna is Incarnating Shirdi Sai Baba on silver screen and is quite enthusiastic about his big release. Far from doing any kind of homework to metamorphose effectively into the effervescent Baba, he never even tried hard for anything. "It is the easiest film I have ever done in my life", a happy Nagarjuna reveals.
Nagarjuna talks about what went into doing Baba, and more; in a lively conversation with us.
Excerpts:
Using imagination:
Both 'Annamayya' and 'Sri Ramadasu' had their share of imagination. The writers/director used whatever literature was available regarding Annamayya's life, his kirtans, etc. For Sri Ramadasu, except the fact that he built a temple, it was wholly the makers imagination that you saw in the film.
Different when it came to Shirdi Sai:
However, we could not take liberty while writing 'Shirdi Sai'. We could not deviate much because so much material on his life is available in the public domain. Yet the director tried to make it as interesting as possible. He wanted to show what was never shown in any of the Sai films. The film mainly is inspired by Sai's philosophy and thought process. Without showing the miracles he did, which was the case with Vijay Chander Garu's films, we are trying to show how he led his life during his childhood, how he disappeared at the age of 14, where he went and how he returned as an enlightened person.
Conflicting versions:
There is no one definitive account of where he spent his life after his disappearance from Shirdi till he returned to Shirdi as an enlightened mystic. We have shown that part quite imaginatively.
Dramatized dialogues:
The dialogues are dramatic; the conversations between the Baba and his devotees have been shown creatively. Even MM Keeravani's BG score adds a dramatic value to the proceedings.
The source of inspiration:
It is the much-revered 'Sai Charitra' that we used as a source of inspiration. People did suggest me to watch Vijay Chander's and Manoj Kumar's films, but I chose not to watch because that would have had impact on me. I read this book to get into the skin of my character. The real conversations which Baba had with his devotees are well documented in this book. I used to think, 'Why does he used to shiver when he was old, when he was supposed to know Kanda Yoga and all? You will not draw comparisons between previous Sai films and this one.
Easiest film:
I always felt that 'Shirdi Sai' was the easiest film I have ever done. They made it quite easy for me. When I did 'Annamayya', I did some homework. It was all impromptu in this case. There was no much effort in getting the get-up right or sporting the make-up. In fact, I was surprised that everything was getting completed easily and on time. I at some occasions, even yelled at the unit saying, How it can be completed so fast? Everyone from the light boy to upwards has been very dedicated towards the film. All the actors acted as if it was their film.
After the Badami schedule, I refused to leave the place because I was not convinced that it could be done on time!
The Baba magic:
It is not surprising that he has the biggest following. People follow him regardless of caste, creed and religion. His teachings are in simple language, there are no hard and fast rituals accompanied with his worship. If I have been talking about him publicly, it is because I too am inspired by him. His philosophy is close to my heart. When I spoke to some of his devotees, I was moved to see them cry with pleasure describing about their experiences. Their total faith touches me.
He never allowed to be glorified like a God. He allowed arthi to be done to him but only on one occasion; Guru Pournima. KRR Garu being a big Sai devotee himself, has done amazingly well.
The hoardings of the film are ubiquitous because entities like Lanco and Manjeera wants us to put them up. I must say that Baba is doing his own publicity. (Laughs)
Lot of expectations:
Unlike 'Annamayya', when people did not believe that KRR Garu could make a film like that with me playing the saint, people have lot of expectations from 'Shirdi Sai'. We are sure of garnering very good openings. The second half is, especially, very touching and uplifting. There are no heavy dose songs and exaggerated emotions. The film is much like Baba, calm and placid. It is very entertaining film, of 2 hours and 10 minutes durations.
Damarukam after Shirdi Sai:
Damarukam will be released sometime in October, and I am not thinking that people might give me a tag after they watch 'Shirdi Sai'. It is wrong to think like that. Moreover, the attention span of people is less nowadays. They watch a super hit movie before the fourth week and wait for another movie. Actually, Damarukam was to be released in May itself. It has got delayed ever since because of the CG works. We felt that a Masala song was needed and that is why we are shooting one.
My kind of films:
Yes, I want to do at least 3 films every year. That was the way I planned this year also. But 'Damarukam' got delayed. I don't want to make films for myself. I want everybody to enjoy them, appreciate me; that alone gives me a great high.
'Love Story' is entertaining. I have a film with Durga Arts in the pipeline. Besides, Bellamkonda Suresh is going to meet me in the next week.
I think my best is yet to come. At 50, life seems much better than it seemed at 40.
Akhil's entry:
I have left to him to decide when he wants to become an actor. I told him that there is so much competition, and asked him to take the plunge when he feels that he is ready to face the competition.
Ticket rates hike:
I strongly feel that ticket rates should be hiked. The prices of everything have shot up by 3-4 times in the recent years. Differential pricing system, as seen in Chennai and Maharashtra, may be implemented. (He did not explicitly say this, but was in agreement when some journalists talked about this system prevalent in some States). Film industry has been a soft target for the government. It takes us easily and at first instance.
Film school brains:
It will take at least three more years before, brains from my film school come out. We are running the school very professionally. We want to make it a great institute to learn in. I want foreigners to come here and get training! In January, 2013 some students from California will come as part of an exchange program.
Get the best of News18 delivered to your inbox - subscribe to News18 Daybreak. Follow News18.com on Twitter, Instagram, Facebook, Telegram, TikTok and on YouTube, and stay in the know with what's happening in the world around you – in real time.
Read full article